How to Choose the Right Type
Mr. Nguyen Minh Quan (Thai Ha – Dong Da – Hanoi), who has been using cars for many years, shared: "Being friends with cars for a long time, I am well aware of the chaotic traffic situation in Vietnam. The roads are not clearly divided, and the awareness of the participants in traffic is still low. The mindset of "the bigger car compensates the smaller car" and "whoever suffers more should be compensated by the other person" makes driving unpredictable."
"That's why I think it is necessary to have a dash camera installed in my car. It is like my "companion" on the road. It ensures that I am innocent in "unexpected" situations, or provides evidence for quick and simple resolution in case of collisions on the road," Mr. Quan added.
In the current Vietnamese market, there are many types of dash cameras available with a wide range of options. From cheap "bargain" Chinese dash cameras costing a few hundred thousand VND to higher-end cameras from Australia, South Korea, and Taiwan costing 8-9 million VND. Choosing the right dash camera has become a challenging task for beginners.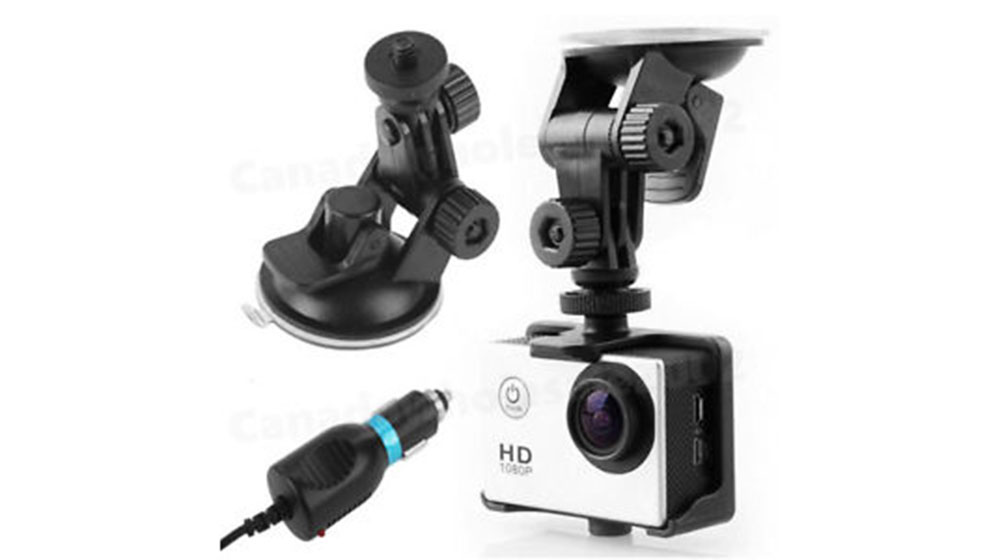 Using action cameras/smartphones as dash cameras can drain the battery within 1-2 months.
According to Mr. Nguyen Duc Phuong (Thai Thinh – Dong Da – Hanoi), who has extensive experience in the field of dash cameras, due to the variety of types, origins, and price ranges, choosing a dash camera for a car is not difficult. However, finding the right one with suitable features for each car owner's conditions and suitable for the conditions in Vietnam is not something that everyone knows.
According to Mr. Phuong, a car dash camera must have the following minimum functions: Overwriting memory card, minimum resolution of full HD 1080p, clear and beautiful night vision, and the ability to view the recorded speed.
Mr. Phuong further explained that the overwriting memory card function is essential. When the card is full, this function automatically deletes the oldest clips and overwrites them with new clips, similar to a scroll. Without this auto-delete function, when the memory card is full, the dash camera cannot continue recording, and the driver will have to manually delete the card every day. Most of the "bargain" Chinese dash cameras costing a few hundred thousand VND do not have this function.
The image quality is a crucial factor determining the price of a dash camera. The resolution of the chip will correspond to the image quality during the day, while the light sensor type will determine the image quality at night.
When asked to explain in more detail, Mr. Phuong gave specific examples: "Action cameras like GoPro, SJCAM, and smartphones have very powerful chips and can output videos with resolutions up to full HD, even 2K and 4K. However, these types are not suitable for use as dash cameras because their light sensors are only suitable for daytime conditions with sufficient light. Meanwhile, most incidents on the road happen at night, with insufficient light, making it difficult for the driver to observe. In reality, just a full HD 1080p resolution is enough to clearly see the road, lanes, lights, lines, and road signs during the day. This also explains why dash cameras from South Korea, Australia, and Taiwan that cost nearly ten million VND on the market have only a full HD 1080p resolution, but their night vision is extremely clear and sharp. Meanwhile, dash cameras under two million VND are blurry at night."
You can compare the image quality of these two dash camera types: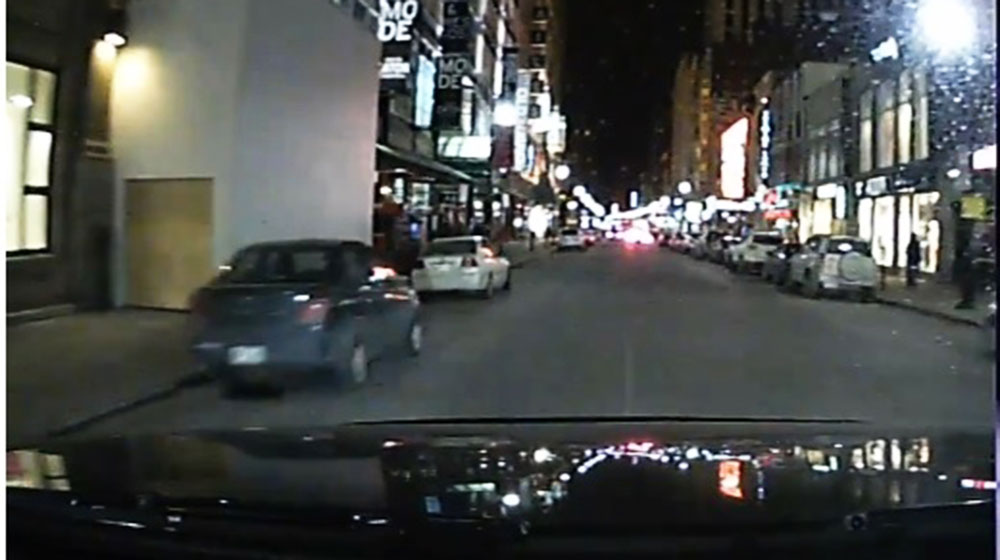 Nighttime footage of X3000 dash camera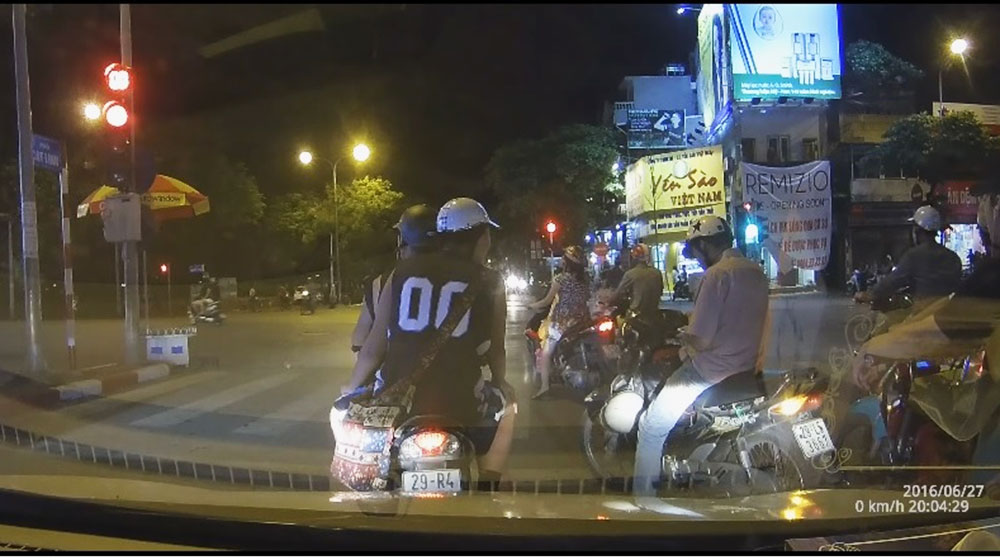 Nighttime footage of G90 dash camera
The final characteristic is the difference between the traffic environment in Vietnam and other places around the world, as well as the purpose of reviewing the footage. While Westerners use dash cameras to share on social media and send clips as evidence to insurance companies, Vietnamese people need GPS and the ability to view the footage at the scene, especially the ability to view the recorded speed. Therefore, there are three trends when buying a dash camera:
– Drivers using Android phones with the ability to use OTG cables to read memory cards and view on the phone's screen can choose compact and discreet models. For mid-range options, there is the Mini 0805 dash camera, and for higher-end options, there is the Street Guardian SG9665GC. Alternatively, if a driver uses an iPhone but still wants a compact dash camera, they can use an AV cable to connect the car's DVR monitor to the dash camera. When reviewing the footage, instead of watching it on the small screen of the dash camera, the driver can watch it on the car's DVD screen.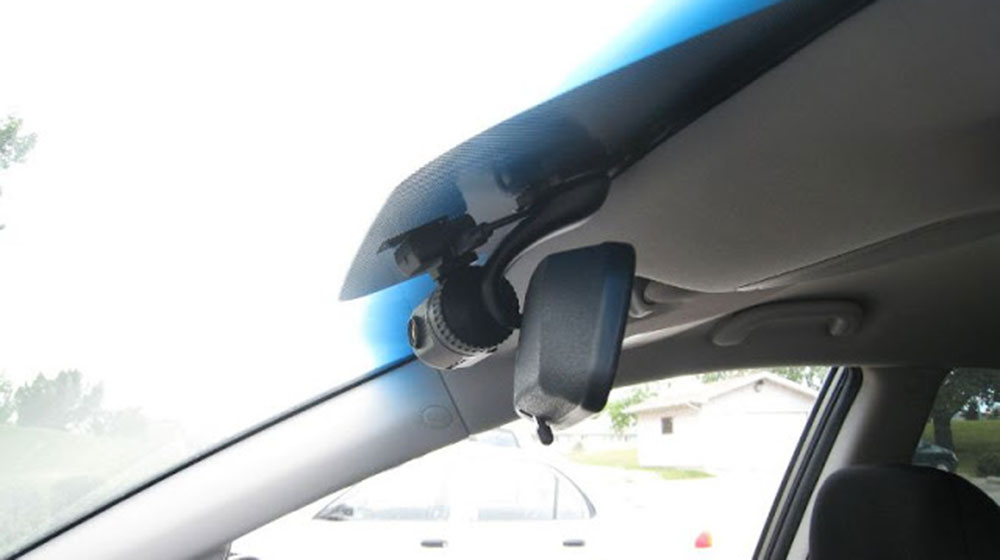 Mini 0805 installed discreetly behind the rearview mirror
– Drivers using iPhone or iPad, which do not have the ability to read memory cards, USB, or use OTG cables, should use dash cameras with large 2.7-inch screens that display speed clearly when reviewing the footage. Examples include the G90 dash camera and the Vietmap X9 dash camera.
– The last method is to use a dash camera with Wi-Fi. The advantage is that it can connect with any type of phone (for Windows Phone, you need to check the compatibility of the dash camera software with the phone before purchasing) and it is compact in size. Even with high-end dash cameras like BlackVue and Lukas, there are still drawbacks such as overheating and lower image quality compared to equivalent cameras without Wi-Fi. For Chinese Wi-Fi dash cameras, you cannot view the footage directly on the phone like high-end Korean cameras and need to download it to the phone. It can take 4 to 10 minutes to download a 2-minute clip to the phone.
In terms of the differences between mid-range (2-4 million VND) and high-end (over 5 million VND) dash cameras, Mr. Phuong said: "There are many differences, but overall, it is the hardware and software completeness and durability. For example, a good Chinese dash camera can run for 2-3 years, but many people have been using high-end dash cameras since 2011, and they still work well to this day."
The durability and reliability of a dash camera are crucial because after a few months, the driver will forget about the dash camera, not look at it, and not pay attention to it. It would be terrible if one day, when opening the dash camera, it is found to not be functioning or worse, still turned on but not recording. Well-known high-end dash camera brands that are renowned for their durability and beautiful images include Lukas, Thinkware (South Korea), Street Guardian (Australia), and Vicovation (Taiwan).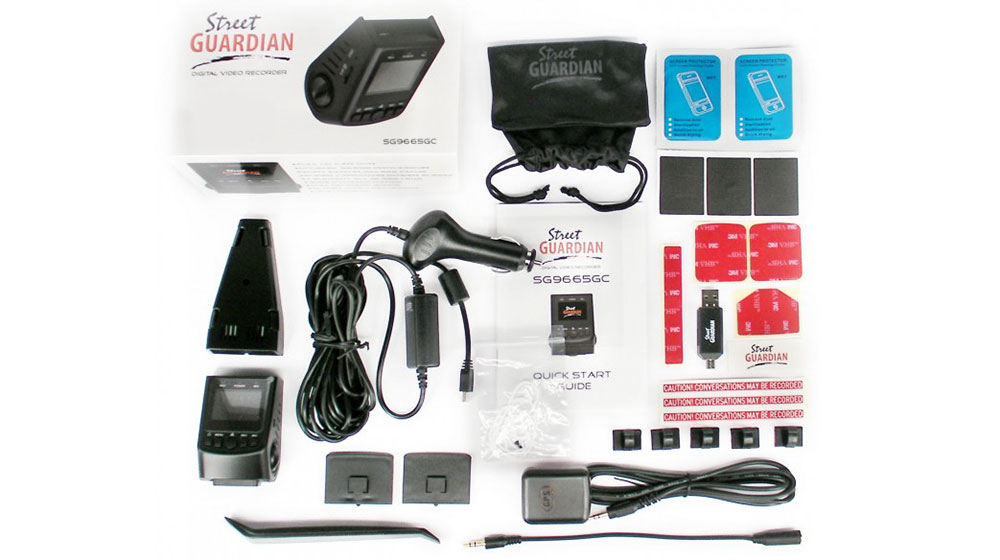 Accessories when unboxing the Australian SG9665GC dash camera by Street Guardian
New Trend: Dash Cameras With Parking Mode
In addition to basic functions such as overwriting memory cards, many dash cameras in the market are advertising complex functions that are rarely used, such as ADAS (Advanced Driving Assistance System) which is only suitable for driving on highways, and G-sensors for locking files when accidents occur.
However, there is a very useful function that is being developed recently, which is the parking mode. The parking mode is the ability to record even when the car is turned off. This function used to only be available in a few high-end Korean dash cameras, but now it is starting to appear in the mid-range Chinese dash camera segment as well.
Just imagine, you have parked your car in a parking lot, and when you retrieve your car, you notice a scratch or damaged windshield wipers or side mirrors. The parking lot attendants definitely will not admit fault, saying that your car was already like that. With a dash camera that has a motion detection or time-lapse mode, the incident will be clearly recorded, and if you are lucky, with the footage captured from the dash camera, you can identify the culprit. Now let's go over the commonly used parking modes:
– G-sensor parking mode: The G-sensor of the dash camera detects collisions. When the car is turned off and no longer powered to the dash camera, if there is a small collision – even when opening or closing the car doors – the camera will automatically turn on and record for a period of time, and then turn off again. The advantage of this mode is that there is no continuous power supply required to the dash camera when parking because when it turns on, the camera uses battery power to record for a short period. The disadvantage is that it only records for a short time after a collision, and sometimes when the camera turns on to record, the culprit has already left.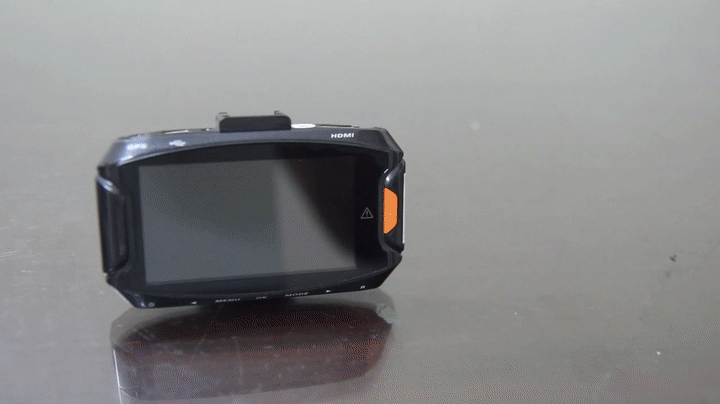 G-sensor parking mode of G90
– Timelapse parking mode: When the car stops for a period of time, the dash camera will recognize this and automatically switch to timelapse mode. When recording in normal mode, the dash camera captures 30 frames per second, but when recording in timelapse mode, the dash camera captures a few frames per second, or even a few seconds per frame, depending on the settings. The advantage of this method is that it consumes less memory card space and allows for quick review. The disadvantage is that it can be difficult to use individual discrete frames lacking details from timelapse as evidence.
Timelapse parking mode of G90
– Motion detection parking mode: The camera will automatically start recording when there is motion in front of the lens. In most Chinese dash camera models, the camera starts recording only when there is motion. However, in Korean and Taiwanese dash camera models, the camera has already been recording a few seconds before the motion occurs and will continue recording for several more seconds after the motion has stopped. The advantage of this method is continuous and seamless footage, easy to view, understand, and also saves memory in some situations. The disadvantage is that in very dark conditions, the motion detection ability may be reduced, and if parking in a crowded area, the camera almost always stays on.
Motion detection parking mode of G90
Anh Duc (Trithucthoidai)
Image Source: pkvietnam.com