According to the plan, Hyundai will bring the Palisade – the largest and most expensive 3-row SUV of the brand – to Vietnam in 2023. What makes Palisade stand out compared to its competitors Ford Explorer and Volkswagen Teramont in Vietnam? Let's read this review of the car in the foreign market.
Thanks to its premium interior cabin, smooth driving experience, and spaciousness for the whole family, Palisade, known as the "oldest brother" of Hyundai, has the potential to become a successful car of the brand. Equipped with a V6 3.8L engine paired with an 8-speed automatic transmission, producing 291 horsepower; combined with a range of advanced technologies, Hyundai Palisade becomes a very "worth the money" car in its segment.
Most accessible price in the segment, many options to choose from
In its segment, Hyundai Palisade can be considered as the car with the most accessible price: starting from $36,245 (equivalent to over 850 million VND). In contrast, its sibling model from Kia – the Telluride – has a starting price of $37,025, equivalent to nearly 870 million VND; the two other Asian cars Mazda CX-90 and Toyota Grand Highlander have suggested prices of $40,970 (over 960 million VND) and $44,405 (about 1,043 billion VND) respectively.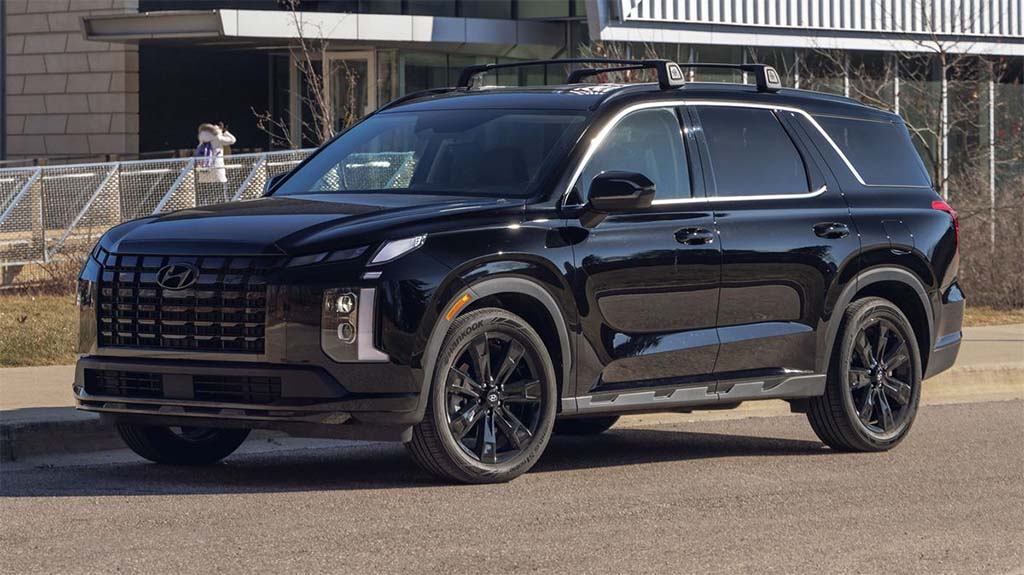 In the latest 2023 version, Hyundai Palisade has been updated not only with exterior design details, but also added many useful features. Particularly noteworthy is the high-resolution digital gauge cluster, which can display satellite navigation; combined with a 12-inch infotainment screen. The steering wheel has also been redesigned, with options of different leather materials. Palisade is also equipped with additional features such as WiFi hotspot, heating for the third row, and massage in the driver's seat.
The new XRT version has just been launched with 20-inch 7-spoke wheels, dark black exterior color, combined with eye-catching gray details on the front and rear bumpers, grille… Overall, the SE, SEL, XRT, Limited, and Calligraphy versions have prices ranging from $37,235 – $40,235 – $41,885 – $48,785 to $51,185 USD respectively. In addition, customers can choose additional optional packages for the car. According to Car and Driver's review, the Hyundai Palisade SEL version with the Premium optional package will be the "most attractive" choice for consumers.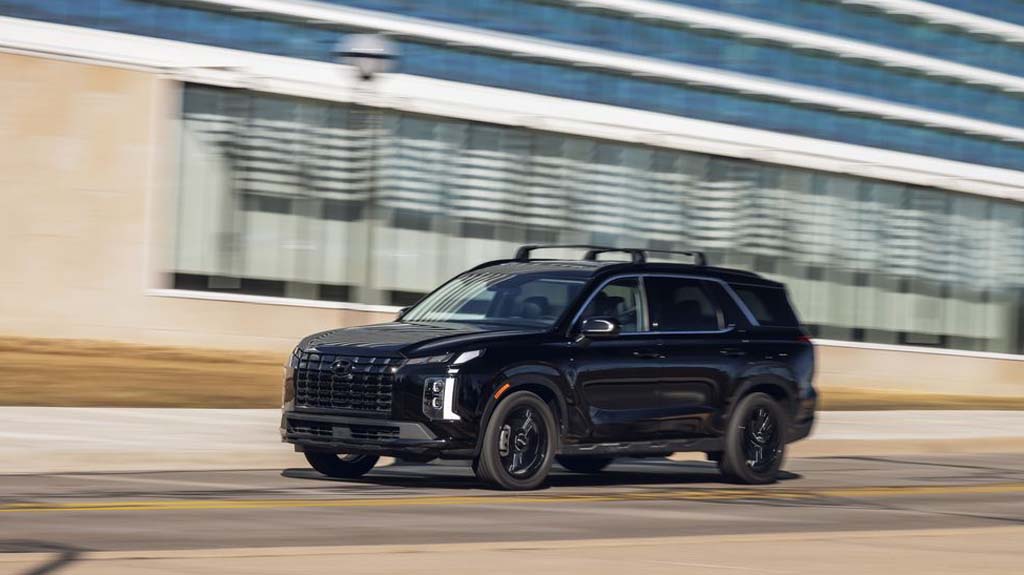 Smooth, comfortable, and pleasant driving experience
The 2023 Hyundai Palisade models are equipped with a standard V6 3.8L engine, paired with an 8-speed automatic transmission with quick shift paddles behind the steering wheel. During normal driving conditions, the car shifts smoothly. However, when climbing at high engine speeds, the automatic transmission sometimes becomes "hesitant" when switching between gears. With a power of 291 horsepower, the 4WD version of Palisade can accelerate from 0 to 100 km/h easily in just 6.4 seconds.
The Hyundai Palisade is highly praised for its good sound insulation even when off-roading in suburban wilderness areas; although there is still some wind noise at high speeds. The four-wheel drive system is an option available on all versions, except for the top-of-the-line Calligraphy version. All versions of the car come standard with transmission cooling, trailer hitch.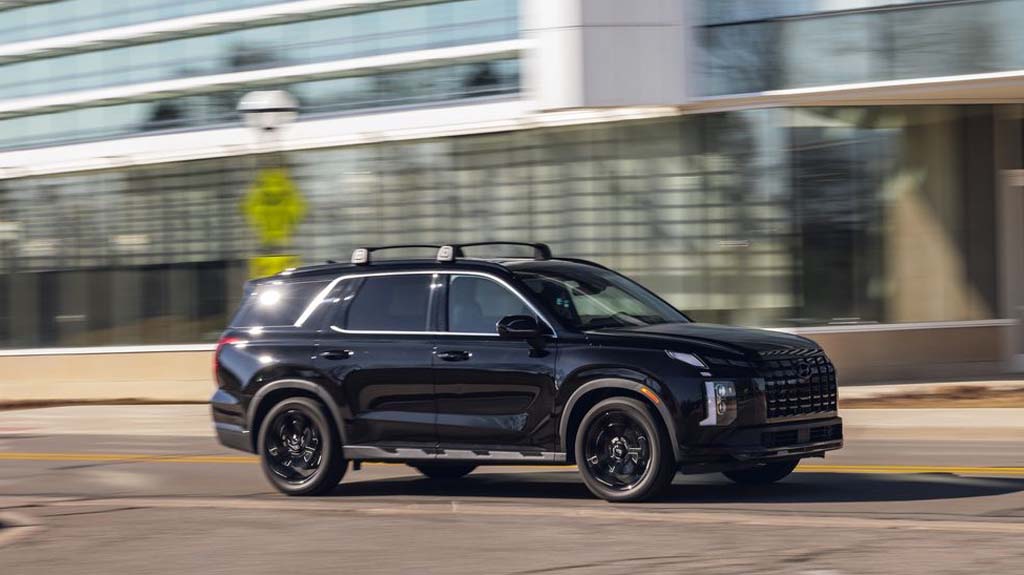 According to EPA's standard tests, Hyundai Palisade has fuel consumption within an acceptable range, with 12.4 L / 100km city driving; 9.05 L / 100 km highway driving for the front-wheel-drive version. The four-wheel drive version is slightly different, with a fuel consumption rate of 12.4 L / 100km city driving and 9.8 L / 100km highway driving. Meanwhile, Car and Driver's real-world test with a distance of more than 320km on the highway showed that the Hyundai Palisade consumes fuel at a rate of 10.23 L / 100km.
Spacious, comfortable, and modern interior
In the SE and SEL versions, Hyundai Palisade is equipped with 8 seats; while the Limited and Calligraphy versions have captain seats in the second row, providing a total of 7 seats in the car. Power folding seats for the second and third rows are optional on the SEL version and standard on the Limited and Calligraphy versions.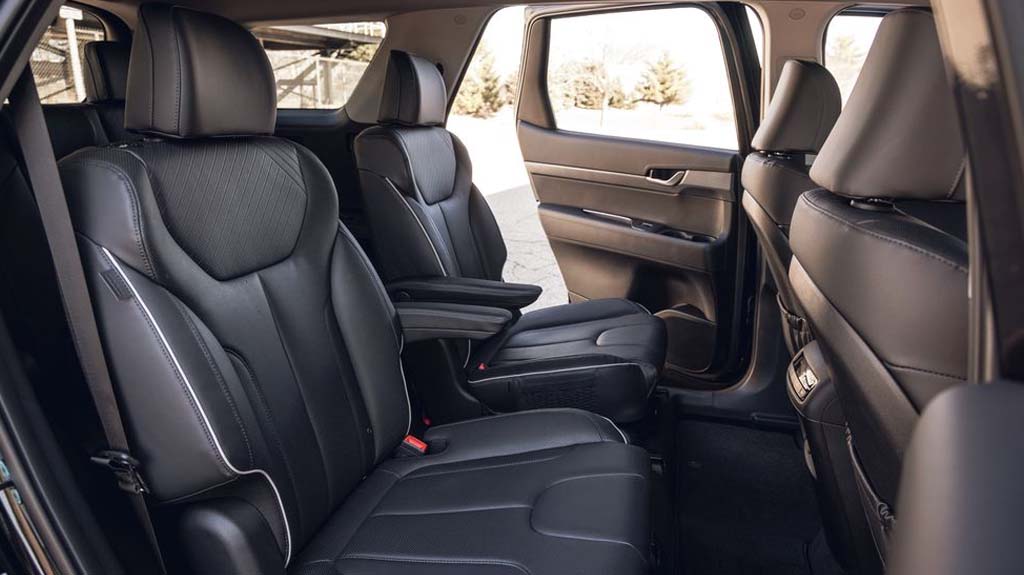 However, on any version, this full-size SUV still provides a very comfortable space for all three rows of seats. When all the seats are folded in the car, it can accommodate up to 33 cabin-size suitcases (carry-on luggage for airplanes)! There is a space below the floor of the car for dirty or wet items. The small water bottle holders on both sides of the doors are compensated by the large storage compartments on the armrest and under the dashboard.
Regarding the equipment, it is still a traditional strong point of Korean cars and is well maintained on the Hyundai Palisade. Specifically, this full-size SUV is equipped with a 12-inch touchscreen display compatible with Apple CarPlay, Android Auto; satellite navigation on the ODO screen behind the steering wheel, satellite radio, and Bluetooth connectivity are available on all versions.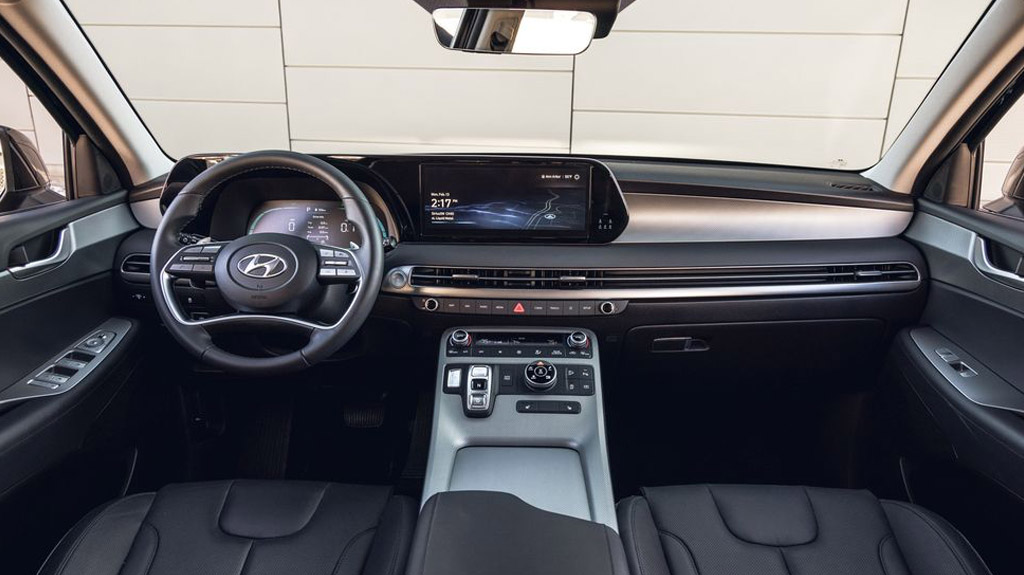 Around the car, there are a total of 7 USB charging ports and the ability to connect 2 devices simultaneously via Bluetooth. If you install the Hyundai Blue Link app on your mobile device, users can even lock/unlock and start the car remotely through Amazon Alexa or Google Assistant.
In terms of safety, Hyundai Palisade also provides peace of mind to customers with its standard advanced driver assistance features on the high-end versions. Notable features include emergency automatic braking – integrated with pedestrian detection, lane departure warning with lane-keeping assist, smart adaptive cruise control – with semi-autonomous driving mode.
In the US, Hyundai is one of the leading brands in after-sales service with a 5-year or 60,000 km warranty policy. The engine is covered by a 10-year (or 100,000 km) warranty. At the same time, the free scheduled maintenance policy is also superior to its competitors. In Vietnam, Hyundai Thanh Cong is also one of the leading units in implementing a 5-year official warranty policy for cars.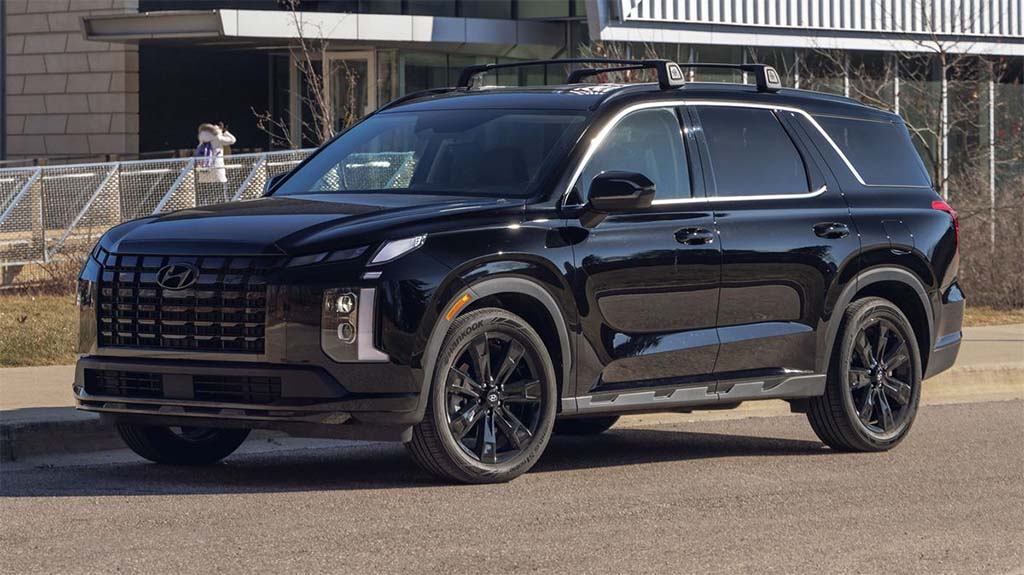 Modern design, but not suitable for the majority
Unlike smaller-sized models, Hyundai Palisade features a rugged and extremely massive appearance, with actual dimensions of 4,995 x 1,975 x 1,750 mm (length x width x height), and a wheelbase of 2.9m. The car's "square" front grille is wrapped in a thick chrome frame.
The main headlights and rear brake lights are arranged vertically, synchronized in design. The large windows and the pair of roof rails make Palisade look sturdy. As a pioneer model for other models to learn from in terms of design, the appearance of Hyundai Palisade seems to have become less new.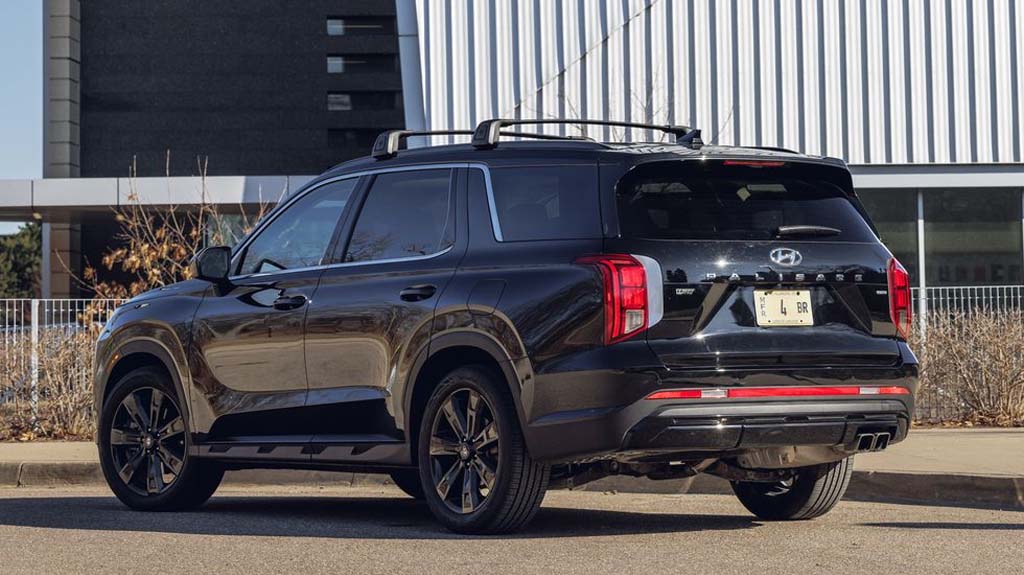 However, the Palisade still provides a sporty and solid visual experience. Meanwhile, the interior cabin space is arranged quite scientifically. The central console area is concentrated with multiple functional control buttons, including an electronic shift lever in button form – going completely against the trend of simplifying everything onto the screen like many car manufacturers are currently implementing.
The steering wheel and the instrument cluster interface are also not groundbreaking. Although not yet available in Vietnam, users can easily imagine the Hyundai Palisade with a Tucson-like steering wheel, a Santa Fe-like gear shift lever, a screen similar to Stargazer, while the air conditioning vents run horizontally across the dashboard, similar to Elantra.
Anh Phan (Tuoitrethudo)
Source: Car and Driver