Introducing Bentley – a brand that has preserved its traditional values for nearly a century. In the eyes of many, Bentley represents elegance, luxury, and the burning desire for speed associated with British supercars.
Bentley's History
Bentley is a British luxury car manufacturer founded on January 18, 1919 by Walter Owen Bentley. He was renowned for his rotary engines used in World War I fighter planes, notably the Bentley BR1 engine used in later versions of the Sopwith Camel.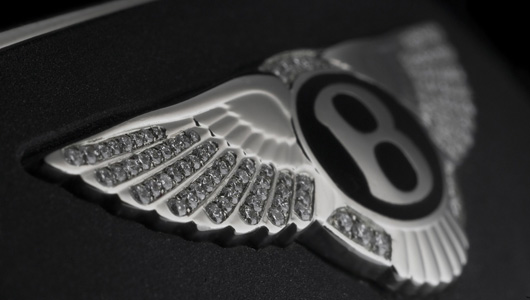 Bentley and its century-old tradition
In its early years, Bentley's products were highly successful, especially in the Le Mans races. At that time, Bentley became the passion of sports car enthusiasts.
However, Bentley's golden age did not last long. The financial crisis caused by the Wall Street stock market crash in 1929 led to the sale of Bentley to Rolls Royce in 1931.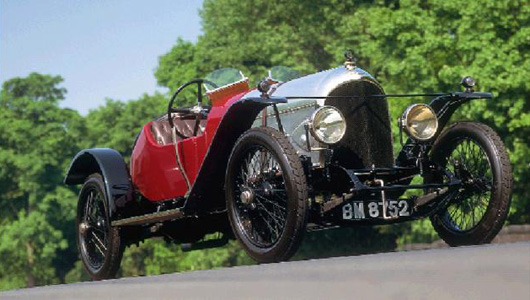 Bentley EXP No 2
In the following decades, Bentley cars became overshadowed as they were perceived as a product of Rolls Royce under the Bentley label. However, Bentley's destiny changed in 1980 with the introduction of a new range of policies to reestablish the brand's reputation. This led to the creation of the Mulsanne Turbo sedan – named after a famous curve on the Le Mans race track. Thanks to this model, Bentley's sales skyrocketed.
In 1998, BMW started supplying engines for both Bentley and Rolls Royce. This move caught the attention of Volkswagen, and as a result, both British brands came under Volkswagen's ownership at the end of 1998. However, after several negotiations, BMW and Volkswagen reached an agreement in 2003, with BMW taking over the Rolls Royce brand and Volkswagen retaining the Bentley brand and the Crewe factory.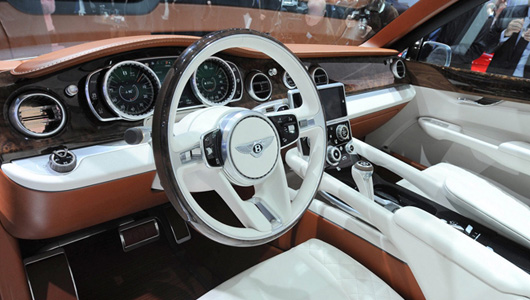 As time went on, the interiors of Bentley cars reached new heights of luxury
Under Volkswagen's management, Bentley had the opportunity to expand its product range and improve product quality. Bentley interiors always exude elegance and sophistication, reminiscent of the living rooms of Windsor Castle – a castle with a rich history and one of the iconic symbols of the British Royal Family. Leather and wood decorations are no longer exclusive to luxury cars; however, with Bentley, leather and wood are crafted to a new level of luxury and sophistication in every square centimeter of the interior. Bentley owners have the freedom to choose materials and colors for the interior of their cars according to their preferences.
Stars in the Bentley Family
The flagship models of Bentley are the 4-door Arnage sedan and the 2-door Azure convertible. Arnage comes in 3 versions: Arnage R, Arnage T, and Arnage RL.
Arnage R (R stands for Refinement) focuses on elegance and comfort. Each Arnage R features natural wood details, chrome-plated control buttons, meticulously handcrafted leather upholstery, and a twin-turbocharged 6.75-liter V8 engine with 450 horsepower.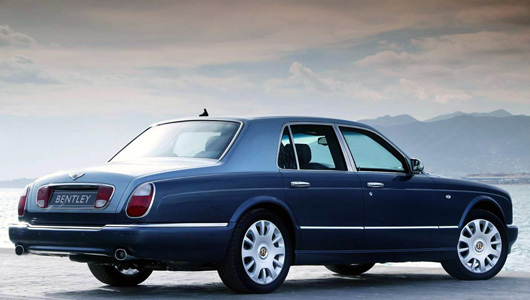 Arnage R
Arnage T stands out with its power and speed. The engine of this model has a power output of 500 horsepower, enabling the car to accelerate from 0 to 100 km/h in 5.2 seconds and reach a top speed of 289 km/h.
Arnage RL is a true limousine (RL stands for "long wheelbase"). Bentley has extended the wheelbase by 10 inches (25.4 cm), resulting in a larger rear seating area for enhanced passenger comfort. The Arnage RL is usually equipped with advanced technologies, including a central entertainment system and a mobile information connections system. Only 20 Arnage RL cars were produced.
Meanwhile, the Azure convertible uses the same engine as the Arnage R: a 6.75-liter V8 engine with 450 horsepower, allowing the car to reach a top speed of 275 km/h.
In addition to the Arnage and Azure, Bentley is famous for its Continental series, with the Continental GT being the fastest car ever designed by Bentley. It is a 2-door coupe that can reach a top speed of 321 km/h.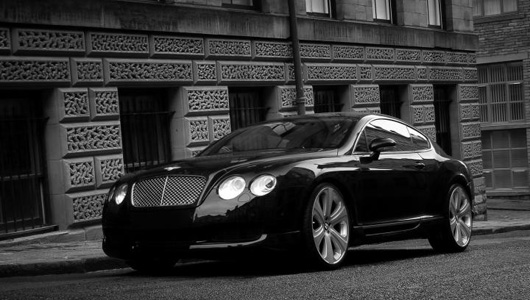 Continental GT
Furthermore, the introduction of the Mulsanne in 2009 (a rival to the Rolls-Royce Phantom) propelled Bentley to new heights. The Bentley Mulsanne features a twin-turbocharged 6.75-liter V8 engine with 505 horsepower and a maximum torque of 1,020 Nm at a low 1,750 rpm. This 2.5-ton car can accelerate from 0 to 100 km/h in 5.1 seconds and reach a top speed of 296 km/h. The Mulsanne's design combines sportiness, luxury, and durability, drawing inspiration from the Bentley 8L 1930, a masterpiece created by the brand's founder, W.O. Bentley. At that time, only 100 Bentley 8L cars were produced.
 Thao Anh (Autodaily)