After an explosive opening race, VMRC 2023 stage two witnessed many dramatic surprises as the race track was changed by the organizing committee, creating much more challenges for the racers. Despite heavy rain at noon, with strong determination and fierce competition, the UB150 category racers were still full of enthusiasm, making the race more intense than ever.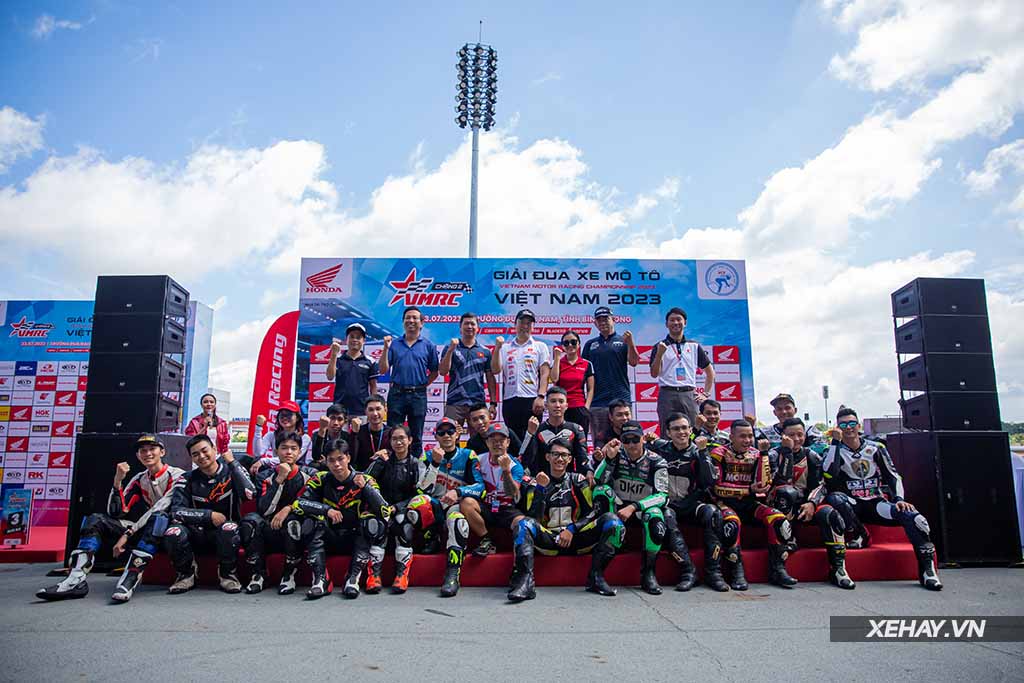 Dai Nam race track: Promising to be full of surprises
Different from the first race, the Dai Nam race track has been redesigned by the Vietnam Motor Racing Championship 2023 organizing committee to increase the difficulty level, requiring racers to adapt well and demonstrate even more skillful vehicle control techniques. As a result, each victory requires much more effort and reflects the true level of each racer on the podium.
Specifically, the length of the race track has been adjusted to only 1,800m, but the number of turns has increased to 15, including 6 left turns and 9 right turns. Compared to the previous race, the length of the Dai Nam race track has been reduced by 400m, but at the same time, 4 more curves have been added. Especially, from turn 6 to turn 11 is a stretch that promises to bring speed and direct competition when left-right turn pairs are densely arranged and consecutive.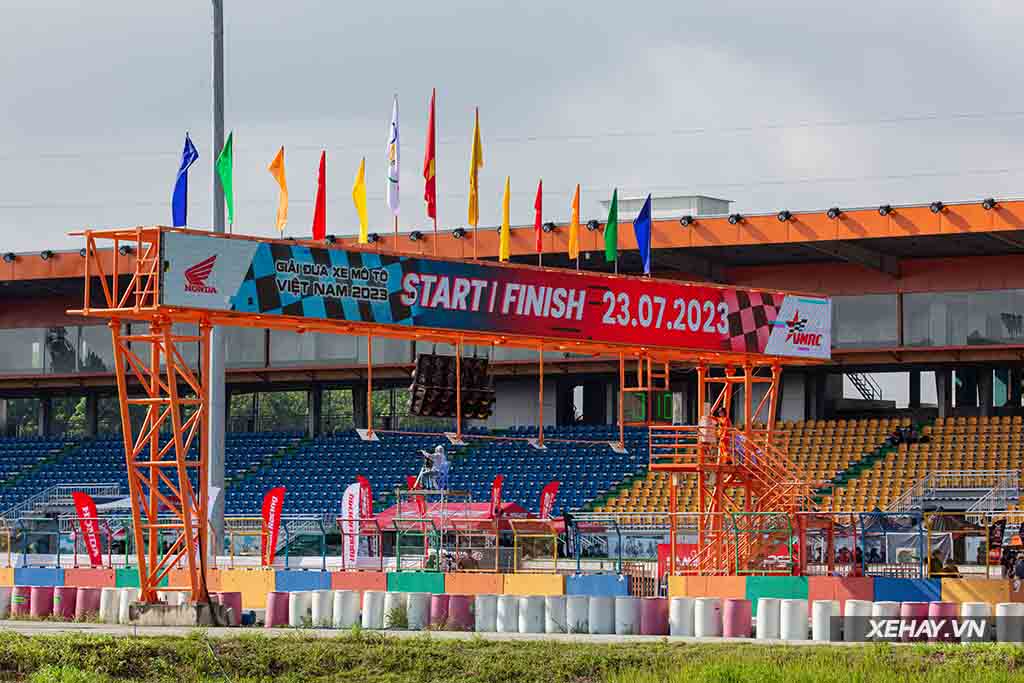 This means that racers have less time to accelerate and widen the gap, but there are more opportunities to pursue and compete in the curves. In other words, spectators will witness many intense and exciting speed and competition moments. But for each athlete, this will be a greater challenge than ever before.
On the morning of July 23, 2023 – on the day of the second round of VMRC 2023 – the weather in Dai Nam Binh Duong was recorded with an air temperature of 29 degrees Celsius, sunny with many clouds, and the wind speed was recorded at 22 km/h – these are quite ideal conditions for racing, promising to provide spectators with thrilling and breathtaking speed moments.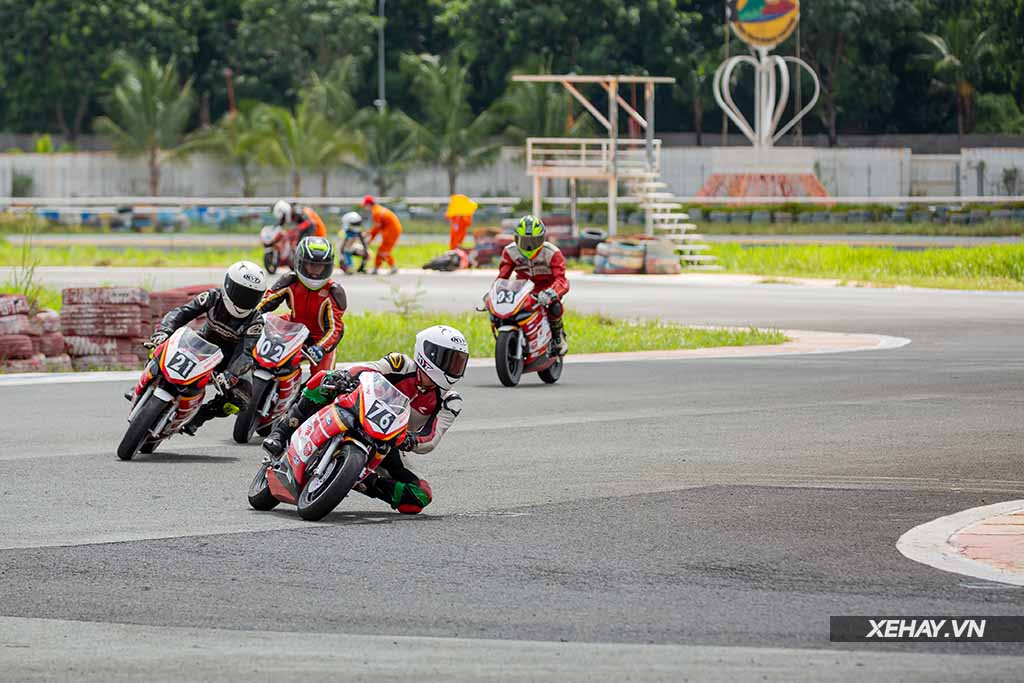 Vietnam Talent Cup – NSF100: Stable performance
Racer #40 Nguyen Trung Kien showed extremely stable performance when finishing first in the first round and continuing to win the pole position in the second round. Racers #82 Truong Duc Tri and #74 Yao Ying-Yi Nana from Taiwan started in second and third positions.
As predicted, the track conditions made it difficult for the racers. The one who experienced this most clearly was racer #08 Nguyen Huu Phap Tri. He made a mistake in a turn and had to stop the race in the first round. After that, all racers competed with caution but also with determination.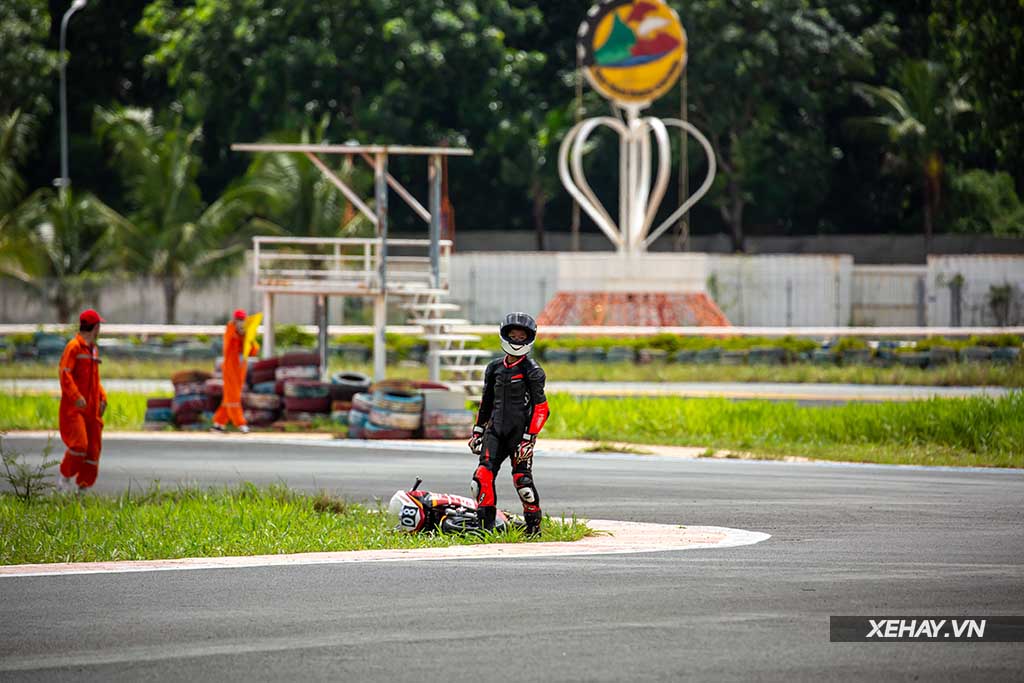 In the following races, #40 Trung Kien continued to show his superior skills by maintaining his performance throughout the 7 races. Behind him, #63 Vo Nhat Duy also did not give up, persevering to chase Trung Kien and waiting for an opportunity to attack. The heat on his neck made #40 Trung Kien constantly look back to observe his opponents while going through each turn.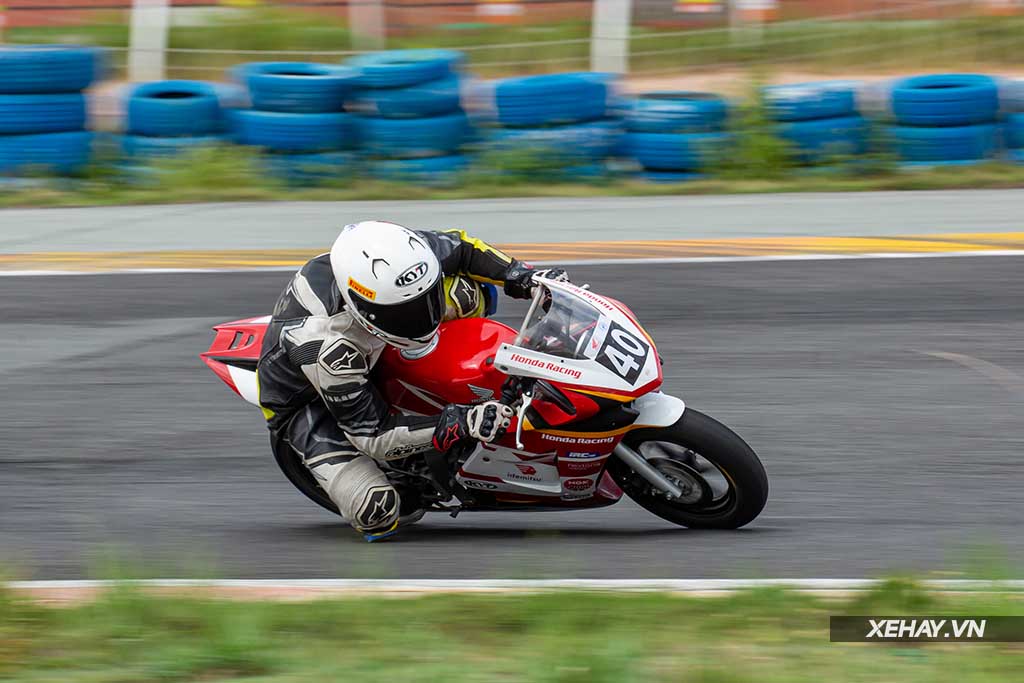 However, there was no overturning happening. #40 Nguyen Trung Kien continued to finish first and gain 16 more points, firmly consolidating his leading position in the overall ranking with 32 points after 2 rounds. #63 Vo Nhat Duy finished second. In the first round, although he scored 10 points, Nhat Duy did not make it to the podium when he finished in fourth place. But in the second round, racer #63 performed very well and significantly improved his race results.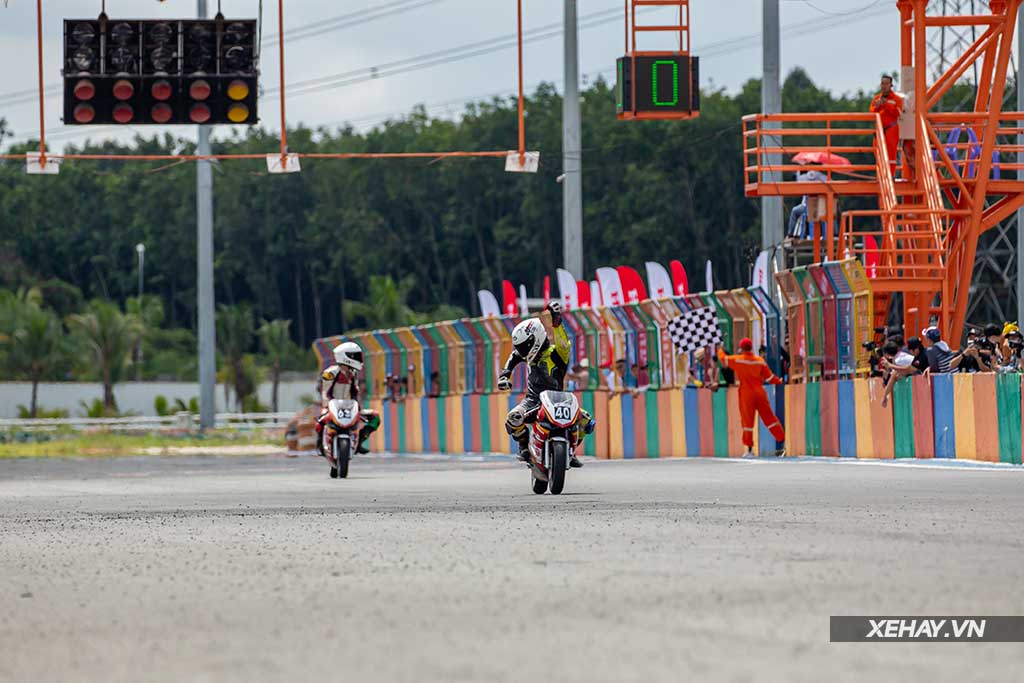 #82 Truong Duc Tri is the racer who finished third after surpassing several other racers. This is an outstanding achievement as in the first round, Duc Tri finished 10th. Female racer Nana Ying Yi and seed Perez Pham Jordi Nam did not have a chance to be on the podium.
Raising the gold cup for the first round, #40 Nguyen Trung Kien was moved by the memories of the beginning of his training. He had a passion from a young age, but without a mentor or financial support, Trung Kien did not have the money to attend professional training so he had to search for knowledge and practice on his own school bike.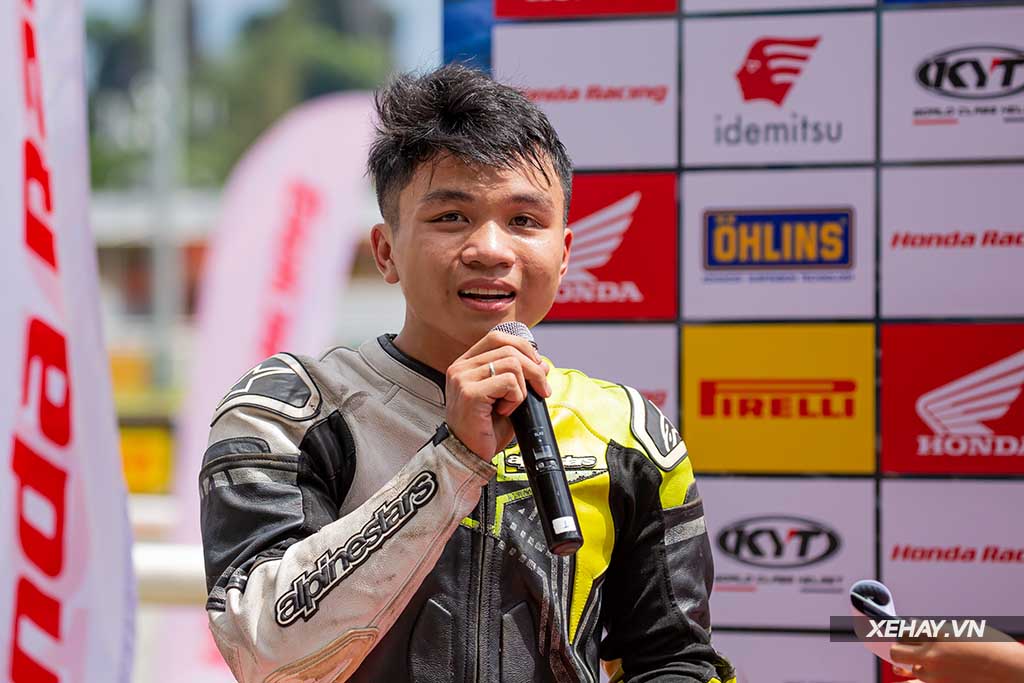 In 2020, when Trung Kien entered the VMRC professional competition, the Covid-19 pandemic was at its most intense. But with great efforts to overcome all difficulties, racer #40 successfully defended the perfect victory in the first two rounds of VMRC 2022. With 32 points in hand, Kien is leading the NSF100 ranking and promises to be an early talent, a complement to the thrilling and beautiful speed race arena.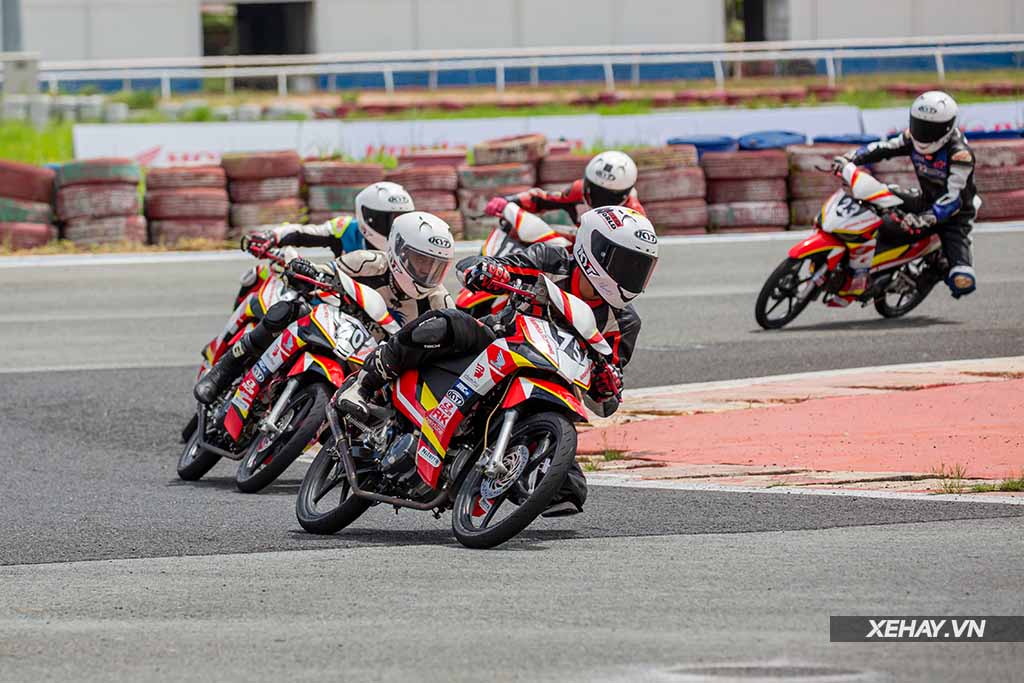 Blade 110: Changing the championship
#04 Le Tran Kim Thanh is the one who won the pole position in the second race with a time of 01:26.331. Racers #75 Nguyen Duc Hoai Thuong and #60 Nguyen Thien Duy started in second and third positions.
#12 Nguyen Truong Hai Yen – a familiar female racer – started in fifth position – between the two Rows. While the other female racer, #55 Nguyen Ai Thoai, also started next to Hai Yen in fourth position. The starting grid did not see any changes, but the subsequent developments were full of surprises.