When it comes to bicycles, people often think of the "rice" bikes that run on human power. The ability and speed of the bike depend on the rider's pedaling power. However, if you want to satisfy your passion for sleek, lightweight, and effortless bikes, then motorized bicycles are a perfect and exciting choice.
Mr. Phu Quy (Lai Vung district, Dong Thap province), an enthusiast for vehicles, bought a Craftsman 1924 bike for about $2,000 to satisfy his personal preferences. This motorized bike has a vintage design that resembles the Craftsman bikes from the 1924.
Craftsman 1924 vintage bike is becoming a trend among 2-wheeler enthusiasts
The Craftsman 1924 bike has a length of 1850 mm, weighing 34 kg, heavier than a regular bicycle due to the added engine. The handlebars are beautifully designed in a classic style, creating a more comfortable riding posture. In Vietnam, most Craftsman 1924 motorized bikes are imported from China, with a design similar to the models created in 1924.
The front and rear of the bike are equipped with LED lights and a horn.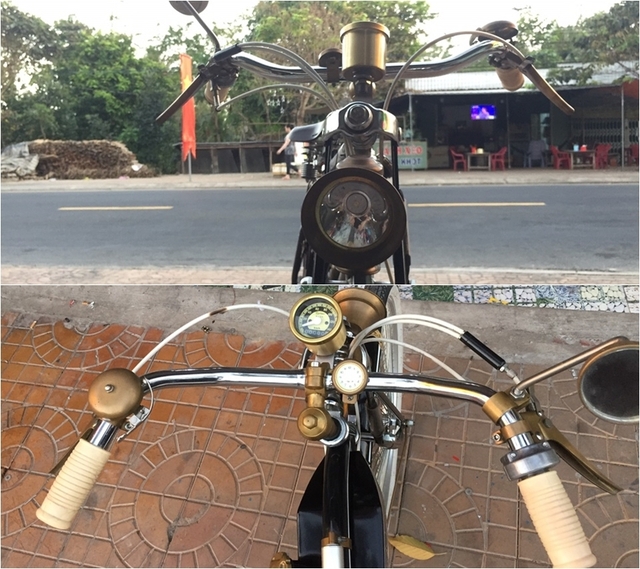 Vintage handlebar design of the Craftsman 1924 bike
The bike uses vintage brakes (band brake) front/rear. The gear adjuster is located on the left handlebar, changing gears by turning. The brake and throttle are located on the right handlebar.
The bike has 26-inch rims with large tires compared to a regular bike, which increases traction and comfort. In addition, the tires have a classic white sidewall design.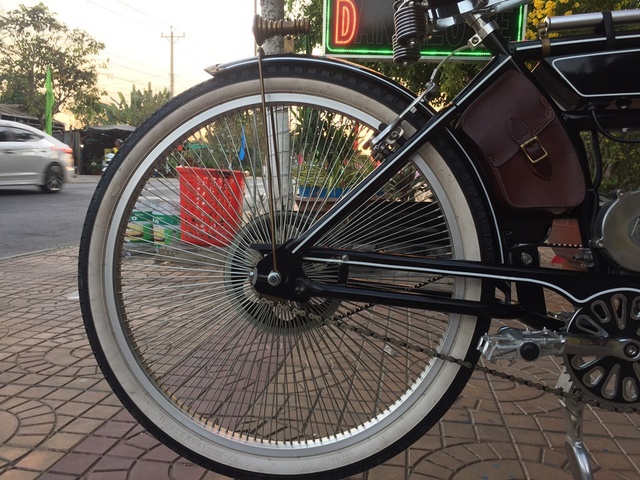 Disctintive white sidewall tires
Additionally, the bike's front/rear suspension system is equipped with 19th-century technical innovations. Specifically, the front suspension structure of the bike is a dual-arm double-piston mechanism. There is a coil spring instead of a suspension system under the saddle.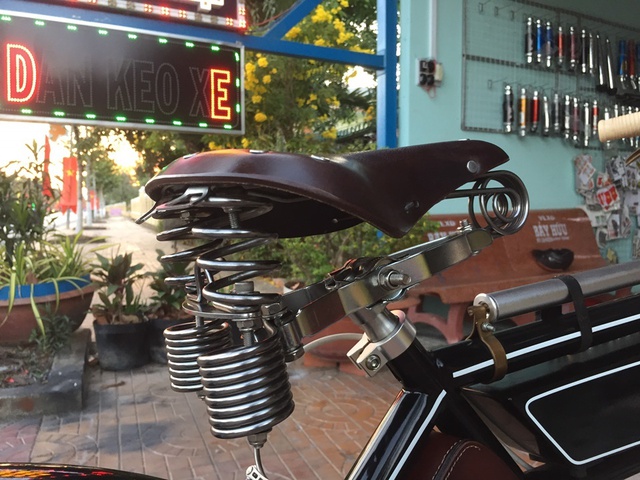 Saddle with coil spring instead of suspension
The special feature of this motorized bike is its 38cc 2-stroke engine, which runs on gasoline with a 4-liter fuel tank, with a top speed of 45 km/h.
When operating, the driver only needs to pedal the bike to start the 2-stroke engine. The engine transfers power through a belt, making the wheels spin. This principle is similar to other famous motorized bikes like Mobylette and Vélosolex.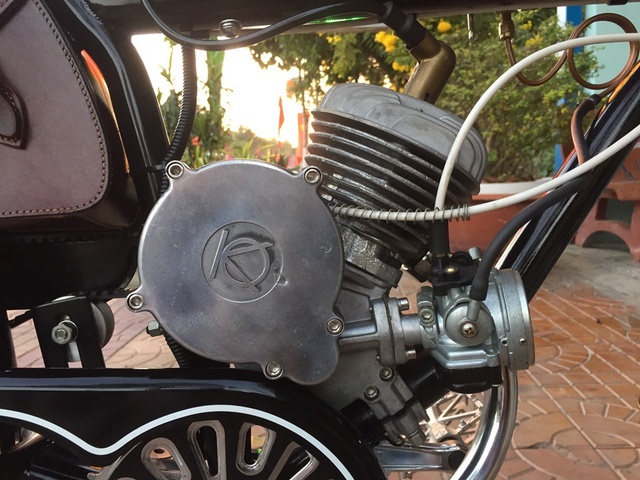 The bike is easily started by pedaling
Based on observations on various e-commerce websites, the average price for a Craftsman 1924 2-stroke motorized bike is around $2,000 (equivalent to 46.3 million Vietnamese Dong), available in 4 different colors.
Aside from this model, the vintage motorized bike range in the Vietnamese market also includes the Fuki Planning FK310 models, which also have a 19th-century vintage design.
The first motorized bike was invented in 1860 in Paris, France. However, these motorized bikes only became popular after Sylvester H. Roper (USA) patented one in 1869. Starting from 1903, motorized bikes were equipped with larger and heavier engines specially designed to run at higher speeds. Over the years, motorized bikes have undergone many improvements and have gradually become more refined. It can be said that these motorized bikes are the "ancestors" of modern motorcycles.