The current generation of Hyundai Tucson was just launched in September 2020, and now the Korean automaker is preparing to introduce a mid-life upgrade version. In recent times, test prototypes of the Hyundai Tucson Facelift have been spotted on the road. However, the design of the car is still hidden under meticulous camouflage layers.
In fact, the design of Hyundai models tends to change significantly year by year, and the Tucson Facelift is expected to receive significant design upgrades compared to the current version on the market.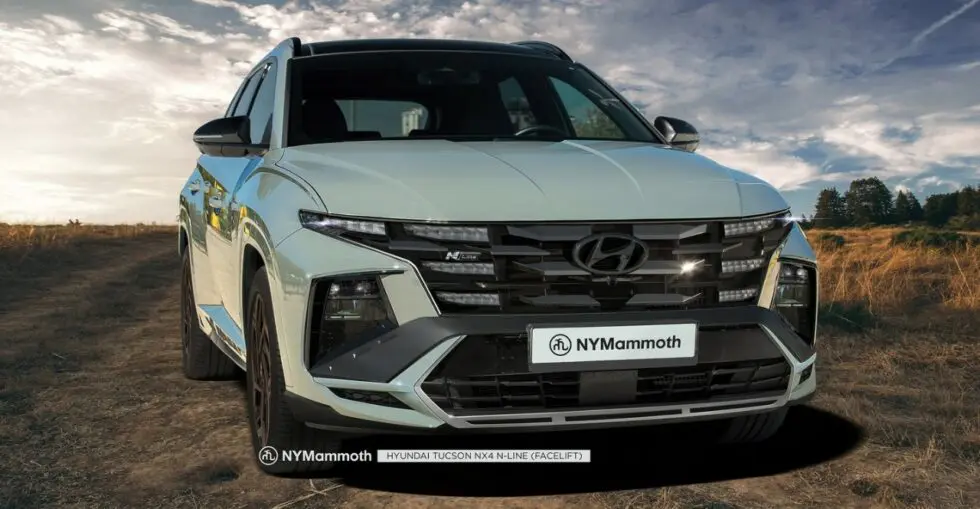 Illustrative design image of Hyundai Tucson N-Line Facelift by NYMammoth
Without letting the fashion enthusiasts wait any longer, the Korean car channel NYMammoth has created an illustrative image of the design for the Hyundai Tucson N-Line Facelift sports version, thereby helping users better imagine the new appearance of this popular compact crossover.
Based on this "unofficial" illustrative image, it can be seen that the Hyundai Tucson N-Line Facelift will have a new, cool, and rugged appearance compared to the current version, thanks to adjustments to the grille, front bumper, and headlight housings. If you only have a quick look at the front of the Tucson N-Line Facelift, many people may associate it with true sports cars, true to the nature of a performance-oriented car.
Inside the cabin, the interior of the Hyundai Tucson Facelift is promised to receive more notable upgrades, following the style of the new generation Santa Fe. Accordingly, we can expect the next-generation Santa Fe to receive a modern panoramic curved display system as well as the latest safety features and technologies.
Regarding the powertrain system, depending on the markets, the Hyundai Tucson will be offered with different engine options. Experts assess that there might be no changes in the powertrain options with the Tucson facelift version, except for minor adjustments to make the engine more efficient and possibly upgrade the battery pack to increase the operating range in pure electric mode for the PHEV variant.
Currently, the exact launch time of the Hyundai Tucson Facelift is still unknown, but it is likely to be around the summer of 2024 in South Korea.
Trang Nguyen (Forum.autodaily.vn)