With the dedicated electric platform E-GMP from Hyundai Motor Group, Kia EV6 becomes particularly attractive in the mid-size crossover segment compared to competitors like the Volkswagen ID.4 and Ford Mustang Mach-E.

Although not the first name to open the era of electric cars worldwide, Kia EV6 can still be considered a pioneering figure with outstanding technological features and impressive real-life user experience. Since its introduction, Kia EV6 has quickly received enthusiastic response from customers in many major markets such as North America and Europe, and has won many prestigious awards, notably "Car of the Year 2022 in Germany" (2022 German Car of the Year).
Technical specifications
As we know, Kia EV6 is developed on the new E-GMP platform, similar to the Hyundai Motor Group's Ioniq 5. This means that EV6 will share most of the hardware with Ioniq 5, starting with a 58 kWh battery pack in the standard version and a 77.4 kWh battery pack in the higher-end versions, accompanied by a single electric motor/rear-wheel drive or a dual electric motor/all-wheel drive configuration.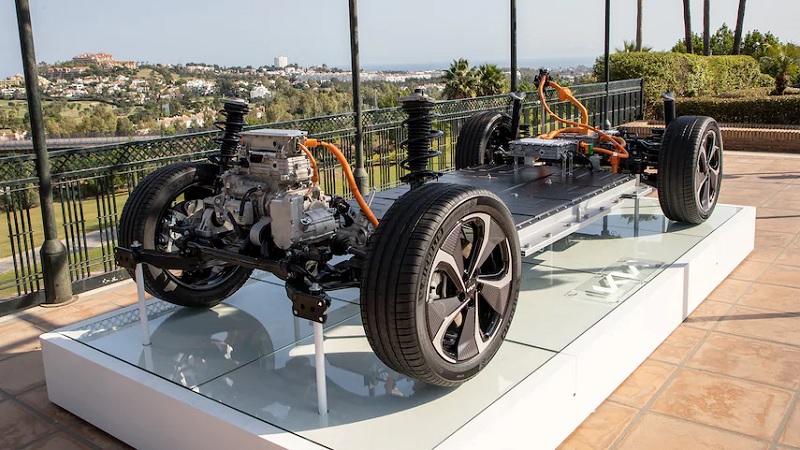 At first glance, Kia EV6 features a coupe-like SUV design with modern, dynamic, and sporty lines thanks to the application of the new Opposites United design language. The overall dimensions of the car are 4,695 x 1,890 x 1,550 mm (length x width x height), with a superior wheelbase of 2,900mm – equivalent to the large-sized SUV Kia Telluride.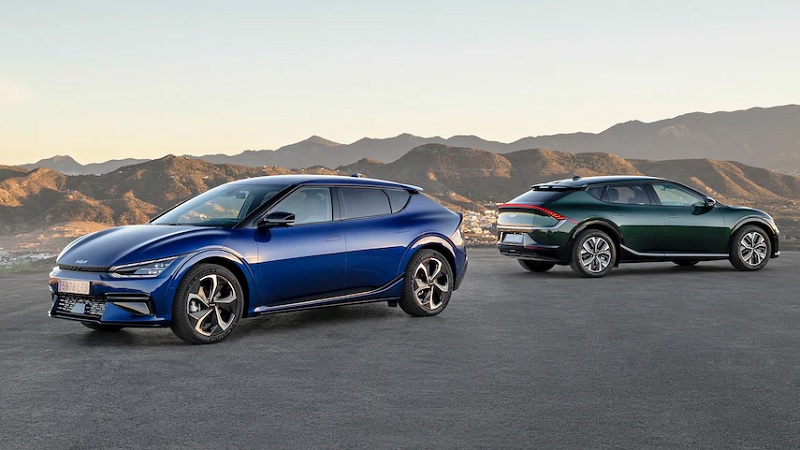 Compared to competitors in the same segment, Kia EV6 stands out in terms of overall height, being 76.2mm lower than the Mustang Mach-E and 86.4mm lower than the Volkswagen ID.4. Complementing the elongated roof and sharp beltline, emphasized from the rear quarter panel, EV6 has a more sporty appearance than the two names from Ford and Volkswagen.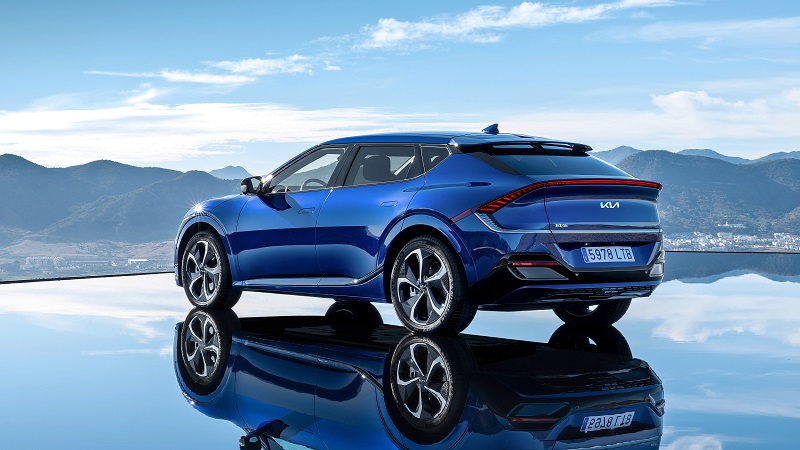 The standard version of Kia EV6 is equipped with a single electric motor, rear-wheel drive and a 58 kWh battery pack for a maximum power of 168 horsepower and a maximum torque of 350 Nm. With the higher-end versions, the EV6 will use a 77.4 kWh battery pack and a different front-mounted electric motor and all-wheel drive for a total output of up to 321 horsepower and 605 Nm. There is also a GT variant with impressive specifications thanks to a long-range battery pack and a more powerful dual electric motor for 577 horsepower / 740 Nm of power.
Real-world performance
For a mid-size electric crossover like Kia EV6, straight-line performance is not everything. The EV6 truly showcases its capabilities and impresses the most in curved sections of the road. This is not surprising as the former Director of BMW M, Albert Biermann, oversaw the development of the Kia EV6.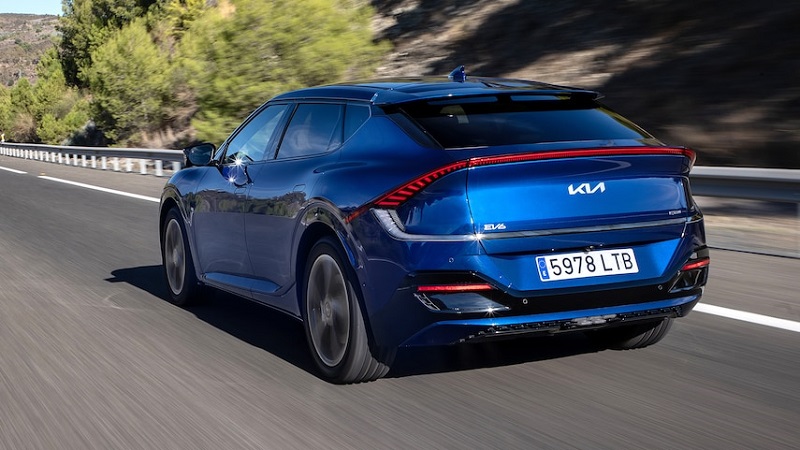 The steering wheel rotation of Kia EV6 is 2.7 turns, clearly demonstrating the sporty and nimble nature in handling. In comparison, the steering wheel of the Volkswagen ID.4 has 3 turns or the Mustang Mach-E has 3.7 turns. Therefore, the EV6 steering wheel provides a sharper and more responsive driving sensation. Moreover, the weight of the steering wheel is neither too heavy nor too light, while providing accurate feedback on what the tire contact surface is doing.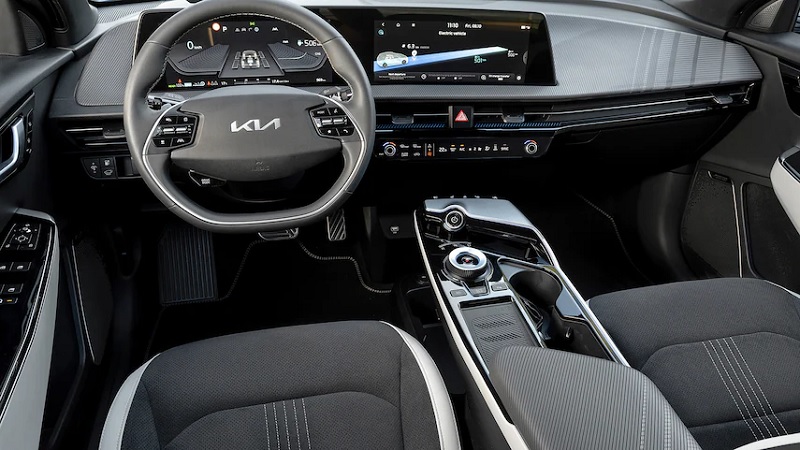 For the Kia EV6 GT-Line version participating in real-world testing, the overall weight of 1,985 kg is not highly-rated. Nevertheless, the EV6 still shows agility and clear handling capabilities, each twist and turn of the car body is well-controlled. In corners, before passengers in the car can feel any unwanted movements, the large torque instantly brings the EV6 out of the turn and restores its inherent stability.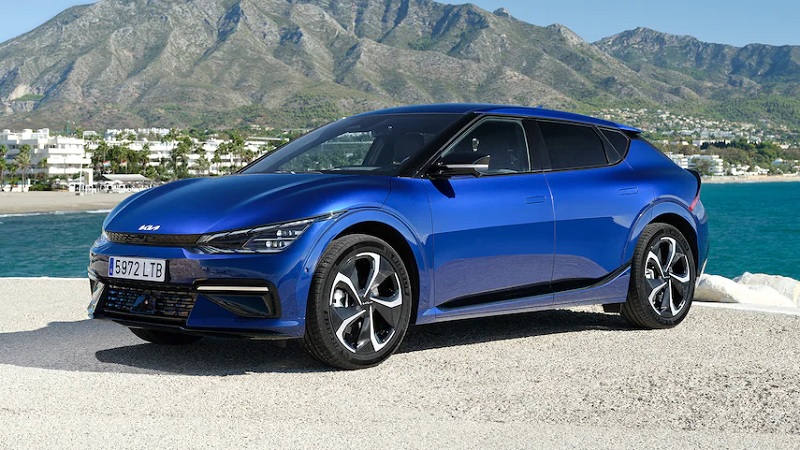 Firm driving sensation – anyone can recognize the similarity to BMW models – thanks to stiffer front and rear springs than Hyundai Ioniq 5, combined with thicker anti-roll bars. In addition, the EV6 is equipped with shock absorbers with at least one additional supplemental piston capable of adjusting the pressure on the pad to restore, allowing flexible shock damping depending on road vibrations. Kia states that these shock absorbers provide a more confident and stable ride, especially when the car has to face constant changes from road conditions, while providing a more comfortable driving feel on highways.
Diverse driving modes, superior travel range
Kia EV6 has 3 driving modes (Eco, Normal, and Sport) that can be activated through an integrated button on the steering wheel. Essentially, these driving modes are not particularly special, except for changing the weight of the accelerator pedal and steering wheel, allowing drivers to perform appropriate operating actions depending on usage conditions. In addition, drivers can choose from 6 levels of regenerative braking system with an automatic mode.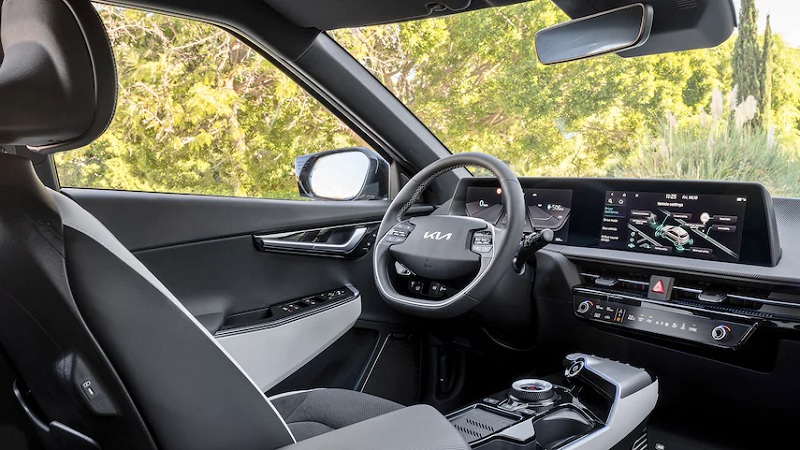 In real-world testing, the Sport mode gives Kia EV6 the most superior and powerful performance, allowing drivers to fully utilize the quick response of the electric powertrain. Instead of using the front disc brake – rear drum brake setup like the ID.4, the Kia EV6 is equipped with disc brakes for both the front and rear wheels, combined seamlessly between the regenerative braking system and the mechanical braking system. Although equipped with regenerative braking, activating the Sport mode will reduce the travel range of the EV6, albeit not significantly when maintaining a steady speed.
With a fully charged 77.4 kWh battery pack, the EV6 computer system predicts a maximum travel range of 304 miles (~ 490 km) in Eco mode, 296 miles (~ 476 km) in Normal mode, and 286 miles (~ 460 km) in Sport mode. After traveling about 136 miles (~ 219 km) mixed on highways and urban roads, the EV6 predicts remaining travel ranges of 131 miles (~ 211 km), 127 miles (~ 204 km), and 124 miles (~ 200 km) for Eco, Normal, and Sport modes, respectively.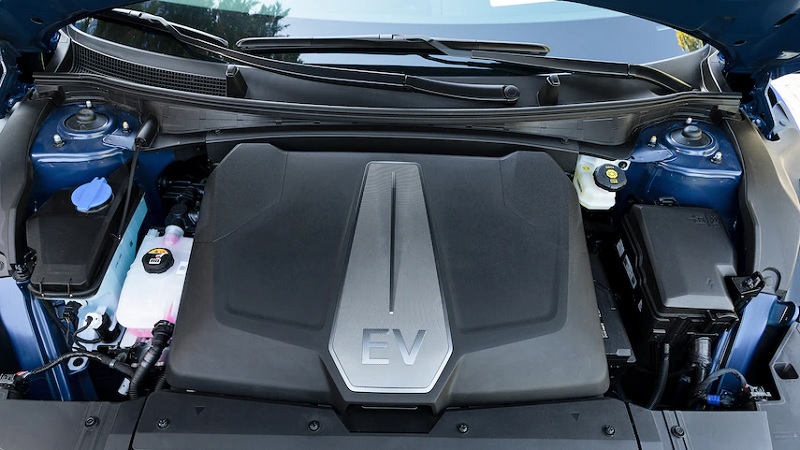 If compared to competitors in the same segment such as the Mustang Mach-E or ID.4, the travel range is not a big issue for Kia EV6. Because the EV6 also has a super-fast 800V charging system with a power of 350 kW, allowing charging from 10% to 80% in just 18 minutes.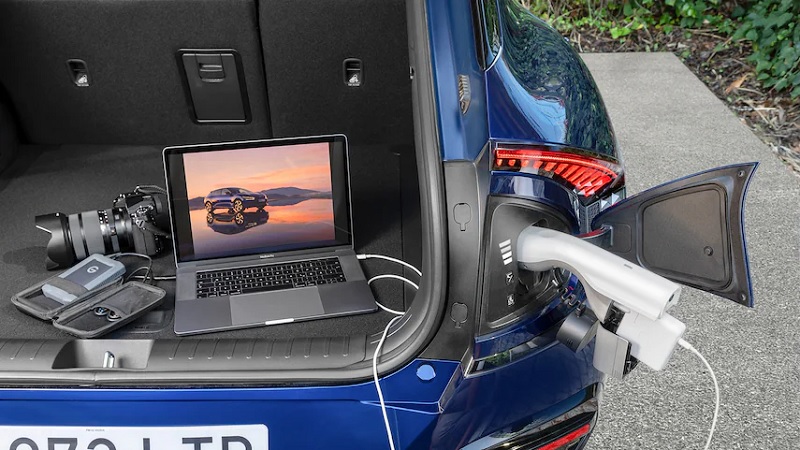 Luxurious interior, full of technology
Like most electric car models today, Kia EV6 has an interior cabin with a futuristic design featuring a minimalist dashboard, a 12.0-inch digital instrument cluster, and a 12.0-inch curved infotainment display. The instrument cluster and infotainment screen are integrated into one unit, floating in the dashboard area, giving the cockpit a modern and premium feel.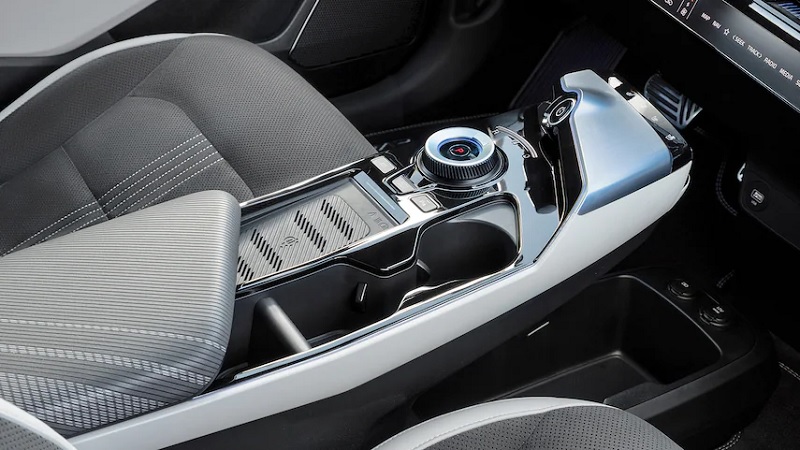 Kia EV6 is equipped with a two-spoke leather-wrapped steering wheel with the new brand identification (logo), integrated with multiple function buttons such as wipers, turn signals, cruise control, hands-free communication, and audio system. The interior cabin's air conditioning system is controlled through simple knobs, while the gear lever in the center stack is a rotating knob for a sleeker look.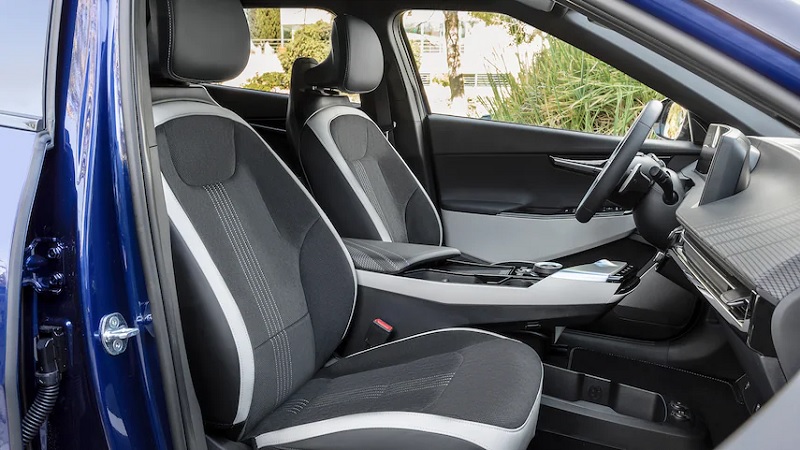 The large wheelbase provides EV6 with spacious interior and storage space with a standard capacity of up to 520 liters. If the rear seats are folded, the luggage space can increase to 1,300 liters. All seats are wrapped in synthetic leather and suede, accompanied by convenient features such as power-adjustable, memory seating (for the driver's seat), ventilation/heating.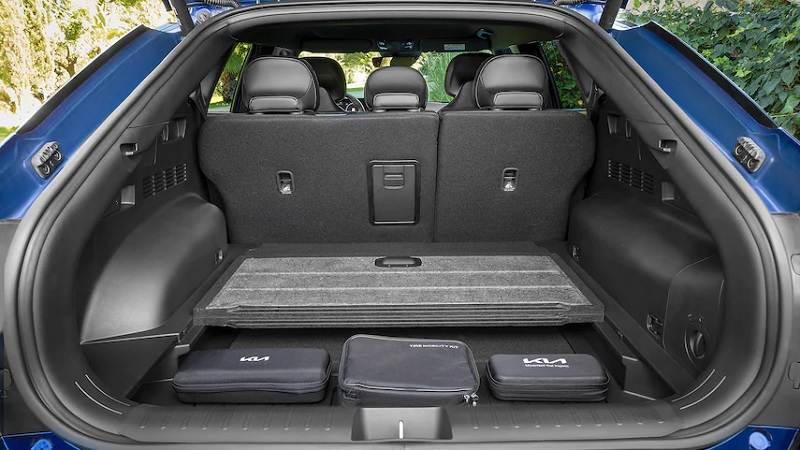 Kia EV6 meets the standards with 21 driver support and safety systems, along with advanced features such as a head-up display augmented reality. Notably, the Highway Driving Assist 2 is a combination of an adaptive cruise control system with lane-keeping support even when entering curves thanks to radars that help maintain the set distance and speed.
Conclusion
All in all, with the E-GMP platform and investment in technological features, Kia EV6 is now becoming superior to most competitors in the same segment. The car's attractiveness is shown in various business achievements despite being newly launched, such as 21,000 orders in the home market of Korea within 24 hours of sales opening.
In the Vietnamese market, THACO has confirmed that the EV6 will be launched in the second quarter of this year, providing domestic customers with an attractive choice in the electric vehicle segment. Recently, an image of a Kia EV6 at the Truong Hai – Chu Lai complex was unexpectedly posted on social media, further reinforcing the belief in the upcoming launch date. With the presence of the EV6, domestic consumers will soon witness fierce competition between many electric car models such as the VinFast VF e34, Porsche Taycan, Audi e-tron, or Jaguar i-Pace.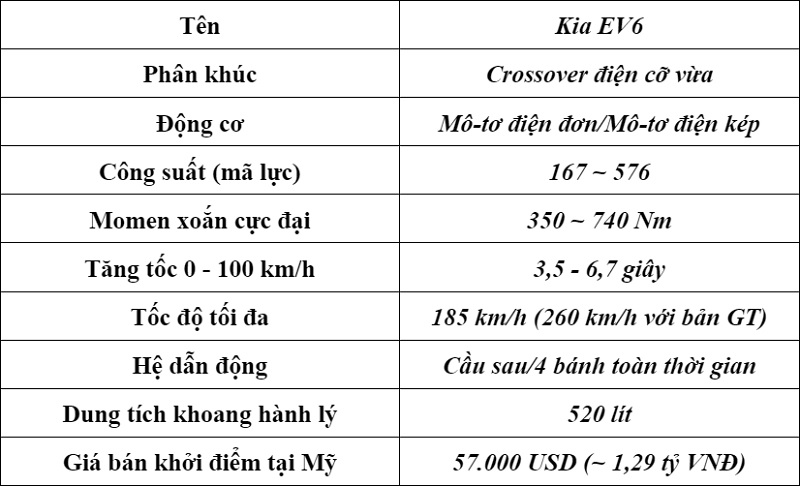 Quang Hung (Tuoitrethudo)
Source: Motortrend