The 2023 Ducati Panigale V4 R is equipped with the new Desmosedici Stradale R 998cc engine with a maximum rpm limit of 16,500 in 6th gear, producing 218 horsepower at 13,500 rpm.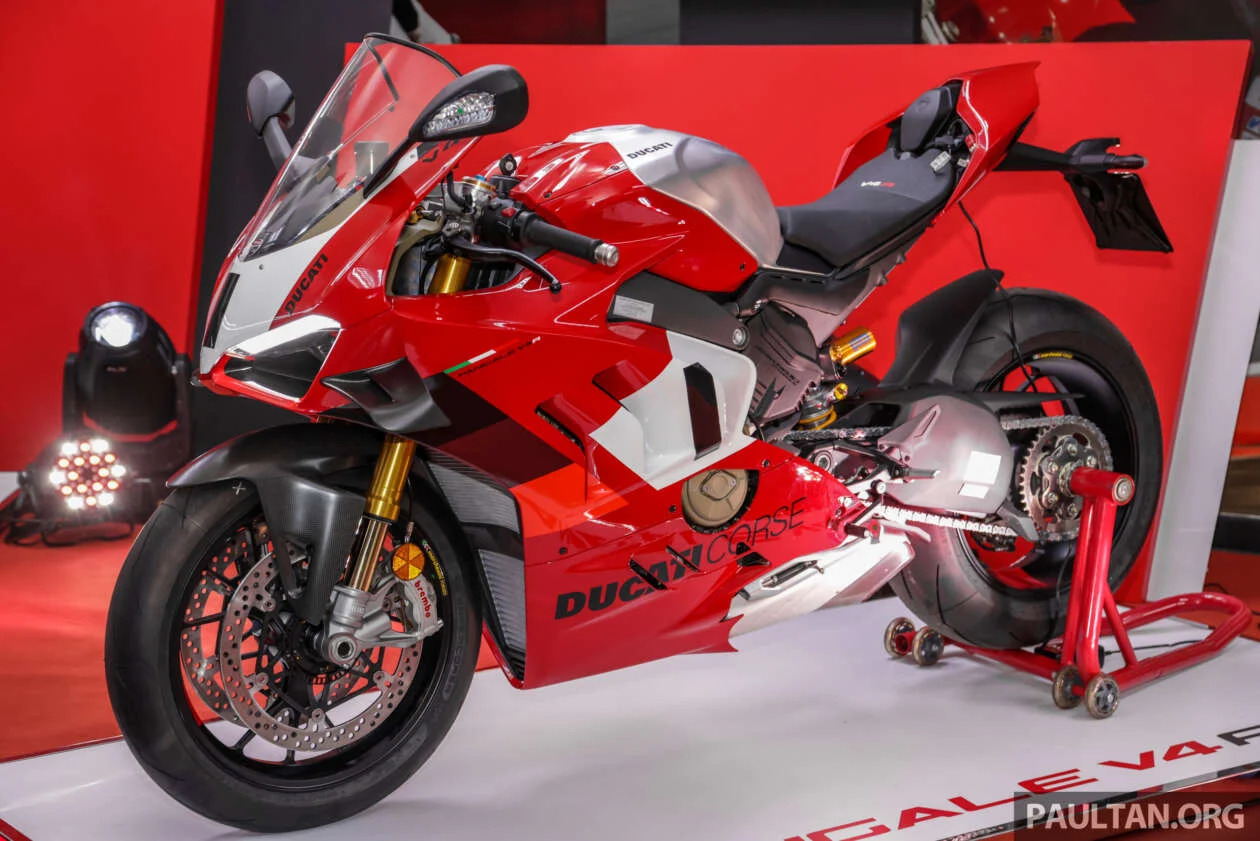 Ducati states that if the Panigale V4 R is equipped with the Akrapovic Titan Full System exhaust and uses a special new engine oil that Ducati Corse and Shell have jointly researched, it can help the engine achieve an astonishing 240.5 horsepower. This oil contains an exclusive blend of racing additives, which Ducati claims helps reduce mechanical friction by an additional 10%.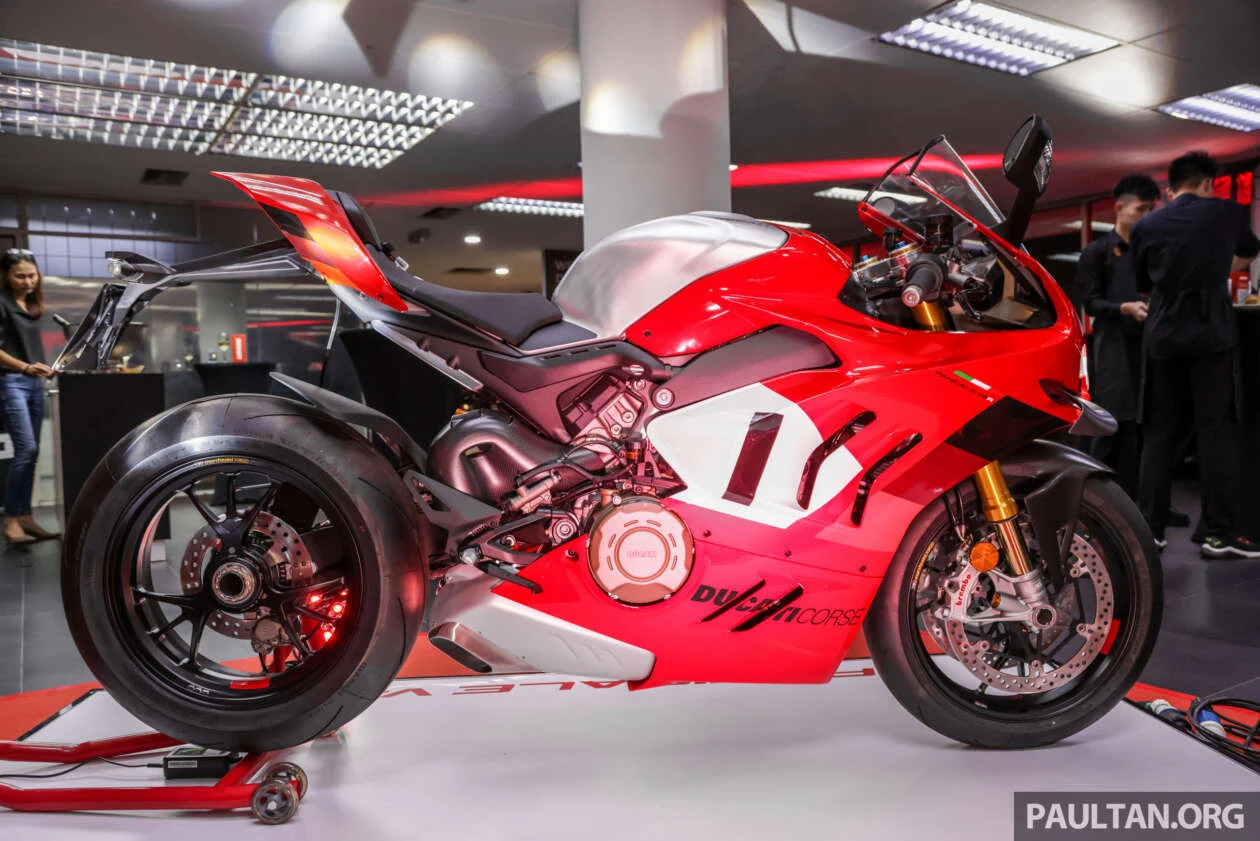 Another key point of the power increase is the use of new "gun drilled" Titan connecting rods, which create a small bore drilled along the length of the rod, creating an oil passage to improve lubrication in harsh conditions, and DLC-treated pistons, which Ducati claims is the first technology for a superbike, despite this technology being common in Formula 1 and MotoGP. Inertia is also reduced thanks to the new piston geometry, reducing their weight by 2%.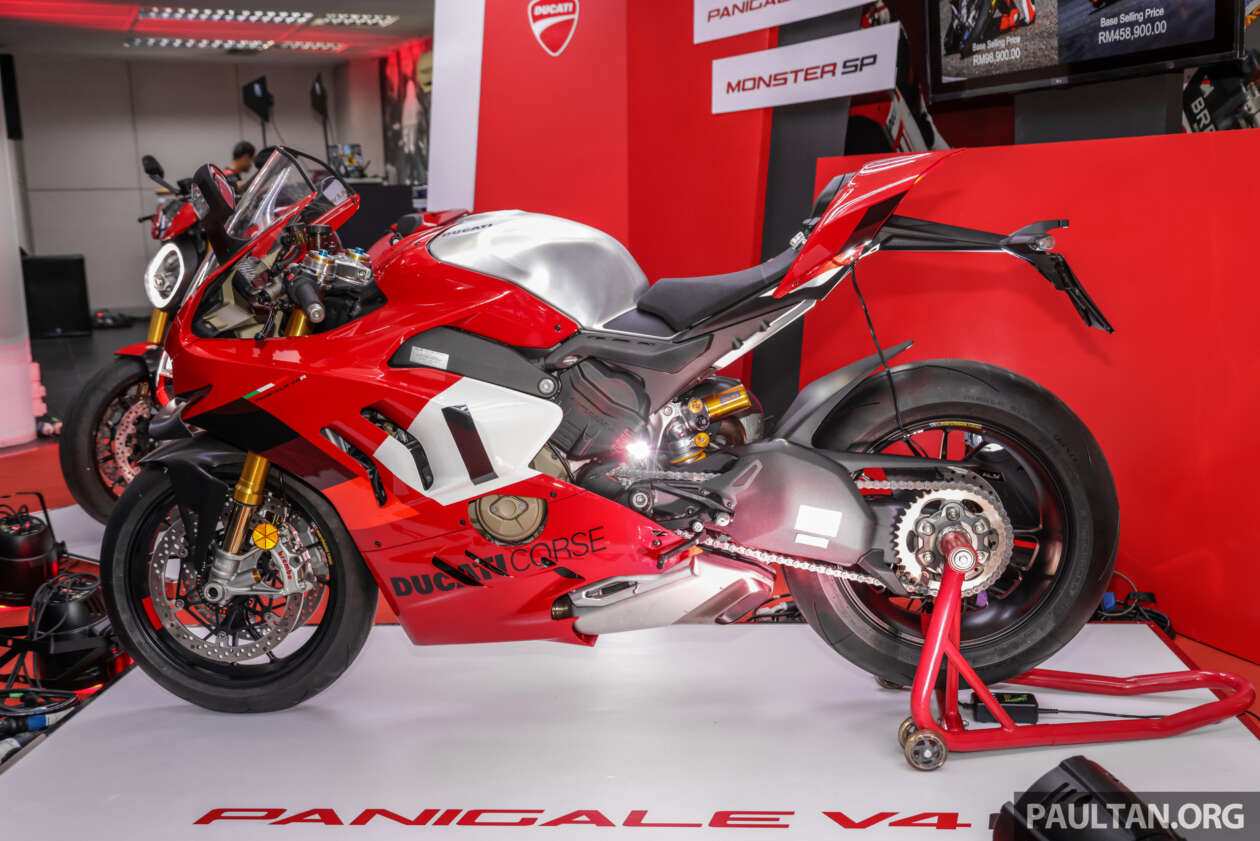 Other changes stem from Ducati's racing experience, including more powerful intake cams, revised gear ratios, and a new smaller and lighter dry clutch from WSBK.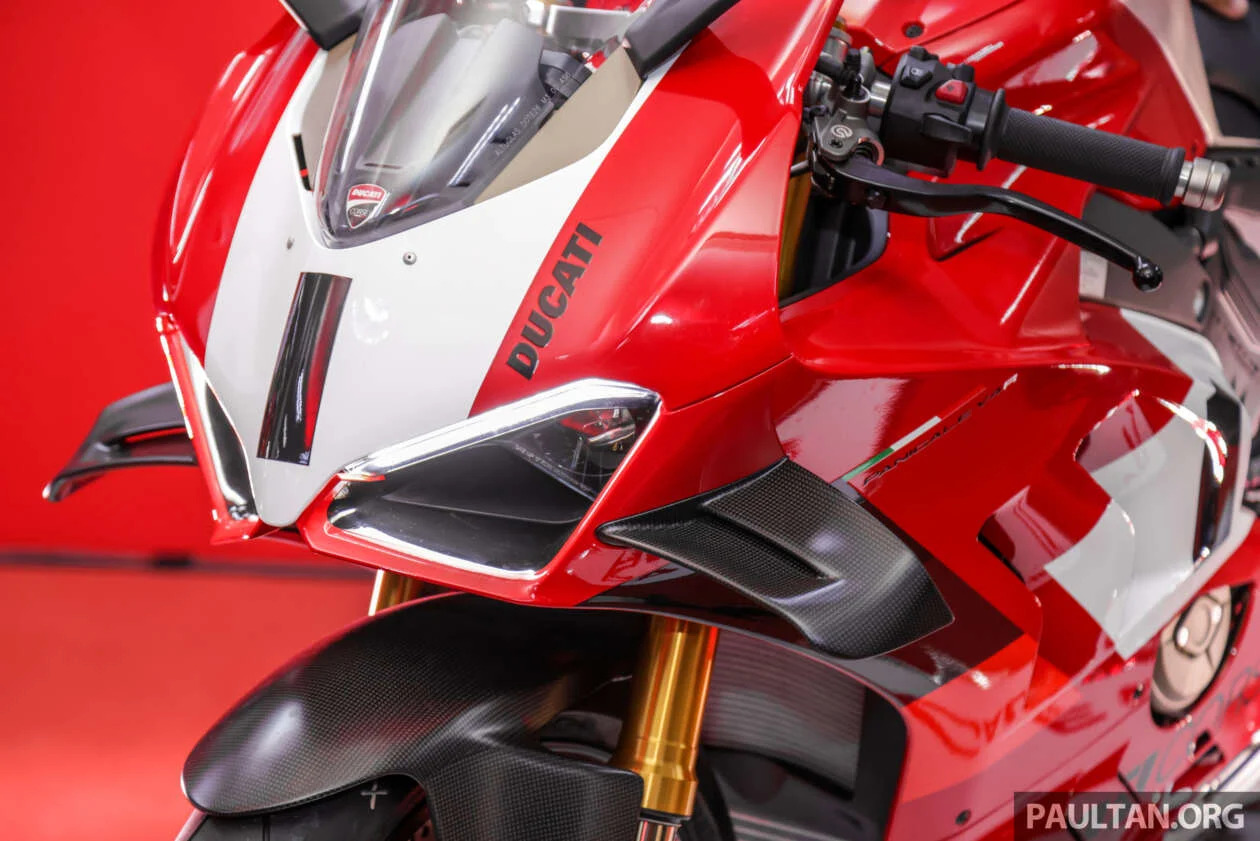 The fairing has also been updated to improve engine cooling, while the aerodynamics package has been modified with slimmer and more compact winglets that still provide the same downforce as the previous version.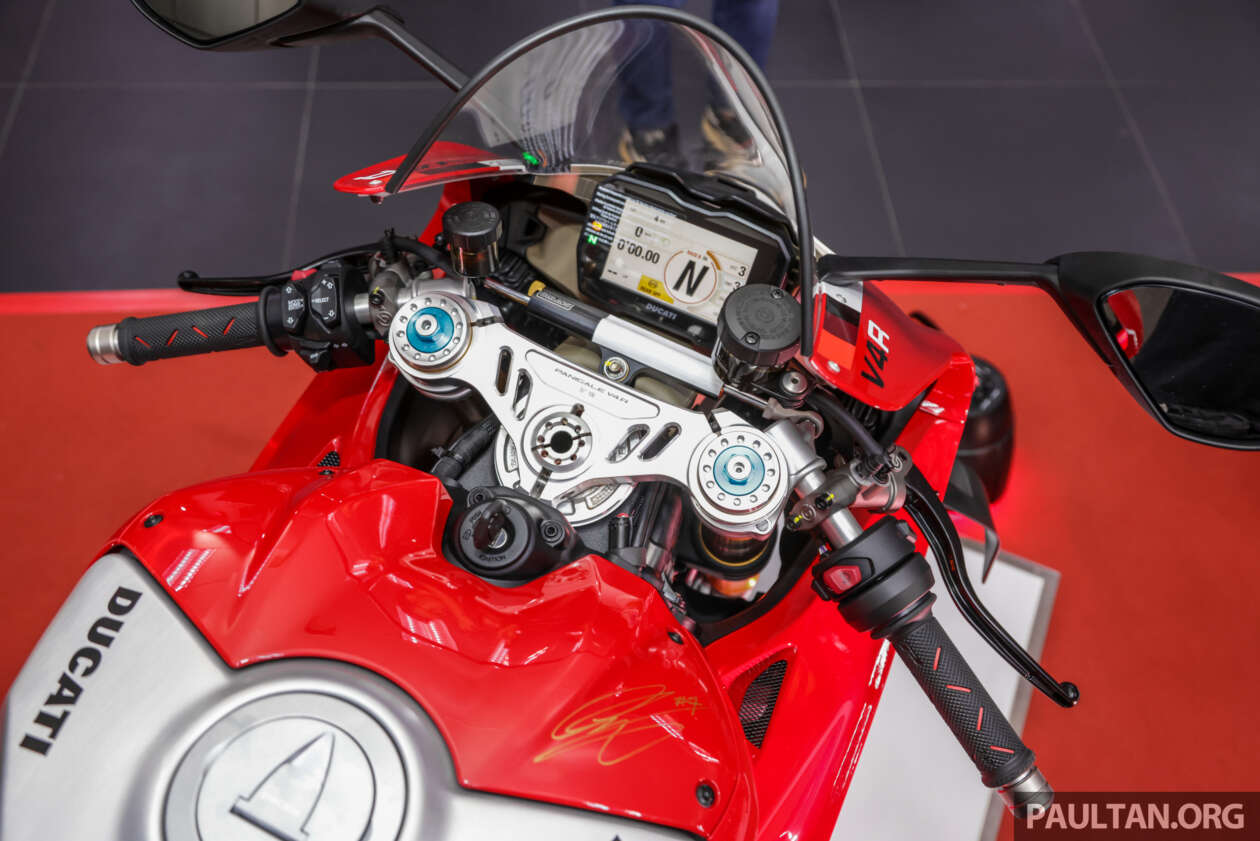 The fully adjustable suspension system is shared on the Panigale V4 and V4 S 2022, with the Ohlins NPX25/30 fork now providing 124 mm of travel (more than 5 mm more than the previous V4 R) and the Ohlins TTX36 shock absorber being repositioned to increase rear ride height by 20 mm for a higher center of gravity.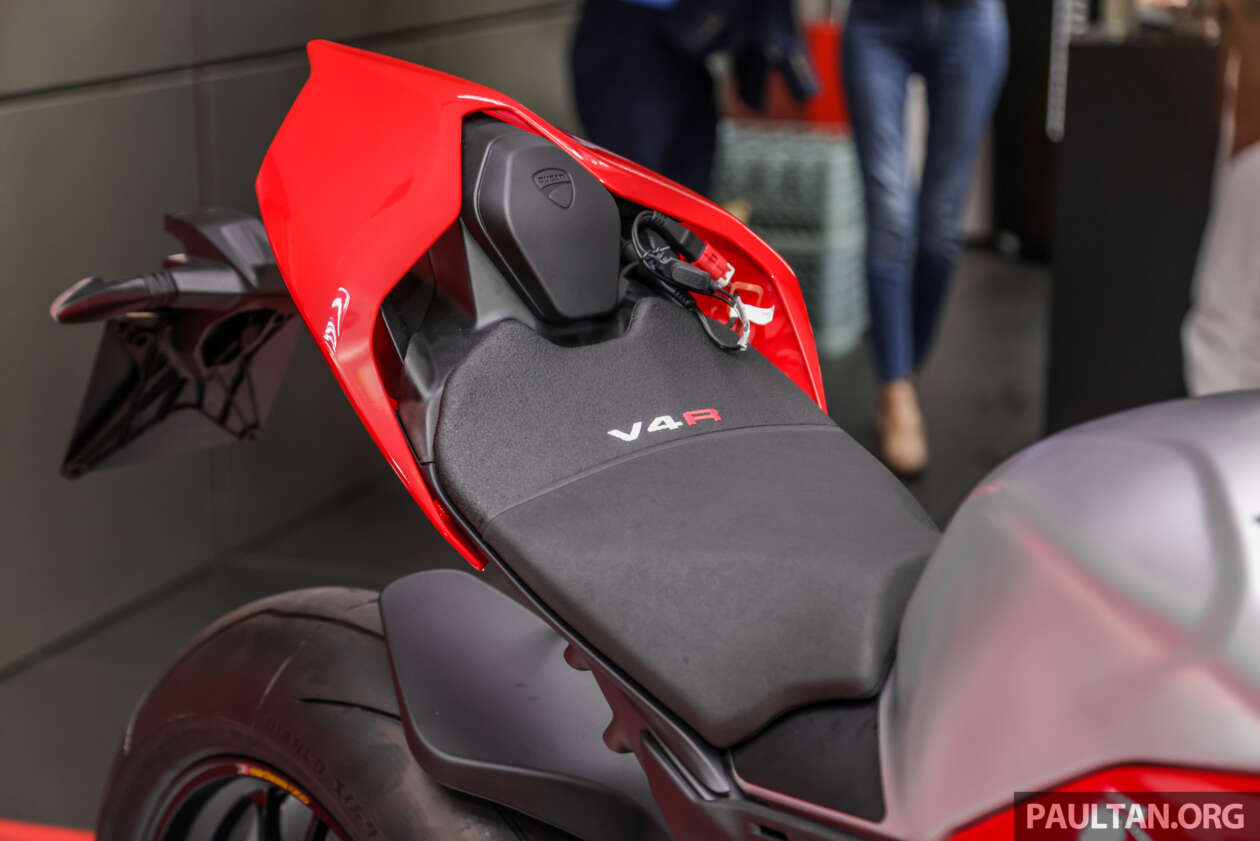 Ducati has increased the fuel tank capacity to 17 liters and given it a new structure to improve rider support during braking and cornering. The flatter seat with a new upholstery and a thinner foam layer also allows the rider to move from side to side more easily while leaning.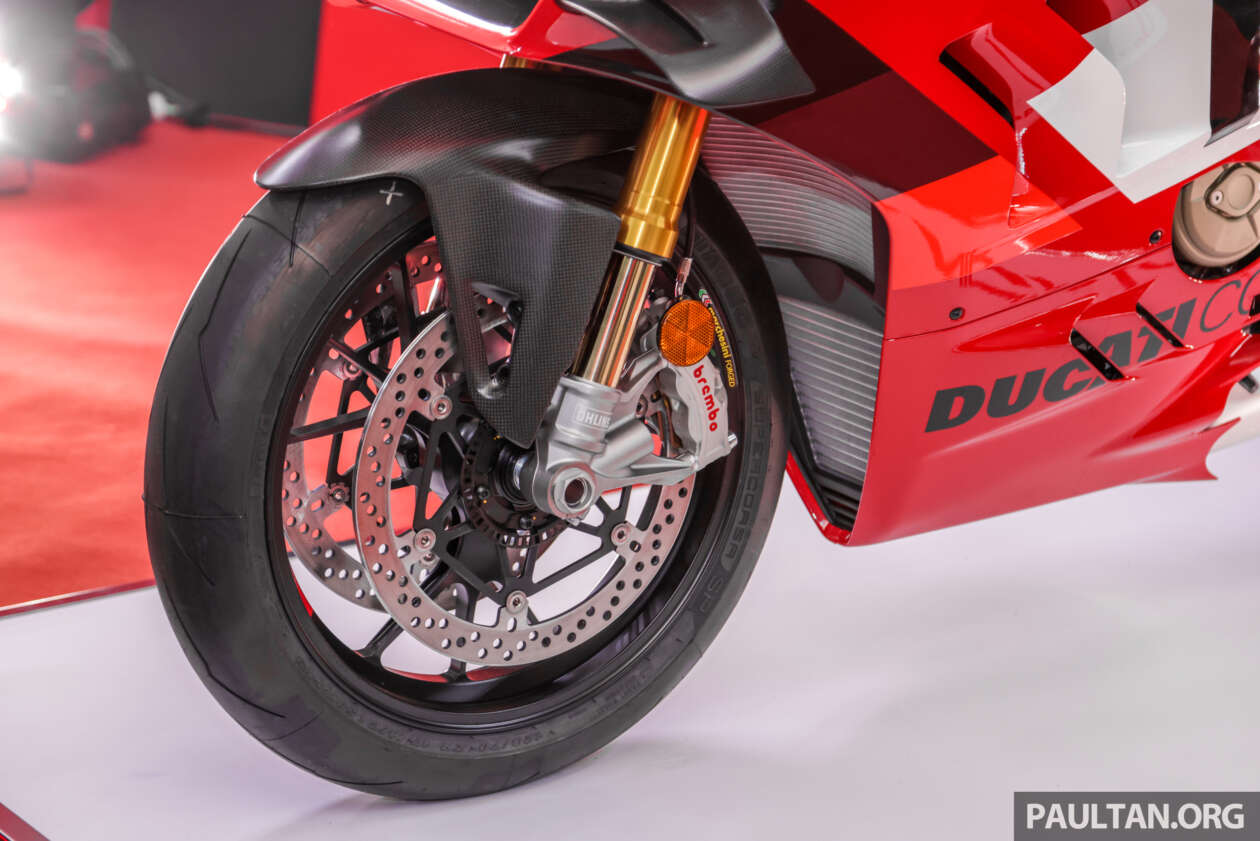 The Panigale V4 R 2023 also receives updated electronics from the Panigale V4 2022 and 2023, with the new Track EVO dashboard, engine brake, quickshifter, and refined traction control settings.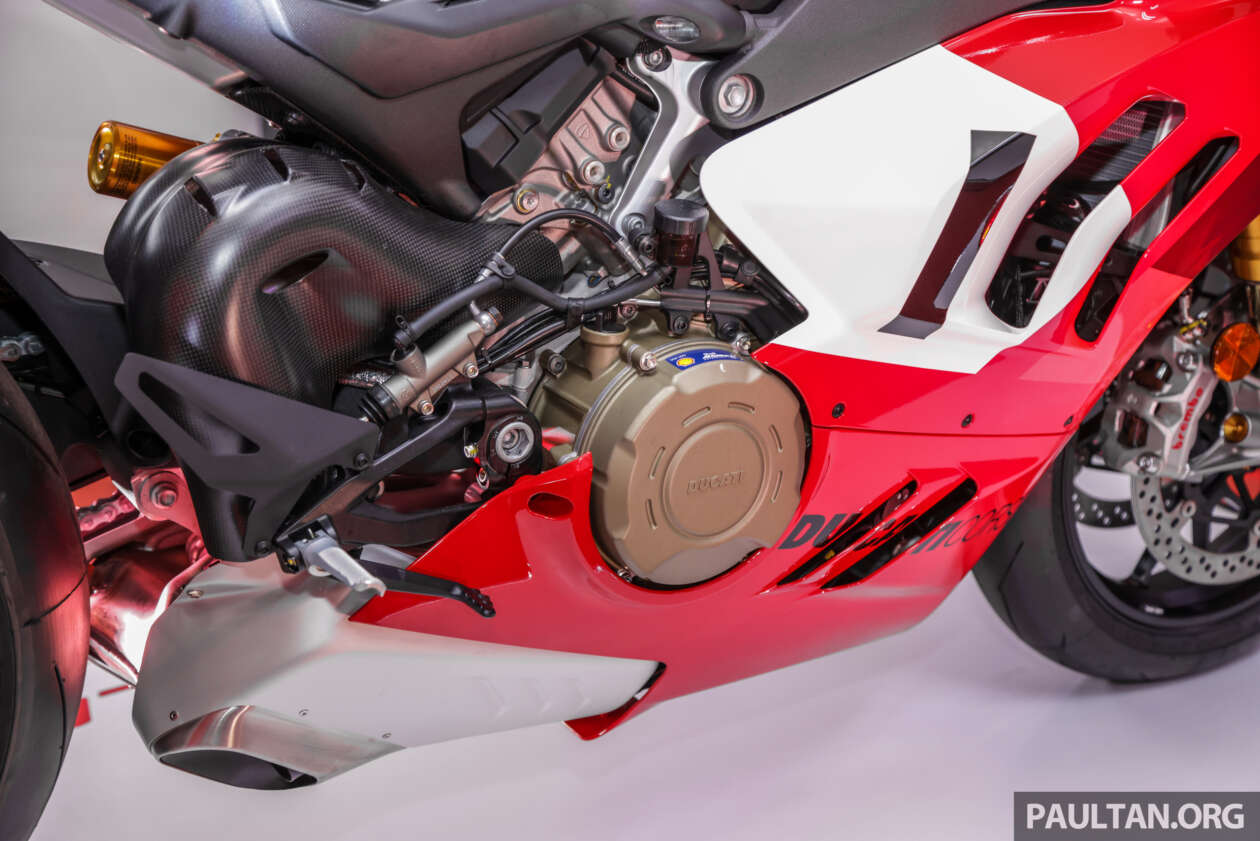 The Ducati Performance DTC EVO 3 traction control system also features a new rain mode, replacing the previous street riding mode, designed for wet surfaces and slick or rainy conditions, this mode also flashes the rear position light as required by racing regulations in wet weather conditions.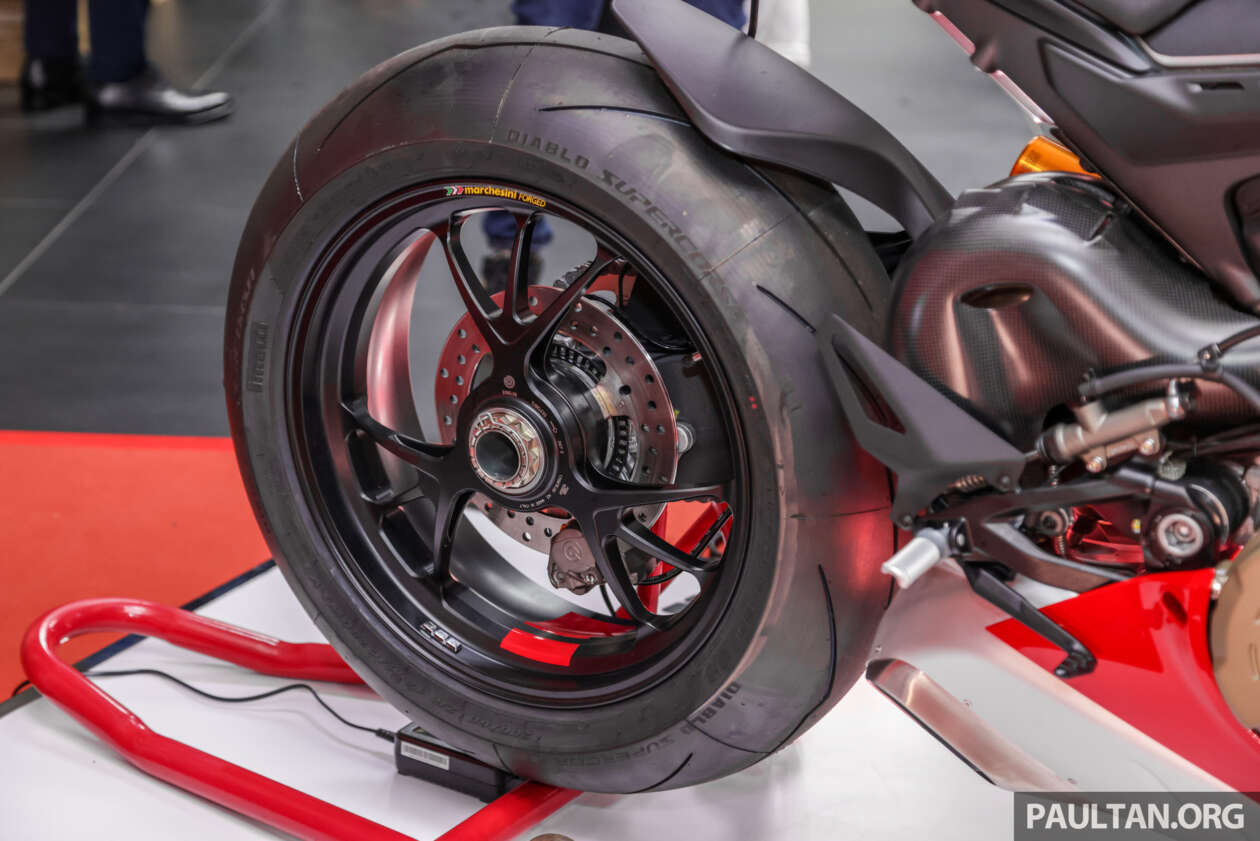 The Panigale V4 R 2023 offers four Power Modes: Full, High, Medium, Low. In the Full mode, the engine uses its full torque curve without any intervention from the electronic systems except in first gear.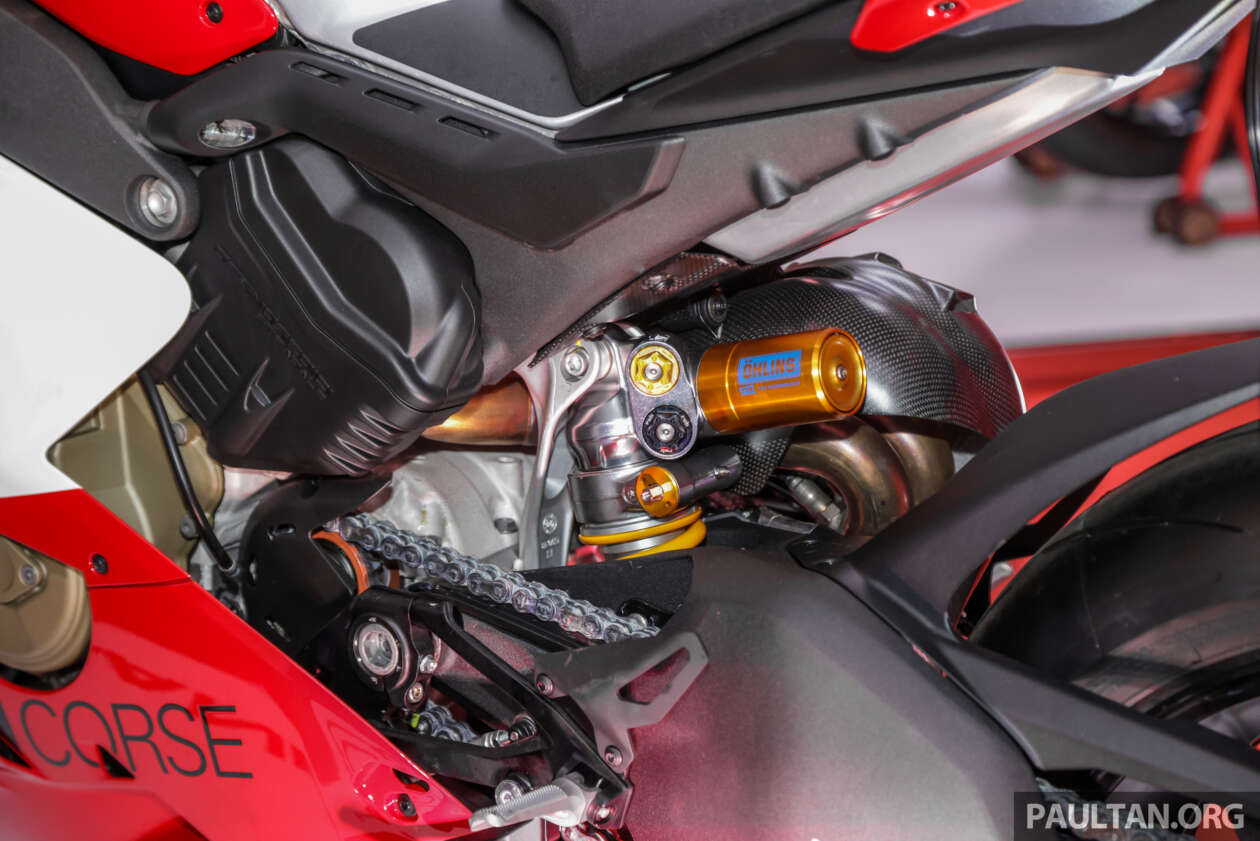 The High/Medium modes set up a new engine map with different calibrations for all six gears. The Low power mode is designed for use on the street or on low-grip surfaces, limiting power to 160 horsepower and providing a more manageable throttle response. Ducati has also updated the cooling fan control for better engine temperature management.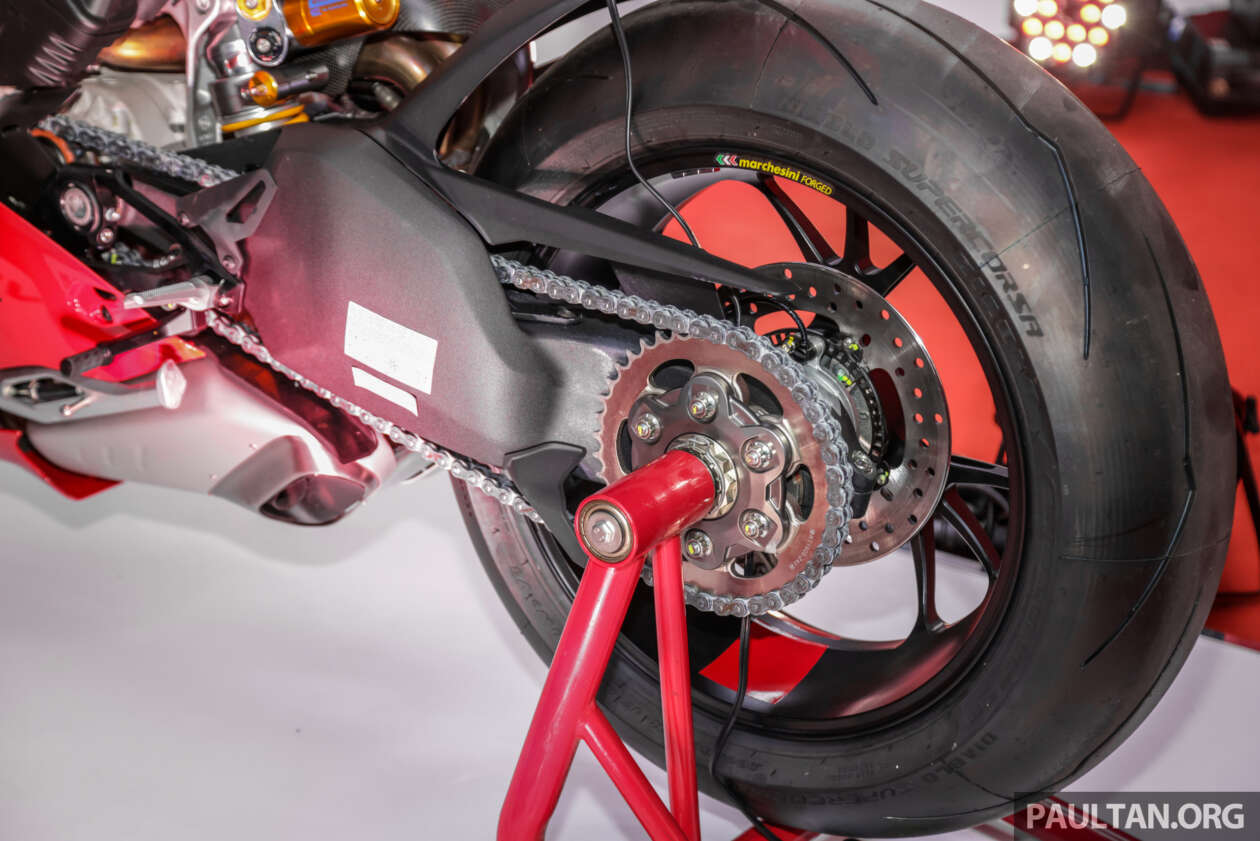 Ducati offers several accessories for the Panigale V4 R 2023, including the necessary Akrapovic Full System exhaust system to maximize horsepower. An optional forged magnesium wheel set helps reduce weight by 0.6 kg compared to the original forged aluminum Marchesini wheels.
Luân Võ (forum.autodaily.vn)