In the current Vietnamese car market, which is still facing difficulties due to the economic recession, many "hot" car models are being offered with discounts to boost sales. Therefore, it is not surprising that even less popular car models like the Isuzu MU-X are being actively promoted by dealers.
Currently, some dealers are offering the Isuzu MU-X standard model B7 MT at a price of only 770 million VND. This is a discount of up to 141 million VND compared to the listed price of 910.8 million VND. In fact, the Isuzu MU-X B7 MT is even cheaper than some premium B-segment SUVs being sold in Vietnam such as the Honda HR-V and Toyota Yaris Cross.
Meanwhile, the premium version of the Isuzu MU-X, the Prestige 1.9 4×2 AT, is being sold by a dealer in the southern region for only 961 million VND, instead of the listed price of 1.15 billion VND. Thus, when purchasing this version from the dealer, customers can save up to 189 million VND.
It should also be noted that this is a discount program for the 2022 model year Isuzu MU-X. Compared to the 2023 version, there is no difference in terms of equipment or design. However, the resale value of the 2022 model year Isuzu MU-X will be lower.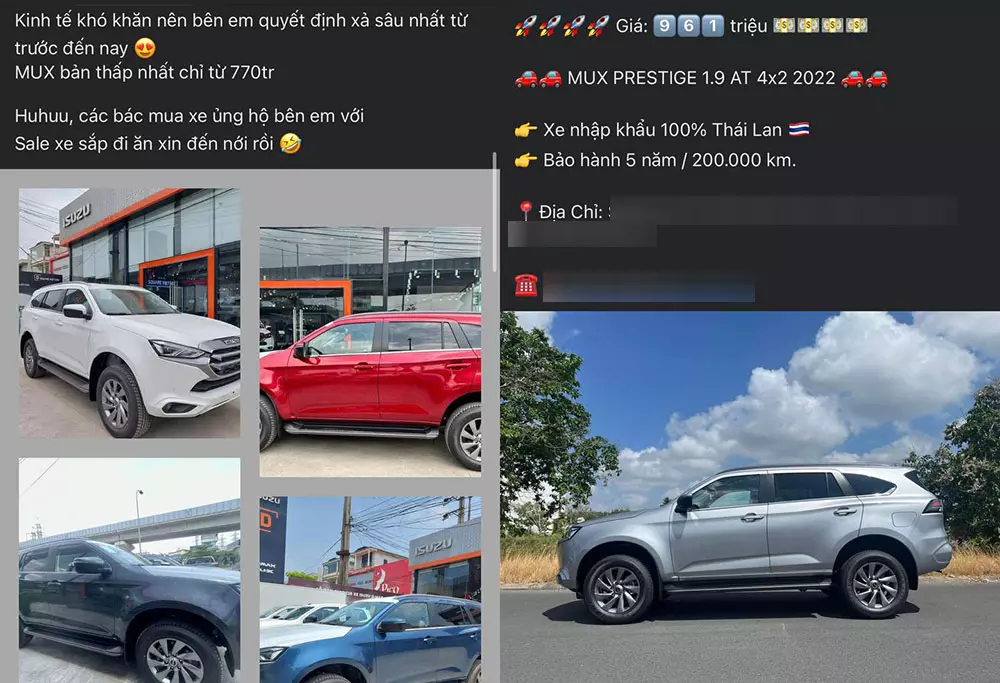 Currently, Isuzu Vietnam is still running a promotion offering a 50% reduction in registration fees for the mid-size SUV model MU-X. Since the Isuzu MU-X is a completely imported vehicle from Thailand, it is not eligible for the 50% registration fee reduction from the government. Therefore, Isuzu had to take the initiative to support customers by covering the registration fees. This promotion will last until December 31, 2023 and only applies to the B7 and B7 Plus versions.
During the past period, the Isuzu MU-X has consistently held the last position in terms of sales in the mid-size SUV segment in Vietnam. In September 2023, only 29 MU-X vehicles were sold, and the accumulated sales from the beginning of the year until now are 149 units.
Although it has the lowest price in its segment, ranging from 911 million to 1.25 billion VND, the Isuzu MU-X is not popular in Vietnam. The main reason is its less appealing design compared to its competitors.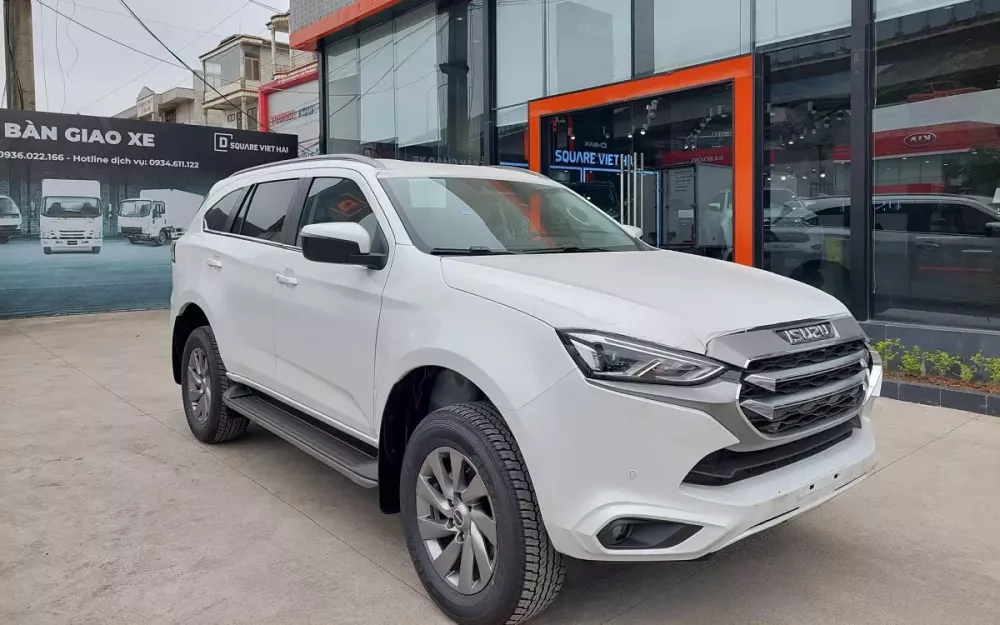 In the B7 MT standard version, the vehicle is equipped with Bi-LED headlights, LED daytime running lights, LED fog lights, power-folding/heated/electrically adjustable side mirrors with integrated turn signals, 17-inch aluminum alloy wheels, leather seats, steering wheel with integrated function buttons, analog instrument cluster with a 4.2-inch TFT multi-information display, 6-way manually adjustable driver seat, manual air-conditioning, 6-speaker audio system, electronic parking brake, USB charging port, cruise control, 2 airbags, and a reverse camera.
Meanwhile, the Prestige 4×2 AT version comes with additional features such as automatic wipers, a power tailgate with a hands-free sensor, 18-inch aluminum alloy wheels, an 8-way power-adjustable driver seat, a 9-inch touchscreen infotainment system with wireless Apple CarPlay/Android Auto support, dual-zone automatic climate control, adaptive cruise control, 6 airbags, tire pressure monitoring system, automatic headlight leveling, cross-traffic alert when reversing, blind spot warning, speed limit reminder, lane departure warning, forward collision warning, emergency automatic braking, unintended acceleration control, and parking sensors.
In both versions, the car is powered by a 4-cylinder 1.9L diesel engine, producing a maximum power of 150 horsepower at 3,600 rpm and a peak torque of 350 Nm in the range of 1,800 – 2,600 rpm. In the highest version, the engine is combined with a 4-wheel drive system and a 6-speed automatic transmission. The other versions come with rear-wheel drive.
In Vietnam, the Isuzu MU-X competes with rivals such as the Ford Everest, Toyota Fortuner, and Mitsubishi Pajero Sport.