Only 7 days left for customers to double the benefits from Toyota Vietnam and its dealer network when purchasing the Vios 2023 model. Specifically, from now until October 31, 2023, Toyota Vietnam and its dealer network continue to implement a promotion of a 50% reduction in registration fees for all customers who complete the payment process when purchasing the Vios 2023 car.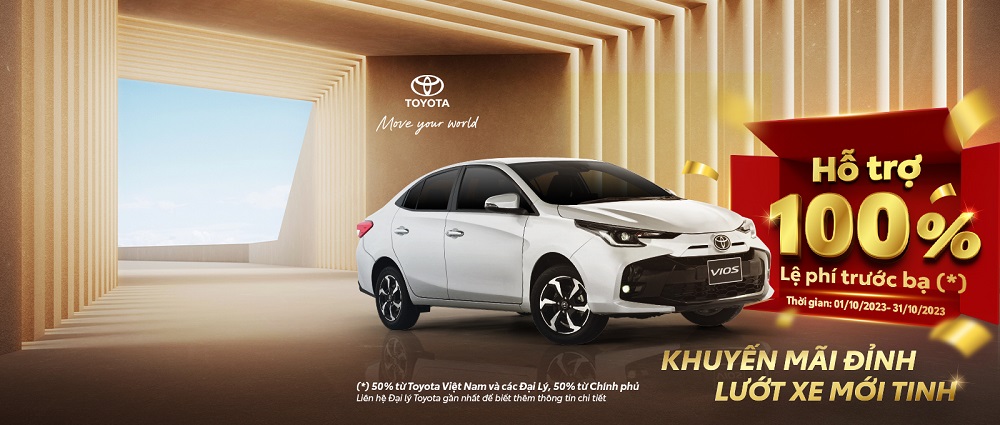 With the promotion program of Toyota Vietnam and its dealer network, customers who purchase the Vios 2023 during this period will be able to save up to 30 million VND for the G version, 26.5 million VND for the E-CVT version, and 24 million VND for the E-MT version.
Not stopping there, the Vios 2023 is a domestically produced and assembled car, so it is still entitled to a 50% reduction in registration fees by the government. Thus, combining the company's promotion program and the government's support policy, customers who buy the Vios 2023 can save up to over 60 million VND.
This is a very significant amount to consider for families when buying a car, especially in the current economic downturn. For Vietnamese people, a car is not only a means of transportation but also a valuable asset. Therefore, when buying the first car for their family, customers often feel more hesitant and considerate when choosing a car that is suitable for their financial ability and practical needs.
The timing of buying a car is also something that many car buyers take into account. Buying a car when the company or dealership is running promotional campaigns, offering discounts, will help customers significantly reduce the expenses they need to pay.
In addition, first-time car buyers often seek out vehicles from reputable brands to ensure product quality and after-sales support. In fact, besides the price, the brand factor has a great impact on the psychology of car buyers, especially those who have never owned a car before. This is understandable because well-known brands will provide a sense of peace of mind for car buyers.
In addition to comfort features, durable and fuel-efficient engines, safety is also one of the factors that influence the decision of car buyers. The case of Mr. Do Gia Tu (45 years old, from Hanoi), who currently owns a Vios 2023 car, is a typical example.
Not only Mr. Tu but also thousands of Vietnamese people have been convinced by the outstanding advantages of the Vios 2023. With a reasonable selling price and operating costs, a design suitable for the majority of customers, modern equipment keeping up with market trends, combined with the preferential policies of Toyota Vietnam and its dealer network, the national sedan model Toyota becomes more attractive than ever. This promises to create a breakthrough in sales in the last months of the-year.