Piaggio has officially launched its most powerful scooter model to date in the European market called the Vespa GTS 300 2019. First introduced at the EICMA 2018 exhibition in Milan, the 2019 version of the GTS 300 is now equipped with a new high-performance engine (HPE).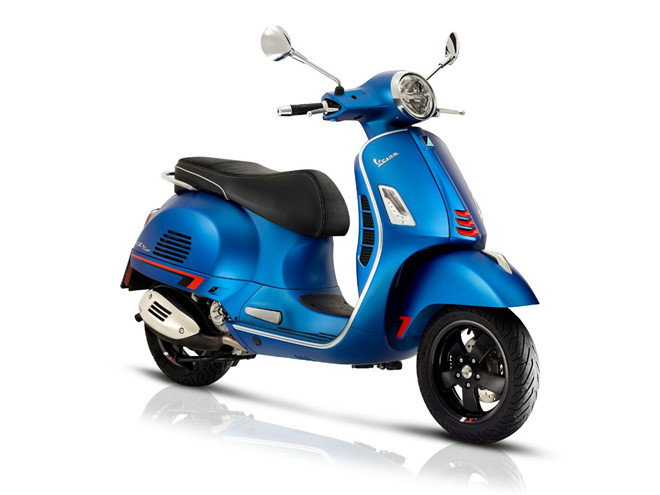 The single-cylinder engine has a displacement of 278 cc, producing a maximum power of 23.8 horsepower and a peak torque of 26 Nm. The upgrades to this new engine include a new piston and cylinder, which are said to improve the performance of the combustion chamber, increasing the power by 12% and the torque by 18%. According to Piaggio, the new engine on the Vespa GTS 300 not only significantly improves performance but also saves more fuel than before. This engine also complies with the latest emission regulations.
Specifically, the fuel consumption of this Italian scooter model is 31.2 km/liter. With a fuel tank capacity of 8.5 liters, if the Vespa GTS 300 is filled to the brim, it can travel a maximum distance of 260 km.
In addition, the Vespa GTS 300 is also upgraded with a steel body, new LED headlights, and a newly designed seat. Notably, the storage compartment of the Vespa GTS 300 can hold up to two half-face helmets. Furthermore, the storage compartment is equipped with a USB port for charging smartphones.
The outstanding features of the Vespa GTS 300 include a Bluetooth support tool and the Bike Finder app, which helps users easily locate their scooter in crowded parking lots. The TFT display screen shows basic vehicle information such as fuel level and distance traveled.
The 2019 GTS 300 is available in 5 variants including GTS, GTS Touring, GTS Super, GTS SuperSport, and GTS SuperTech, with pricing yet to be revealed.
Trang Nguyen (forum.autodaily.vn)