An Overview of the Two Skoda Car Models Distributed in Vietnam
The two car models available in Vietnam are the Kodiaq (on the left) and the Karoq (on the right).
Currently, Skoda Vietnam is distributing the Kodiaq (D-segment 7-seater SUV) and the Karoq (C-segment 5-seater SUV), both of which are fully imported from the Kvasiny factory in the Czech Republic.
Both cars use the MQB platform, a renowned chassis structure of the Volkswagen Group. MQB is a breakthrough in the automotive manufacturing industry, ensuring production synchronization, improved longevity, and safety standards of the vehicles. Originating from Europe, both car models undergo strict production and inspection processes before being released, delivering good performance, durability, and high safety standards.
A Skoda car in the production process at Kvasiny before being imported to Vietnam.
After-Sales Services for European Vehicles
Distant repair shops, unavailability of spare parts, and long waiting times… All these factors create barriers for consumers when approaching fully imported European car models in the current market. Through its dealership strategy, Skoda Vietnam demonstrates its determination to overcome these biases.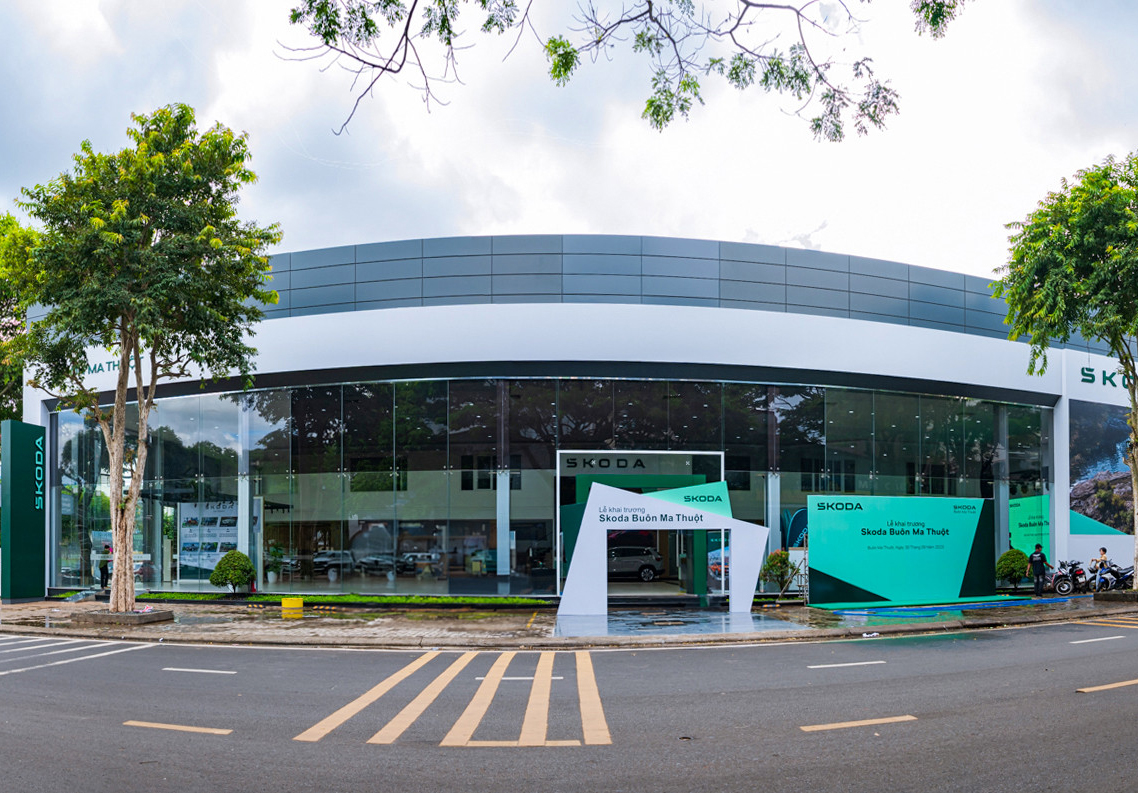 Currently, Skoda Vietnam has 5 dealerships in Vietnam, all of which provide sales, after-sales services (repairs, warranty, etc.), and genuine spare parts. Within the next 5 years, Skoda Vietnam plans to develop a network of over 30 authorized Skoda dealerships nationwide.
Warranty Policy
Skoda Vietnam currently applies a 3-year warranty policy with no mileage limitation for all newly purchased cars from its authorized dealerships (according to Skoda Vietnam's official website). Customers will receive warranty services at all authorized service centers nationwide.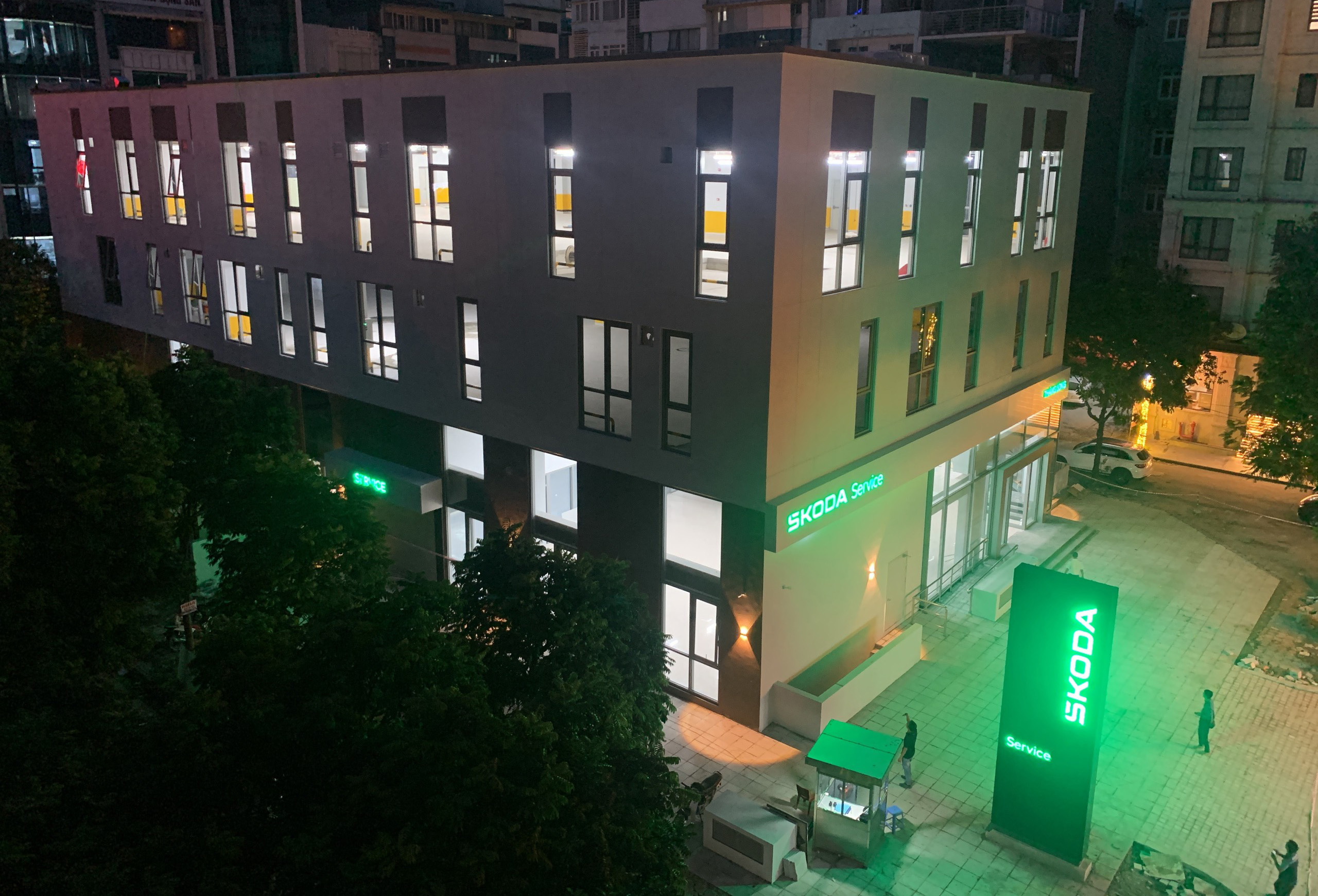 Skoda Thang Long authorized service center in Cau Giay, Hanoi.
With the current expansion rate of dealerships, this means that Skoda owners can conveniently find repair centers in any area. According to calculations, the total duration of Skoda Vietnam's warranty coverage can be up to 8 years from the date of manufacture.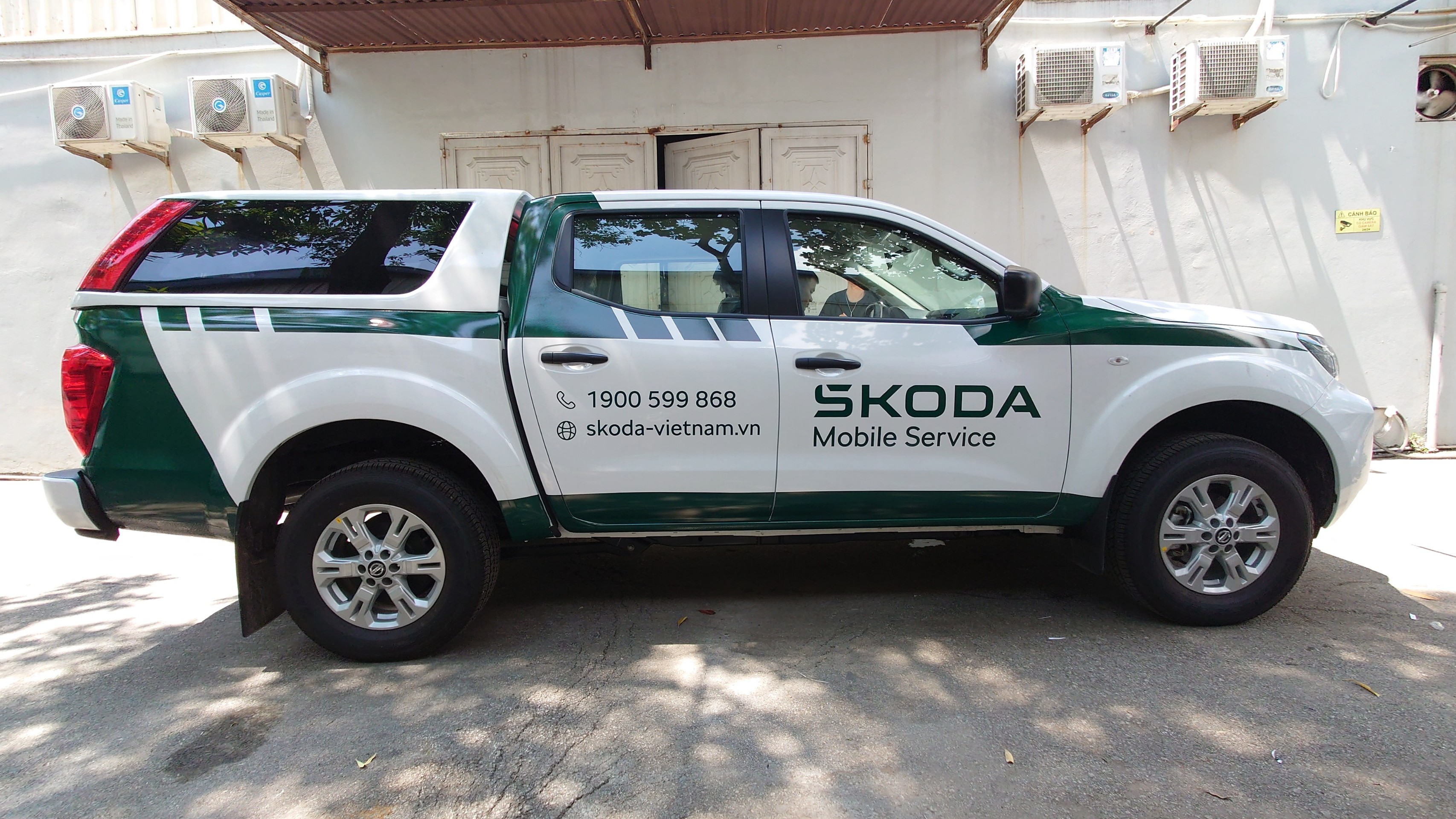 A mobile service repair vehicle – a service currently being promoted and deployed by Skoda Vietnam. 
In addition, Skoda Vietnam also plans to introduce mobile service repair – a service that will be implemented in Hanoi and Ho Chi Minh City before expanding to other dealerships nationwide.
Maintenance Policy
The maintenance cycle for Skoda cars is 7,500km or 1 year, whichever comes first. There is no initial 1,000km cycle like most other car brands on the market. The average cost for a regular maintenance service is about 80% lower compared to competitors, with the first service costing as low as 2.7 million VND and the fourth service at 30,000km costing around 5.8 million VND.
Spare Parts Replacement
Lack of available spare parts is a reality for many European car owners today. To address this issue, Skoda Vietnam plans to import and stock spare parts domestically to be ready for immediate use upon customer requests.
Skoda is one of the 8 brands under the Volkswagen Group and shares many platforms (including the MQB chassis) with other brands within the group. This can be seen as an advantage as Skoda can utilize 60% of the interchangeable parts with some other European brands. This contributes to a diverse supply of spare parts not only for Skoda but also for some European brand owners.
Anh Quan (forum.autodaily.vn)