Recently, Mr. Do Nam Nghia (Hanoi) took a trip from Hanoi to Tuyen Quang to Cao Bang in a Nissan Navara PRO-4X with his friends who share the same passion for travel. The 5-day trip not only allowed Mr. Nghia and his friends to explore and experience new landscapes and immerse themselves in the beautiful natural scenery of the northern mountainous region, but also provided an opportunity to accurately evaluate the performance of the Nissan Navara PRO-4X, whether it is truly as impressive as people say.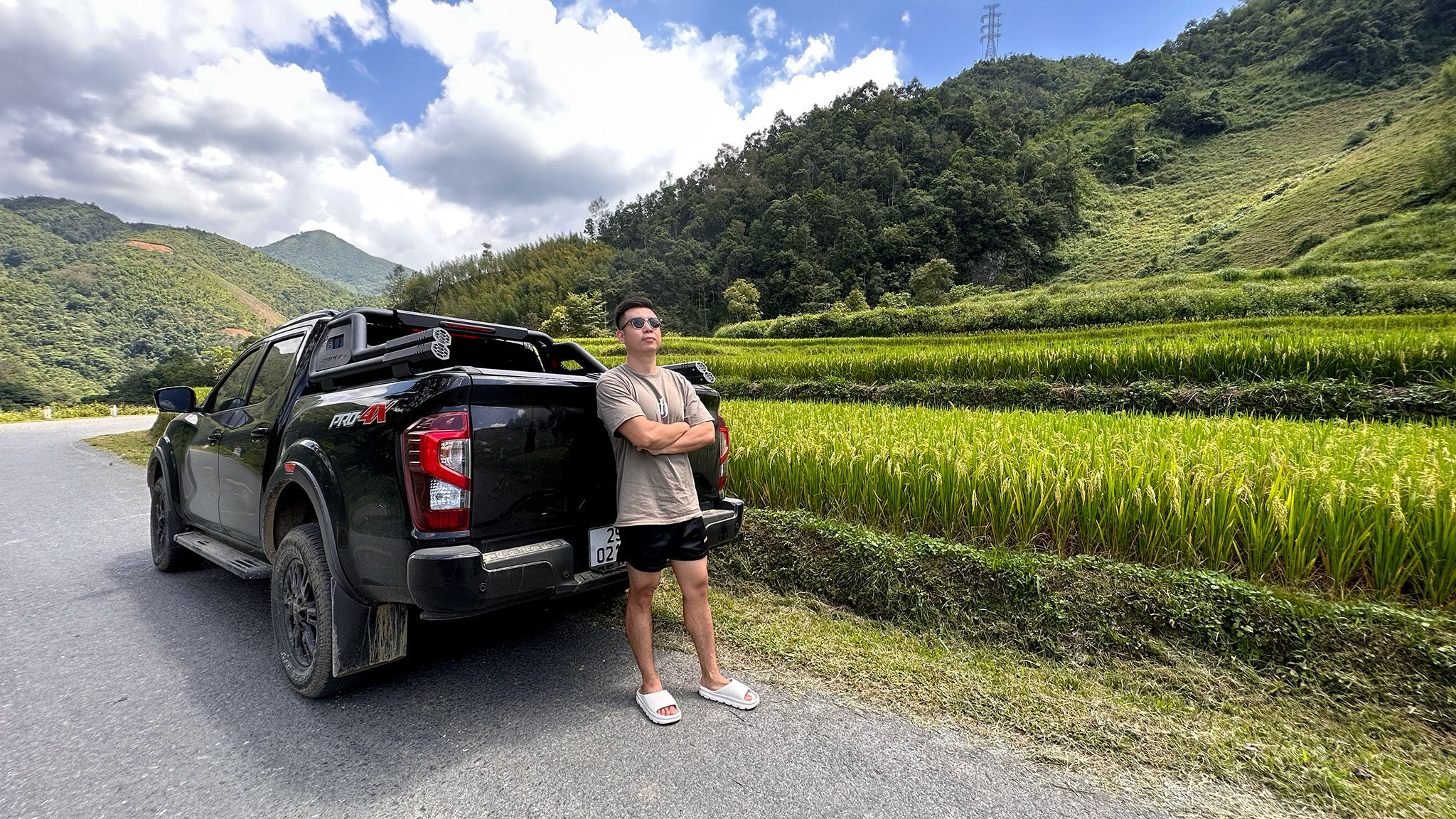 Mr. Do Nam Nghia and his travel companion Nissan Navara PRO-4X during the journey of over 1,000km.
We had the opportunity to chat with Mr. Nghia after he finished the exploration trip with a total distance of over 1,000 km and returned to Hanoi. The trip brought him many interesting experiences and until now he still feels very excited when talking about his travel companion Navara PRO-4X, which has accompanied him on the roads from highways to mountain passes.
Hello Mr. Nghia, thank you for accepting the interview. Before owning the Nissan Navara PRO-4X, what other car models did you own?
The Nissan Navara PRO-4X is not my first car. Before that, I owned a Mitsubishi Pajero 2003 and a Nissan Navara NP300 2015 VL version. Among them, I really liked the Nissan pickup truck because it is a versatile, powerful, durable, and fuel-efficient model.
What is the reason why you chose the Navara instead of other pickup truck models, for example, the best-selling model in the segment?
Actually, before switching to the new Nissan Navara PRO-4X, I researched some other models, but in the end, I still preferred a pickup truck because of its versatility and flexibility.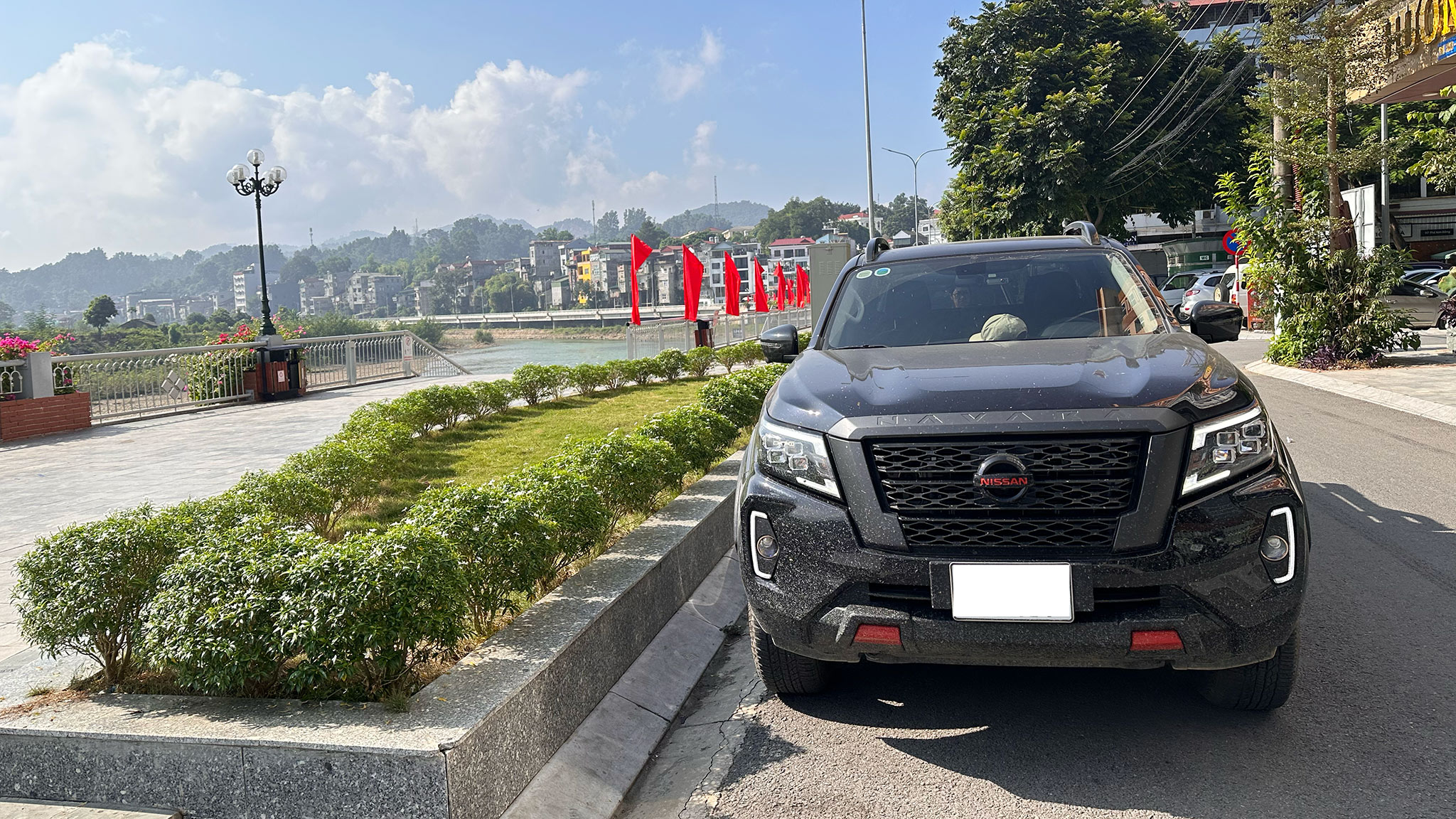 "I was also attracted to the Navara PRO-4X by its muscular and rugged style, suitable for young customers who want to express their personal style".
Some friends advised me to consider other pickup truck models that are popular among users in Vietnam. However, after thinking it over, I decided to continue my "loyalty" to Nissan. Simply because of the durability of the Navara that I had experienced with the Navara 2015. Moreover, after consulting the opinions of other Navara owners on forums and groups, I found that most of them really considered the Navara as a reliable vehicle, so many of them decided to choose the new Navara version instead of switching to other pickup truck models.
In addition, I was also attracted to the Navara PRO-4X by its muscular and rugged style, which is suitable for young customers who want to express their personal style. Besides, the vehicle is equipped with a multi-link rear suspension system, new lighting system, quieter new engine, many smart technologies, and relatively low operating costs compared to other pickup truck models.
It is known that you are passionate about traveling and often undertake exciting discovery trips. How was your latest trip?
Recently, together with 2 friends, I took a trip of over 1,000 km, traversing the provinces from Hanoi to Tuyen Quang to Cao Bang. The main purpose of this trip was to admire the scenery and enjoy the local specialties of the mountainous regions in the North, and to breathe in the fresh air as a way to relieve stress after stressful working days. Every year, my friends and I choose such mountainous routes for our travel and exploration passion.
The Hanoi – Tuyen Quang – Cao Bang route will have rough, bumpy roads with continuous sharp bends, how do you feel about your experience with this Nissan Navara PRO-4X?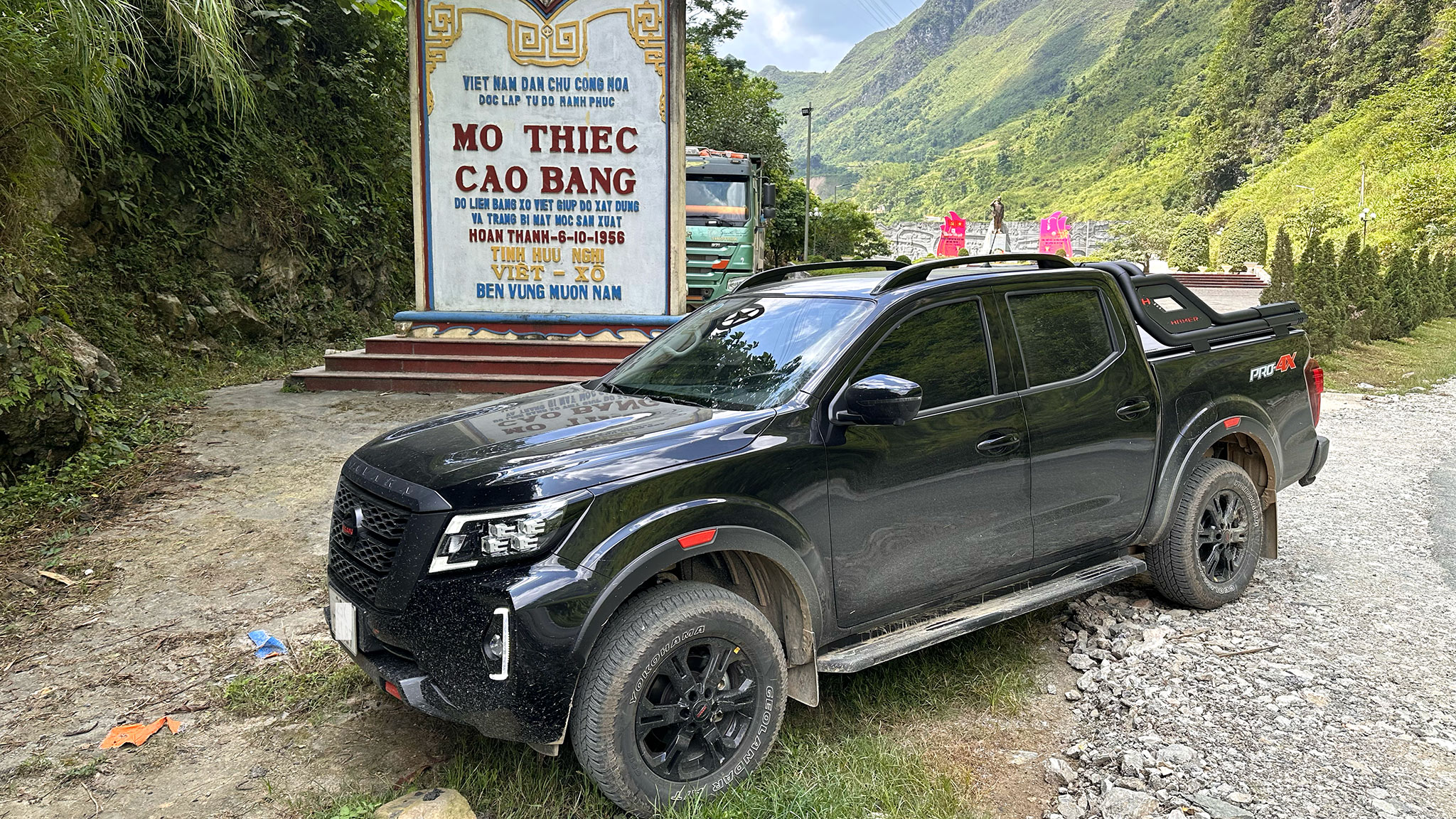 This trip was my first long mountainous route experience with the Navara PRO-4X. My previous exploration trips were mostly accompanied by a previous generation Navara NP300.
With the new Navara PRO-4X, I felt a noticeable difference in the driving experience thanks to the rear suspension system using multi-link coils. The vehicle had reduced oscillation when passing through good mountainous roads, while also making the corners smooth and stable, and reducing vibrations compared to models using leaf spring suspension.
As the driver of the entire journey, I felt that the Navara PRO-4X provided a firm and confident driving feel, and the new 2.3L turbocharged engine also performed well on rough roads and sharp mountainous bends.
Long journeys reveal the strengths and weaknesses of a vehicle. How do you evaluate this vehicle after the trip?
During the over 1,000 km journey on diverse road conditions, from highways to mountain passes, I highly appreciated the new 2.3L turbocharged engine in the Navara PRO-4X. The vehicle accelerated well when overtaking and climbed steep slopes with sharp bends. Notably, the new engine is more powerful yet quieter, and the engine noise penetrating into the cabin has also significantly reduced. This may partly come from the double-layered soundproof glass installed in this generation of the vehicle.
In addition, the lighting system of the new Navara is a major highlight. Personally, I consider the LED lighting system of the Navara PRO-4X almost the best in its price range, ensuring sufficient brightness on highways and mountainous roads, providing good visibility in corners. However, based on my experience from multiple mountain pass trips, when encountering rain or fog that limits visibility, I switched to using fog lights for better safety.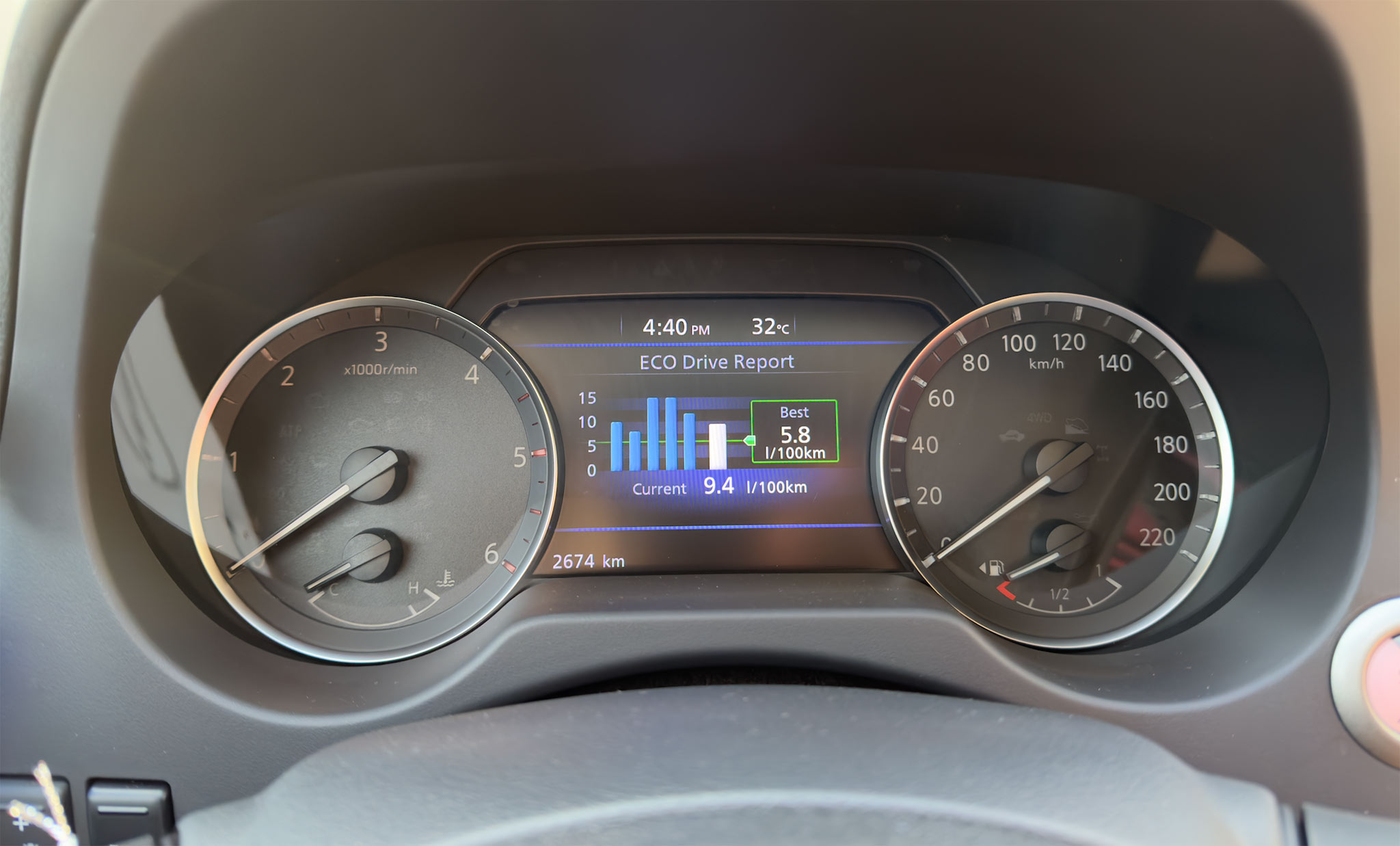 Fuel consumption of the Nissan Navara PRO-4X.
Regarding fuel efficiency, the average fuel consumption when driving on highways is about 5.8 liters/100 km. For a large-sized pickup truck with a 2.3L engine, this is quite an impressive number. On steep mountainous roads, the fuel consumption is around 9 to 10 liters for every 100 km. This trip was not focused on fuel efficiency, I drove at varying speeds, made numerous stops to rest and admire the scenery, so I consider these figures to be quite fuel-efficient.
As for durability, I have seen it with my previous generation Navara NP300, it is indeed very durable and reliable. In addition, Nissan Navara is the only pickup truck model that applies a 5-year official warranty policy, which provides more peace of mind for consumers when choosing this vehicle.
Although in terms of equipment and convenience, the Nissan Navara is not too outstanding compared to other models in the same segment, I consider it sufficient. Notable safety features include the 360° around-view camera combined with collision warning system (MOD), hill start assist system and hill descent control system, 6 airbags, and electronic stability control system…
Besides the recent trip, what other purposes do you use the Navara PRO-4X for, and how do you evaluate the versatility of this pickup truck?
In addition to using the vehicle for travel, I often drive on long-distance routes, visit provinces in the North for work, and return to my hometown. I mainly drive on flat highways. The vehicle is quite versatile and fuel-efficient on long-distance routes. It provides a firm and comfortable driving experience on highways. The seating capacity is also suitable for the needs of my family (4 people).
When I need to transport goods, I can immediately use the Navara. The large truck bed allows comfortable transportation of bulky luggage and items. Especially when I return to my hometown, the Navara proves to be very useful as it can carry a lot of local specialties and gifts from the countryside back to Hanoi.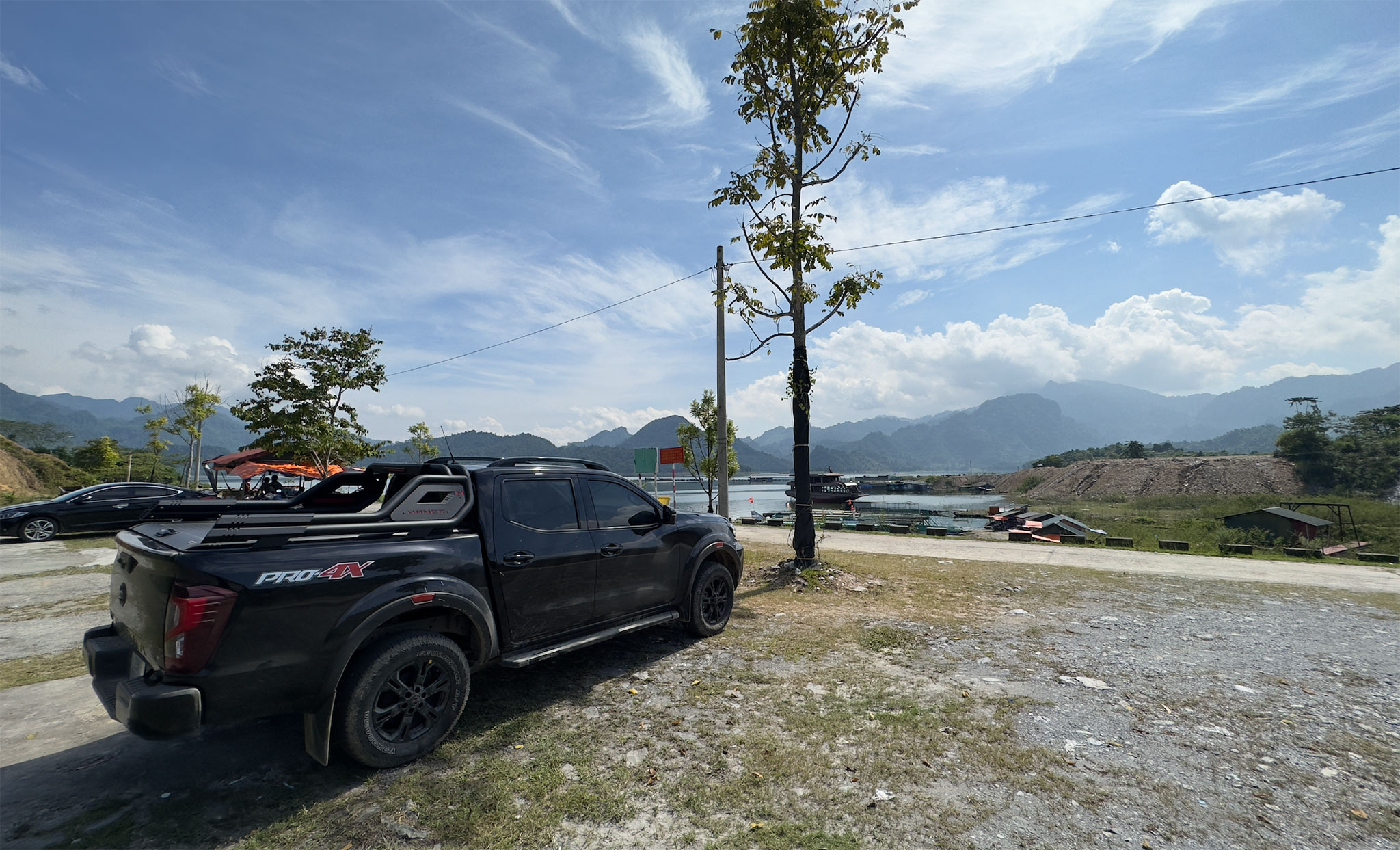 No vehicle is 100% perfect for an individual's needs. What would you like to improve on this Navara?
In my personal opinion, the values of the Navara PRO-4X can meet about 95% of my needs. There is only a small aspect that I hope the brand will improve in the next upgrade version, which is to equip the vehicle with fog lights from the factory to make it more convenient in adverse weather conditions (this is just my personal experience). Besides, the Japanese carmaker can also consider redesigning the storage compartment on the vehicle to facilitate storage of smaller items.
Has your car needed any repairs? How does the cost compare to other brands?
The car has only been driven for over 3,000 km, so there hasn't been any repairs needed yet. I only recently changed the oil to prepare for this Hanoi – Tuyen Quang – Cao Bang trip. However, before that, I also owned a Navara NP300 model, and I found that the maintenance costs of the Navara are truly reasonable compared to the value that I receive, and they are not significantly different from other models in the same segment.
In addition, I highly appreciate the after-sales service of Nissan. The service center regularly offers attractive maintenance and repair programs, combined with a team of professional and dedicated technicians, which brings maximum trust and peace of mind to users.
In general, I am satisfied with most of what the Nissan Navara PRO-4X has shown in all aspects: entertainment, travel, and work. This is truly a pickup truck worth owning.
*Thank you for these interesting insights!
Anh Quan (forum.autodaily.vn)