On November 1, 2023, the Vietnamese joint auction company continued to auction off 501 car license plates in 4 time slots, among which the license plate 43A-777.79, also known as four sevens or triple seven, won the auction at a relatively high price.
Specifically, after 1 hour of bidding, license plate 43A-777.79 was bid at 1,025 billion VND by an anonymous tycoon, making it the highest-priced license plate on the auction day of November 1, 2023. It is quite surprising that this is a rare quadruple seven license plate that has been bid for over 1 billion VND.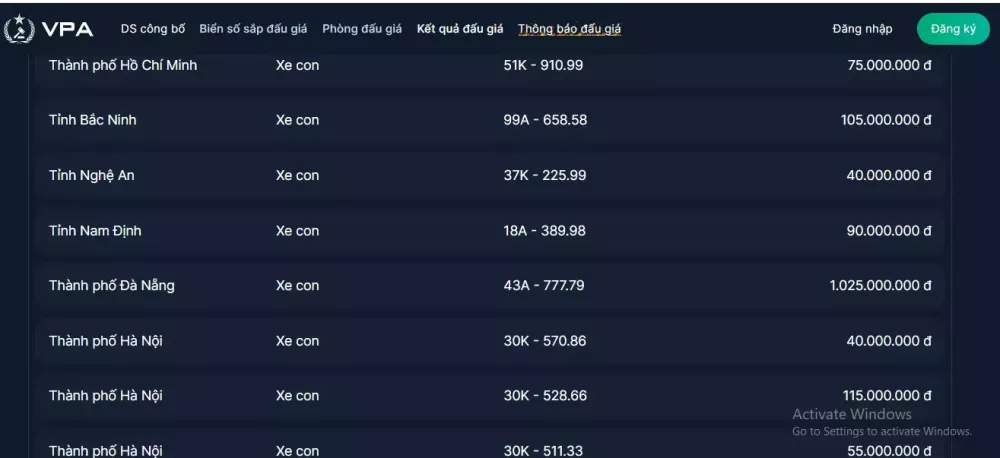 In second place is the license plate 30K-565.86 from Hanoi, which was finalized at the last session in the afternoon with a price of 500 million VND. In addition, there are several license plates sold for over 100 million VND in the auction, such as 30K-607.07 (130 million VND), 37K-228.28 for 155 million VND, and 30K-528.66 for 115 million VND.
According to regulations, the winning bidder of the car license plate must pay the full auction amount within 15 days from the date of notification. This amount is deducted from the advance payment (40 million VND) but does not include vehicle registration fees.
After that, within 12 months, the winning bidder must register this license plate for their car. If they exceed the deadline, this beautiful license plate will be transferred to the vehicle registration and management system, and the winning bidder will not be refunded the auction amount already paid.