After 4 years of existence and 3 years on the market, VinFast Lux SA still remains a highly attractive name and an outstanding model in its price range. Despite being officially "discontinued", it is still a worthwhile consideration in the used car market. A Lux SA with over 70,000 km and multiple previous owners still proves to be very smooth and solid.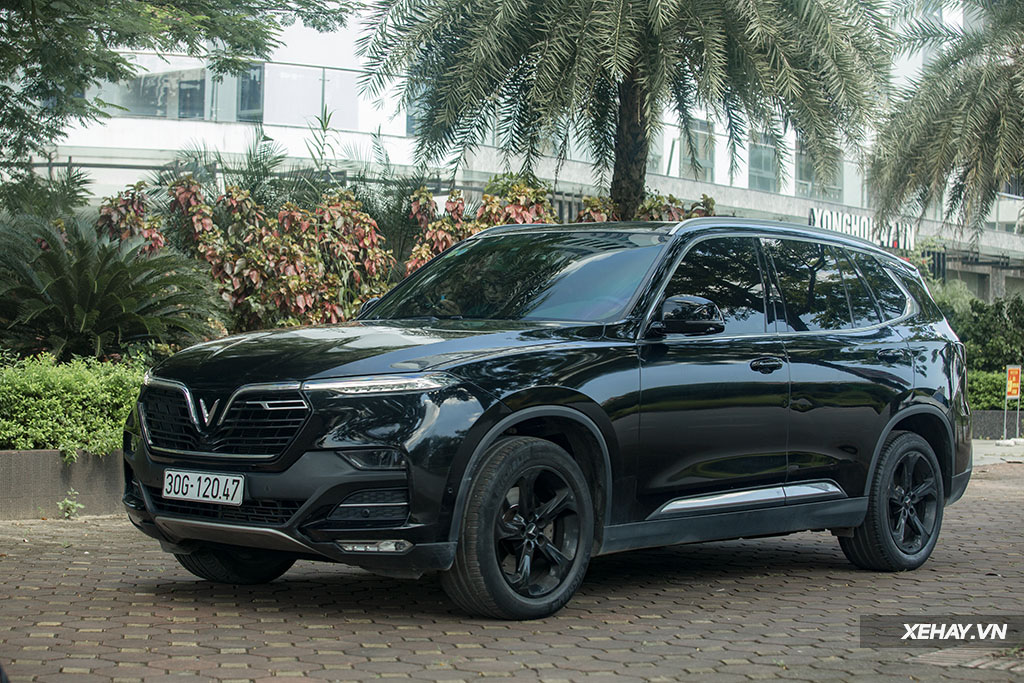 Timeless design
After 4 years, it is fair to say that VinFast Lux SA is still a very "elegant" and appealing model. Thanks to the talented minds and skilled hands of Pininfarina, the design of Lux SA remains timeless and modern. In mid-2022, the car still gives a very modern look and carries a "distinctive" VinFast charm with its unique front and rear light clusters.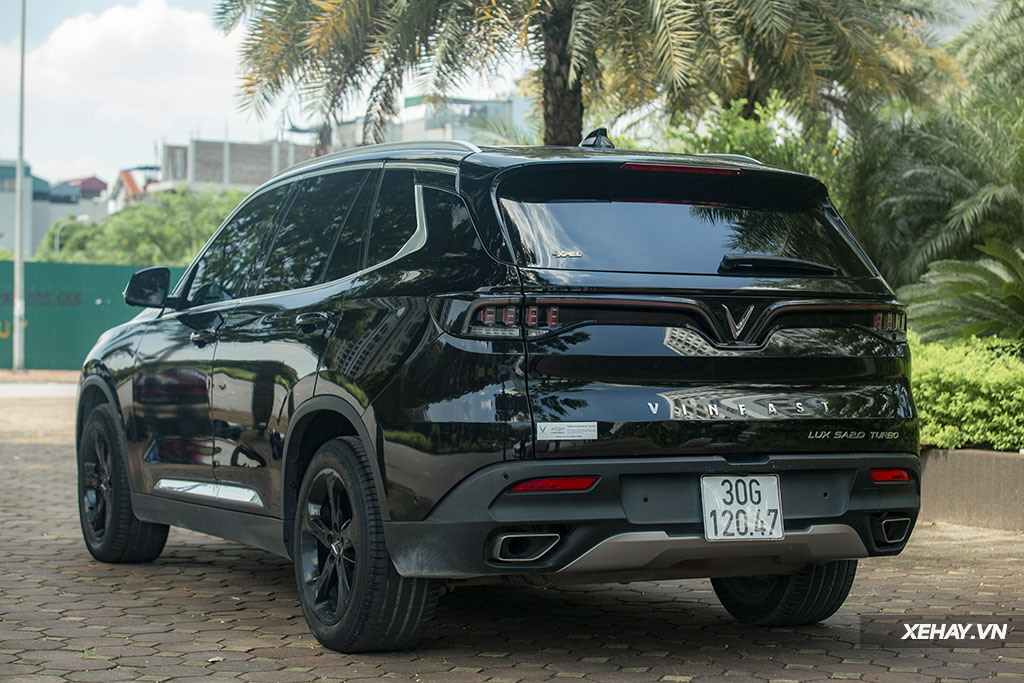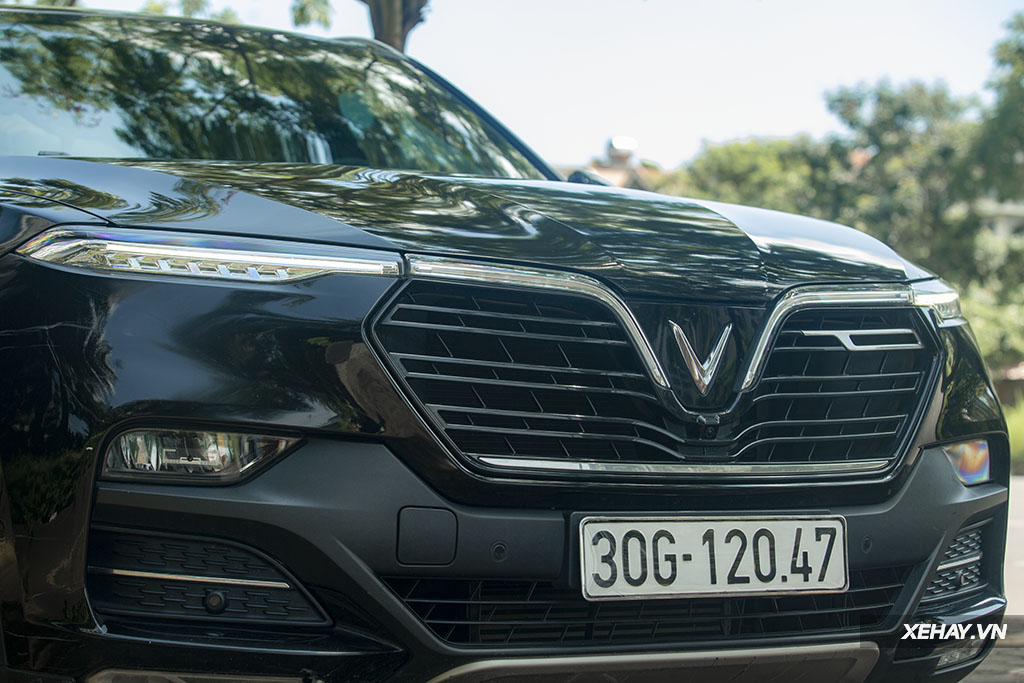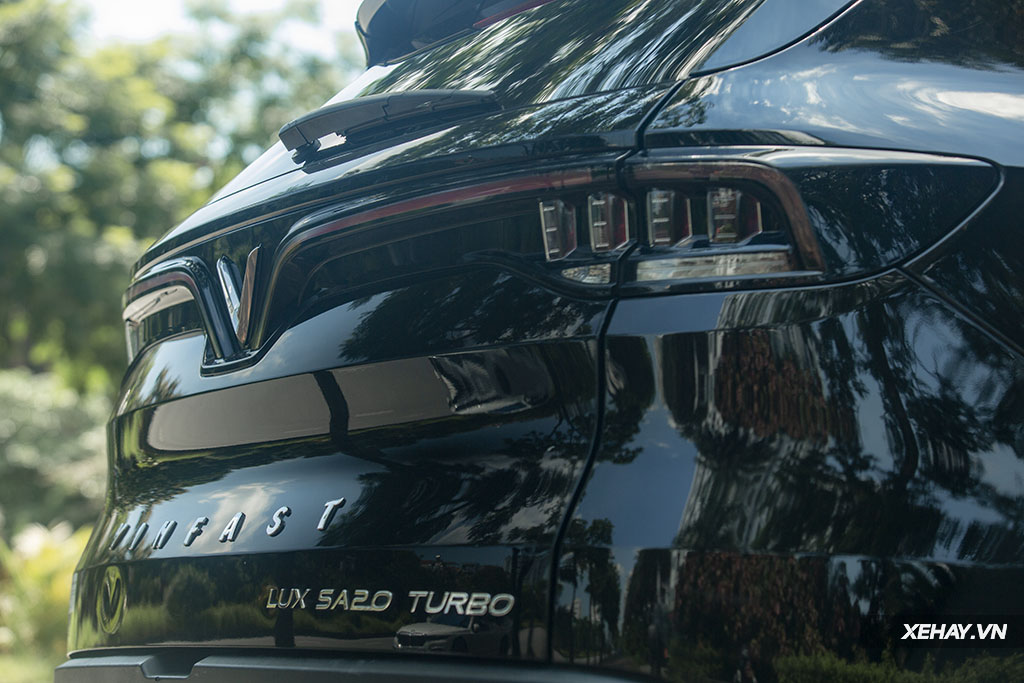 After 4 years, the design of VinFast Lux SA is still captivating, with the striking bird-wing LED headlights.
The 3-year-old Lux SA in this article shows many visible signs of aging: the paint has many noticeable imperfections due to minor scratches that have not been meticulously repaired.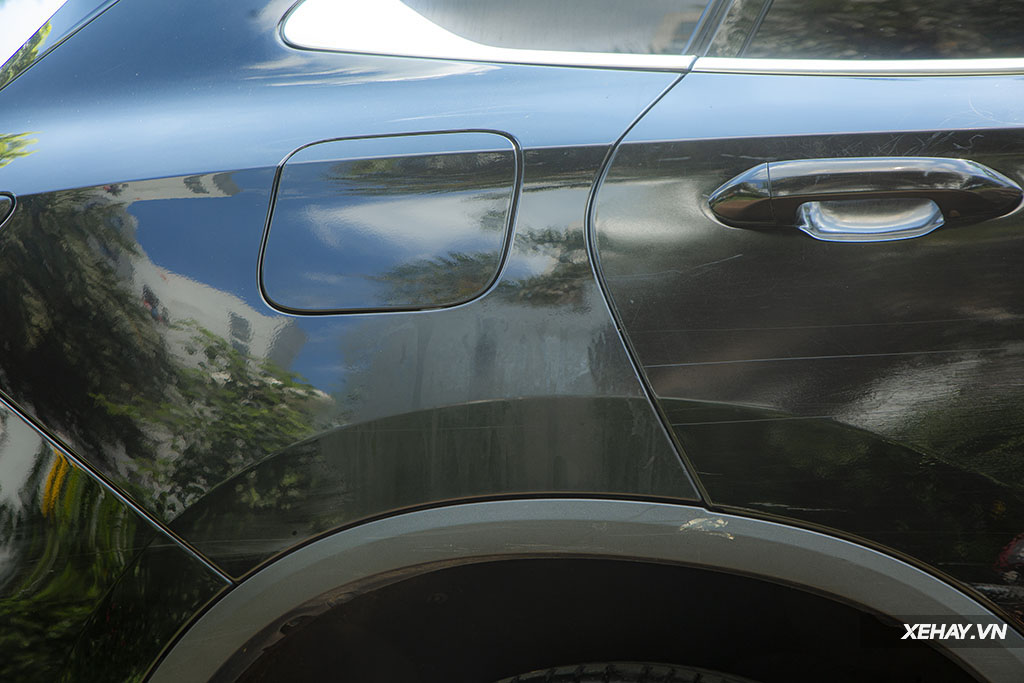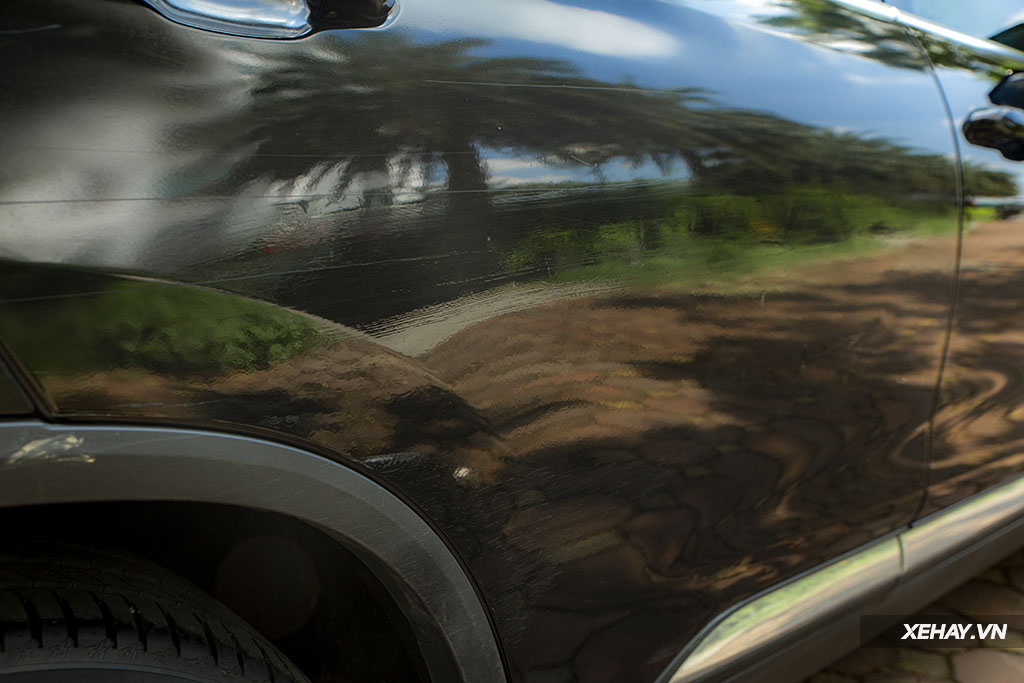 The car shows many marks of careless repair work after collisions. However, this is an isolated case.
There are also many deep scratches on the surface of the wheels, especially at the back – a position that is unlikely to be impacted during careful driving. The owner has repainted the wheels black, making these scratches even more "unsightly".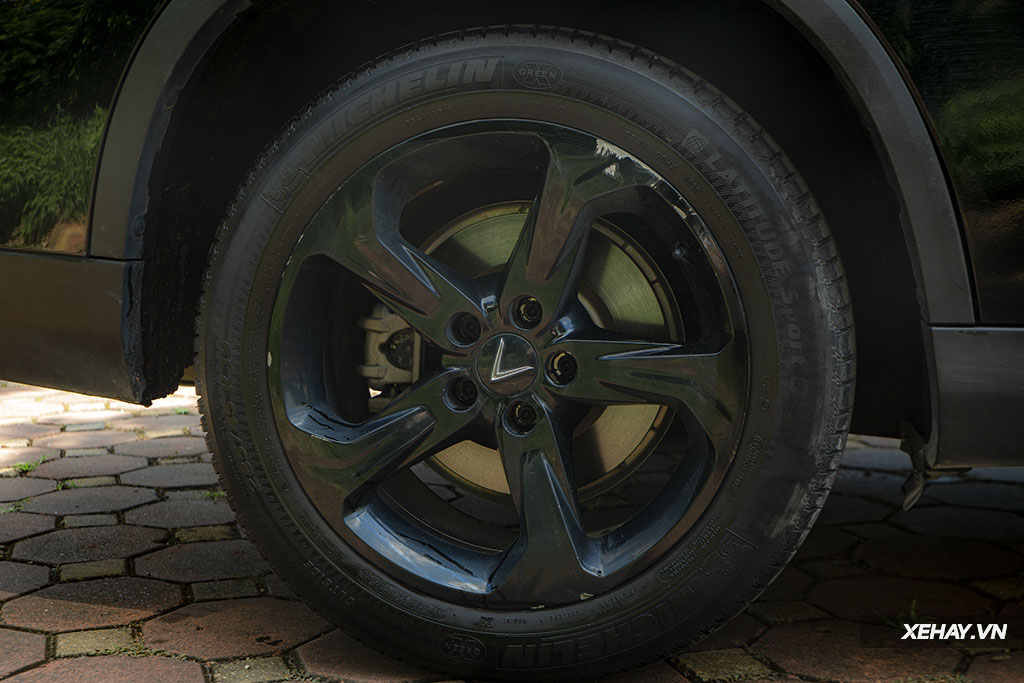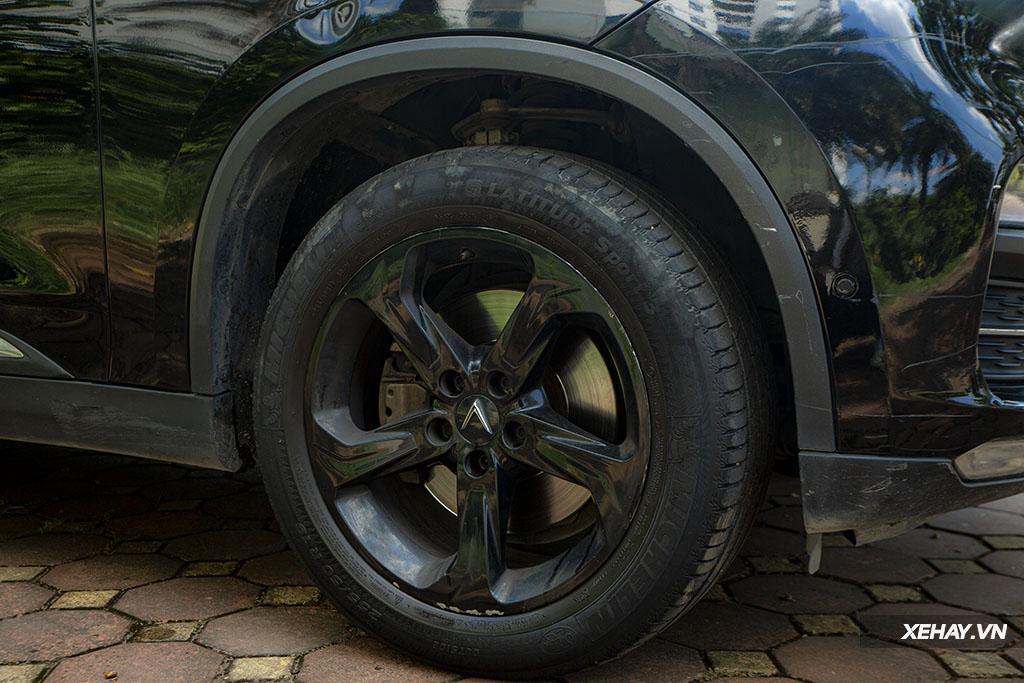 The front and rear rims also have many scratches, despite being repainted, indicating that the owner has been less careful with their vehicle.
A shortcoming of Lux A and Lux SA models is the default lighting system provided by VinFast, which has not fully satisfied many users. However, the owner can easily upgrade the lights with many reputable third-party brands in the Vietnamese market, such as GTR or Aozoom.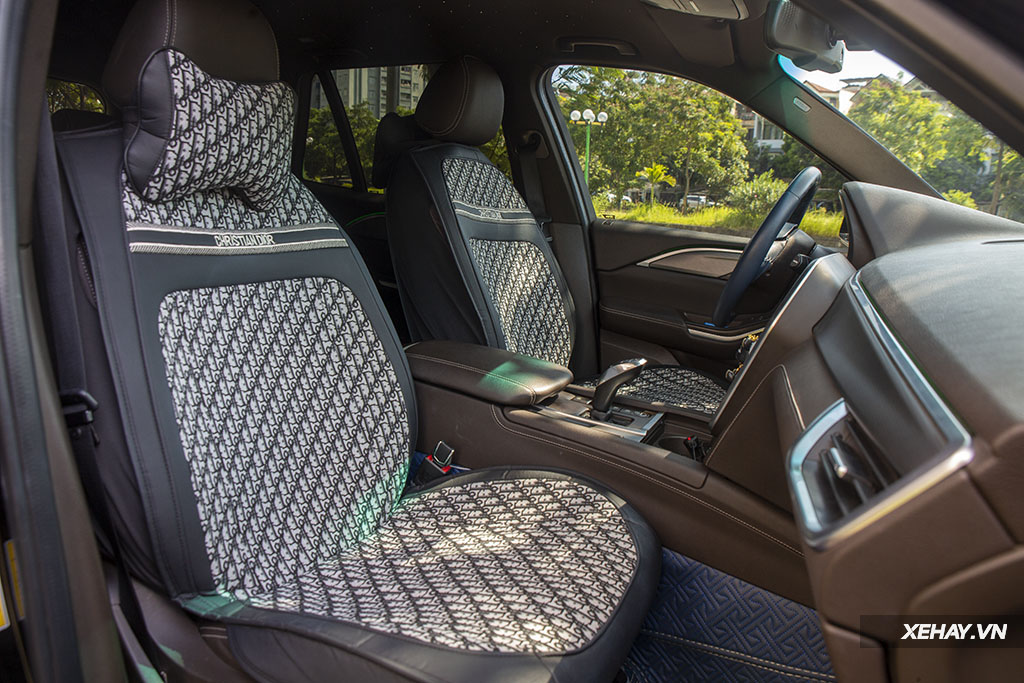 Inside the car, VinFast Lux SA welcomes passengers with a luxurious brown Nappa leather interior, soft and elastic, providing a premium feel. The Lux SA in the article has seat covers, so the leather surface still looks new after 3 years of use.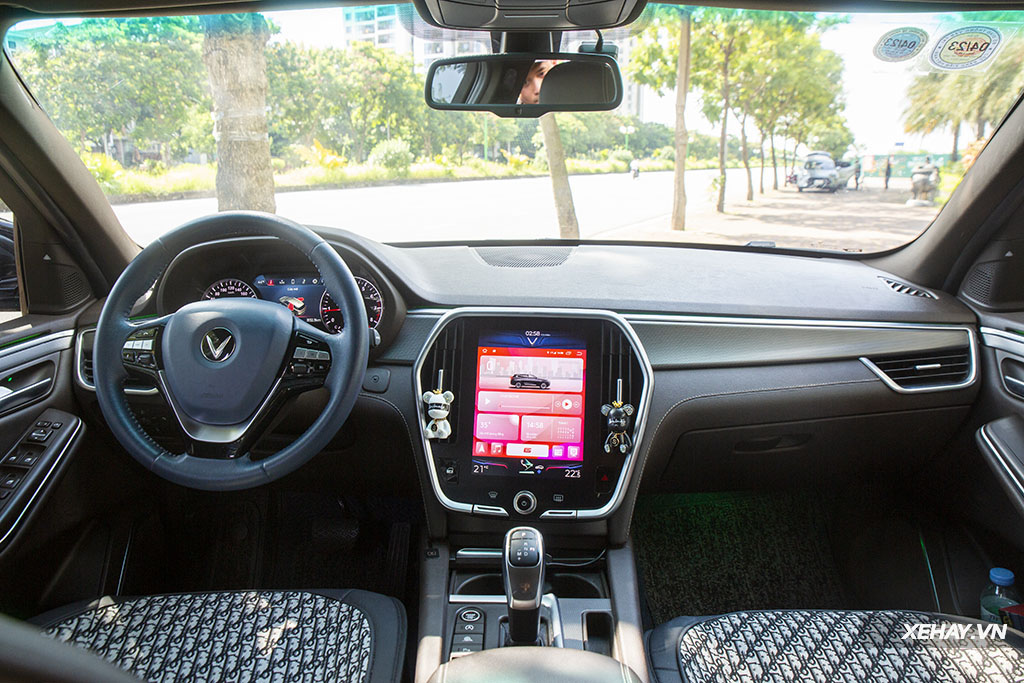 However, in frequently touched areas such as door handles or areas constantly exposed to sunlight like the top of the dashboard, the surface material has begun to show signs of wear. But overall, after 3 years of use, the interior of the car is still in good condition.
One area of slight dissatisfaction is the layout of VinFast, which makes Lux SA (and even its sibling Lux A) feel monotonous by removing most physical buttons and integrating functions onto the central screen.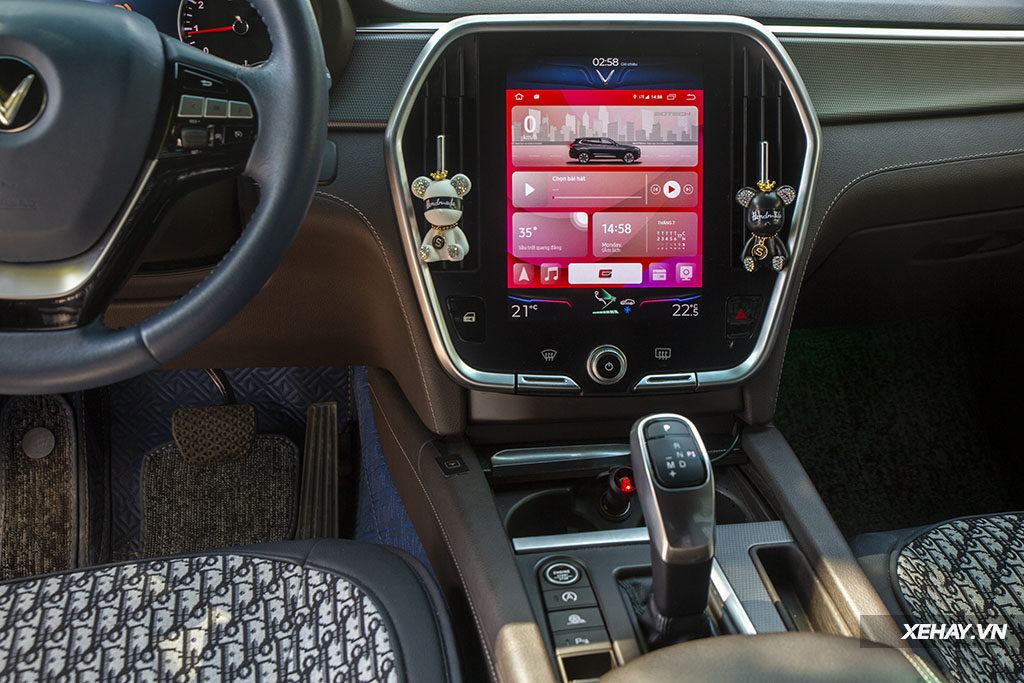 Speaking of the central screen, VinFast Lux SA features a 10.4-inch infotainment screen – very large, with a vertically oriented design that sets it apart from the crowd. However, even at the end of its product life cycle, this screen still has limited features (although Apple CarPlay has been added).
As a temporary solution, the Lux SA owner has chosen to use an Android Box, which does not require modification but simply plugs a USB cable into the original screen to transform it into a Vietnamese Android screen with all the modern and high-tech features.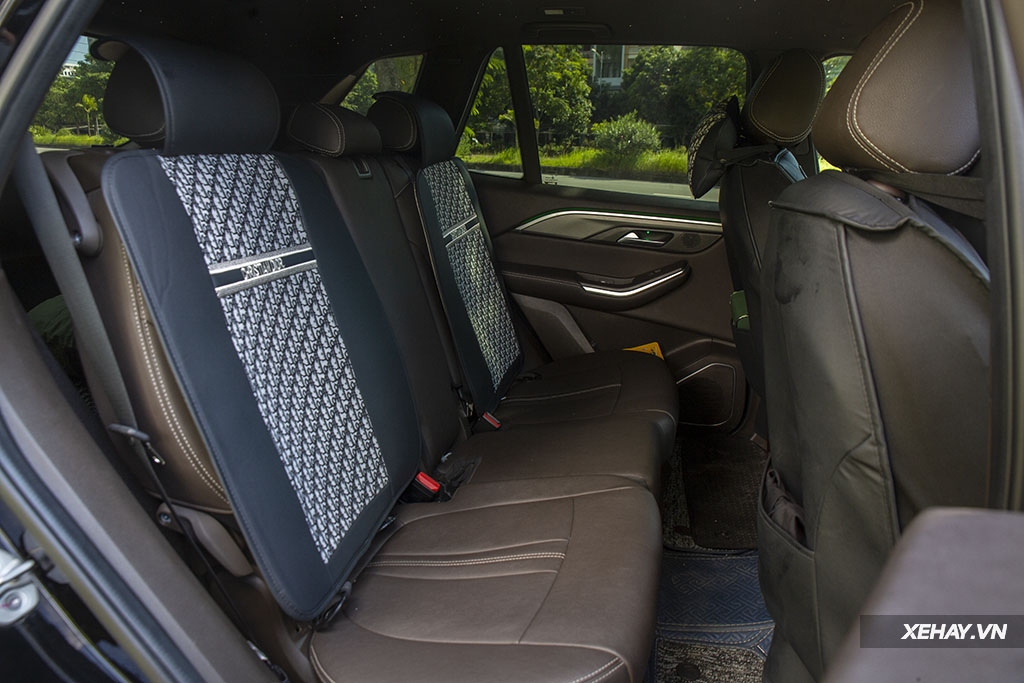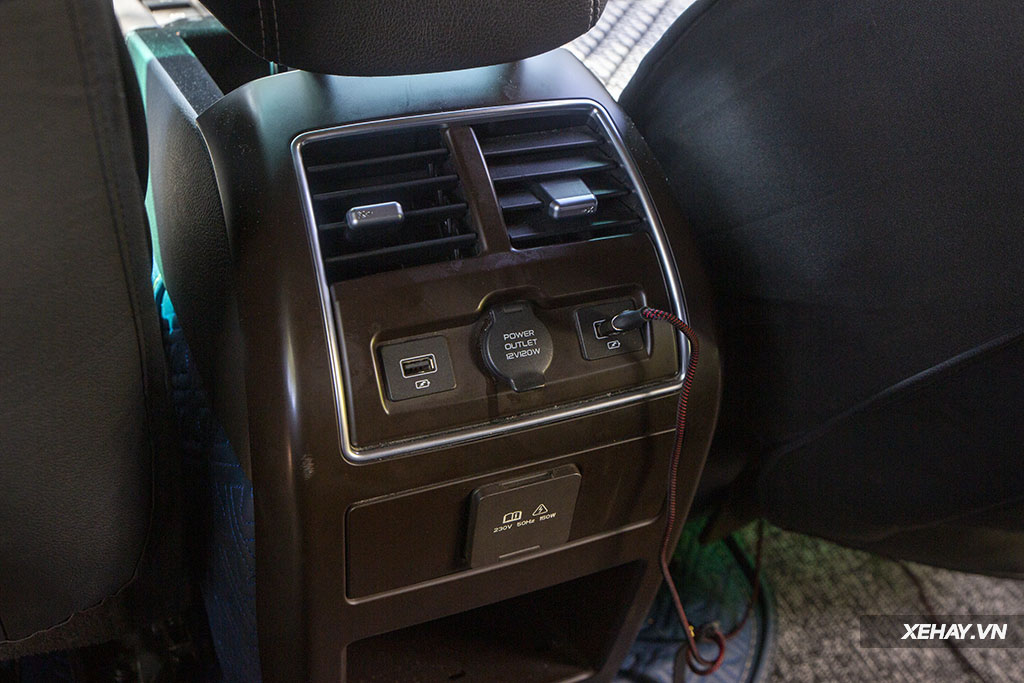 At the rear, Lux SA is equipped with air conditioning vents, 2 USB charging ports, a power outlet, and a convenient 230V electrical outlet to meet urgent needs on the go. These additional features are considered sufficient for a versatile SUV.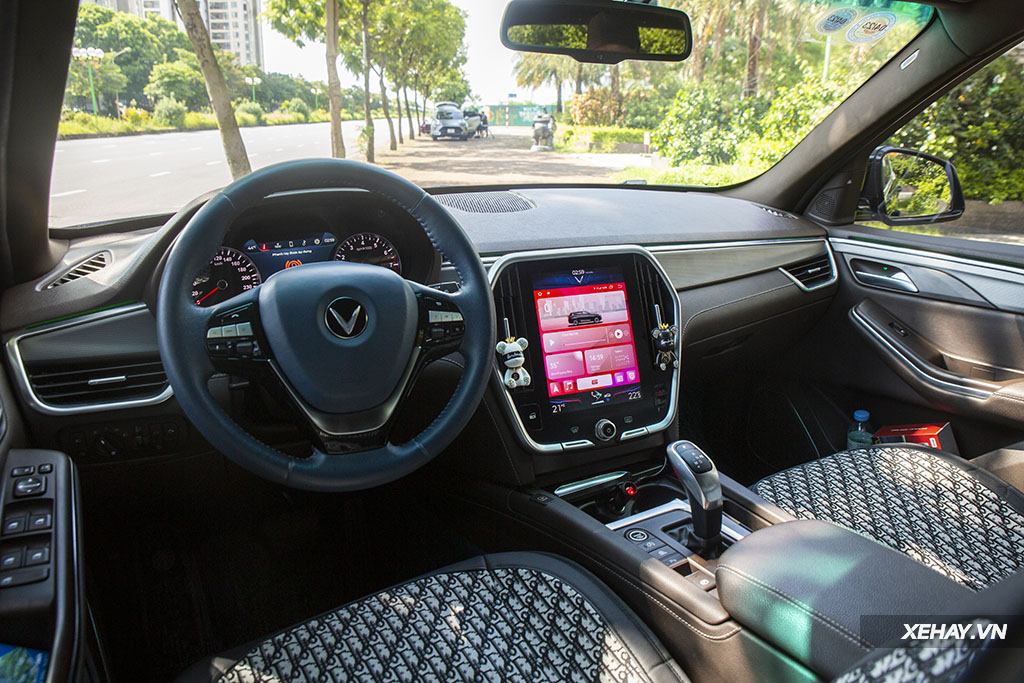 Starting to show signs of "outdated" equipment
In 2022, the equipment list on VinFast Lux SA may not be as enticing compared to the flood of later competitors with a wide range of options: the car is only equipped with LED headlights, electrically adjustable-folding mirrors with heating, and 19-20 inch wheels depending on the exterior version. The car does not have a 360-degree camera, intelligent headlights, or advanced driving assistance systems.
Meanwhile, the interior of Lux SA only features an analog instrument cluster behind the steering wheel, an electronic parking brake with Auto-Hold, a manually-adjustable leather-wrapped steering wheel, dual-zone automatic climate control, wireless charging, and an 8-13-speaker audio system depending on the version. The car lacks paddle shifters behind the steering wheel, a sunroof, a "smart" screen, and advanced features…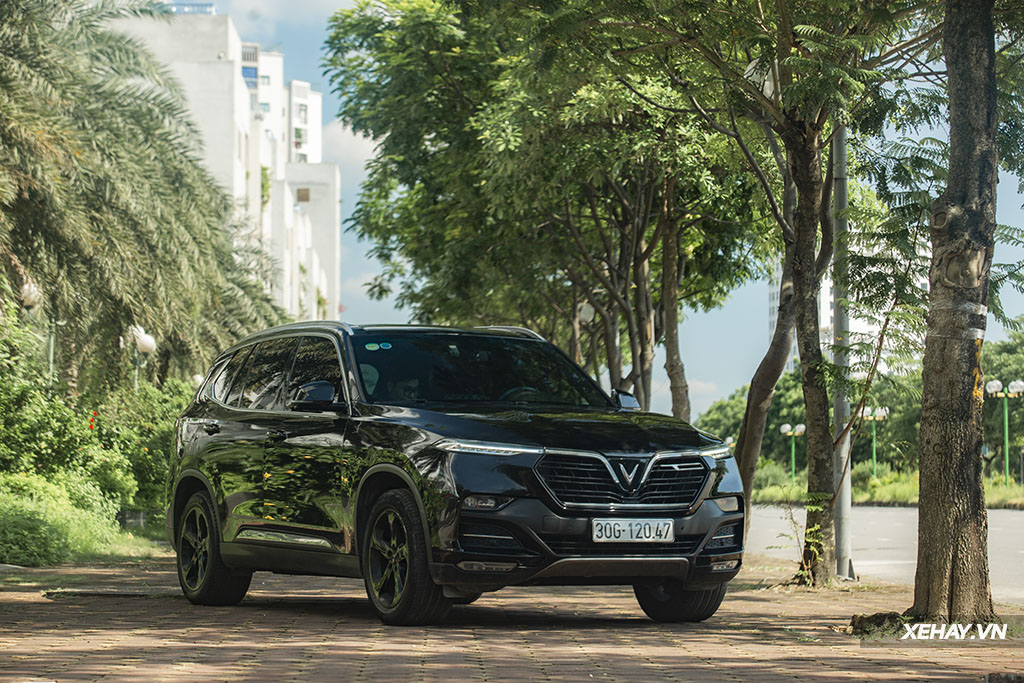 Especially, the car produces a whining noise when operating at low speeds. However, when the air conditioning is turned off, this noise immediately disappears. It is speculated that the belt system connecting the engine to the air conditioning compressor has deteriorated and is causing the noise. This issue can be easily and inexpensively resolved by replacing the serpentine belt.
It can be seen that VinFast Lux SA focuses more on the "quality" of the car, such as the engine, transmission, and chassis, and the corresponding values such as sound insulation, suspension damping, and driving experience; rather than investing heavily in entertainment options to serve passengers on the car.
If customers want to improve the entertainment system, they would need to upgrade the car. However, this is a reasonable design philosophy. Upgrading the entertainment system on a high-quality and simple car is easier and more convenient than upgrading a low-quality car that is already equipped with a multitude of "flashy" features for "instant gratification" – or in other words, "wood that functions better than paint."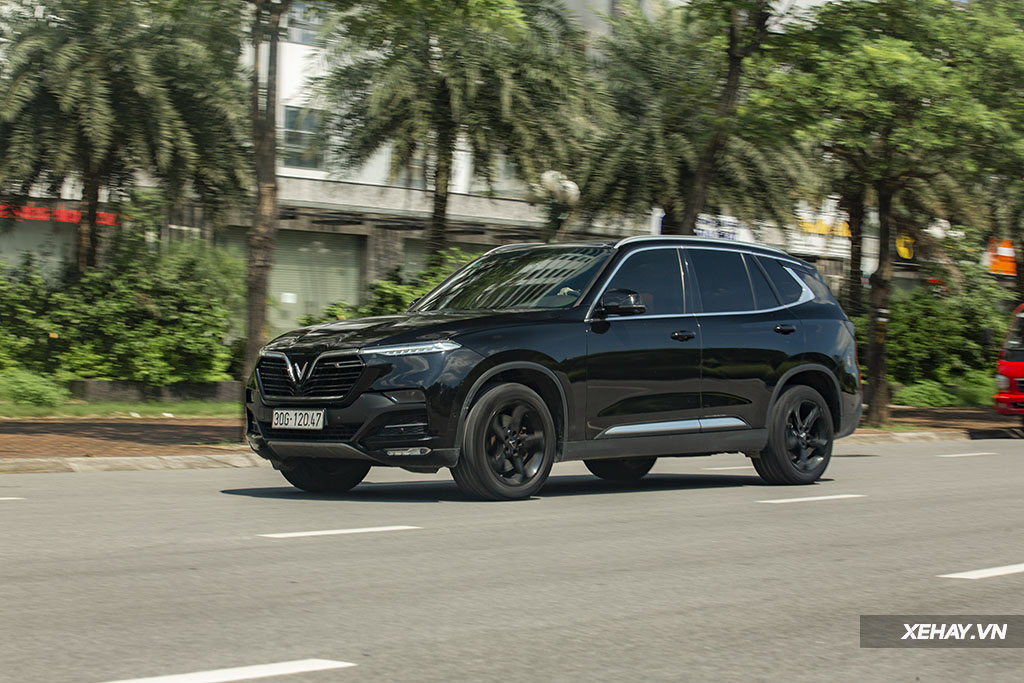 Effortless performance with German quality
VinFast Lux SA is powered by a 4-cylinder turbocharged 2.0L engine with N20 code, borrowed from BMW. Although it has been fine-tuned for operation and gear ratios thanks to the ZF 8-speed automatic transmission from the reputable ZF brand, Lux A still offers an "acceptable" level of power, with the maximum performance figures reaching 228 horsepower and 350 Nm of torque.
The powertrain system (including the engine, transmission, and rear-wheel-drive) of Lux SA still delivers a very smooth and solid driving experience even after 3 years of use. It seems that the time spent is not enough to fully test the durability of the European-standard "heart, muscles" system that VinFast Lux SA is equipped with.
While it cannot compete with BMWs with 3.0L engines, Lux SA still offers a certain level of performance and is more than capable of traveling on any road in Vietnam (which is limited to a maximum speed of 120 km/h). Acceleration and overtaking maneuvers can be easily performed within a controlled range.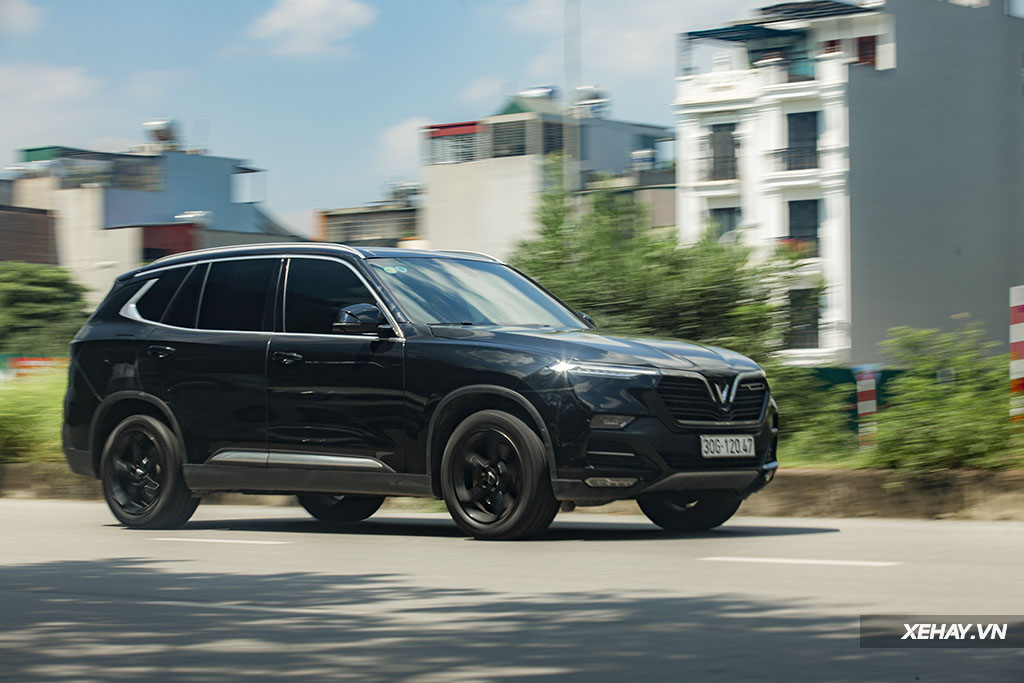 Both the chassis (developed from the F15 generation of BMW) and the suspension system (double-wishbone front, multi-link rear – extremely valuable compared to competitors in its price range) of VinFast Lux SA still perform well after 3 years of neglect without warranty or maintenance.
Although VinFast has used electrically controlled hydraulic power steering (the source of the characteristic "iii" sound of Lux cars), a "specialty" inherited from BMW – the "heavier" steering wheel still appears on Lux SA models. However, for many people, a steering feel that requires more effort than normal is an advantage as it provides a "solid" driving experience with a strong "SUV feel".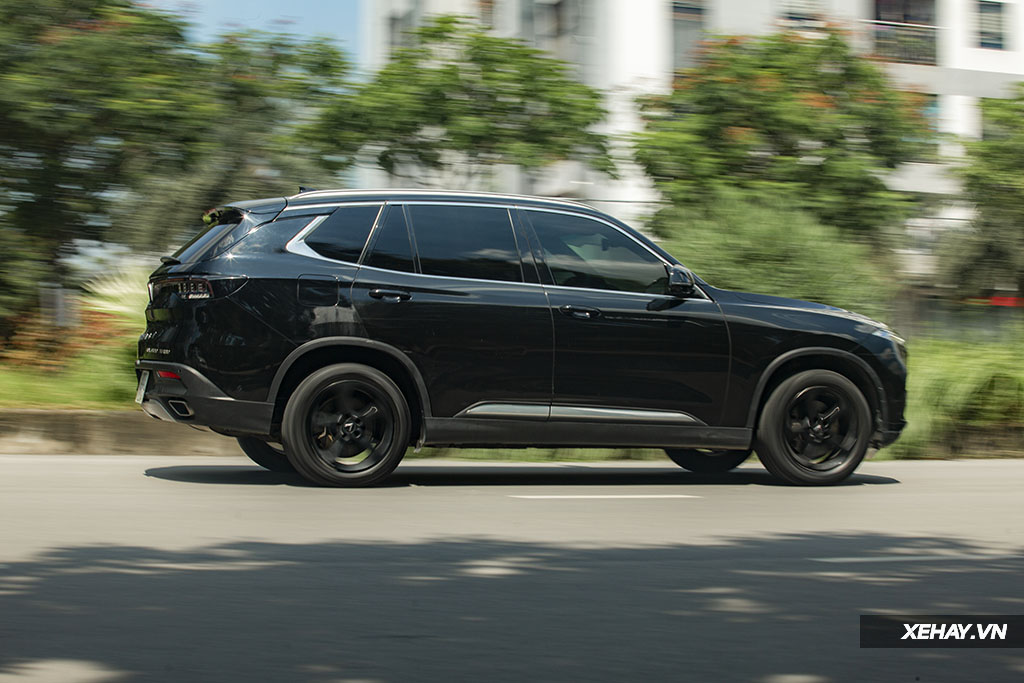 Competitors in its price range
Currently, Vietnamese manufacturer VinFast has officially "discontinued" the Lux A and Lux SA models. The last orders will be delivered to customers this year. Along with the recent "clearance sale", VinFast has also offered a series of "shocking" promotions, allowing multiple vouchers to be simultaneously applied to the car prices.
This allows customers to access the 2022 Lux A and SA models with prices starting from over VND 600 million and just over VND 1 billion, respectively. In this price range, Lux A and Lux SA are truly valuable choices! It is not an exaggeration to say that the Lux A and Lux SA duo offers "European quality at Vietnamese prices".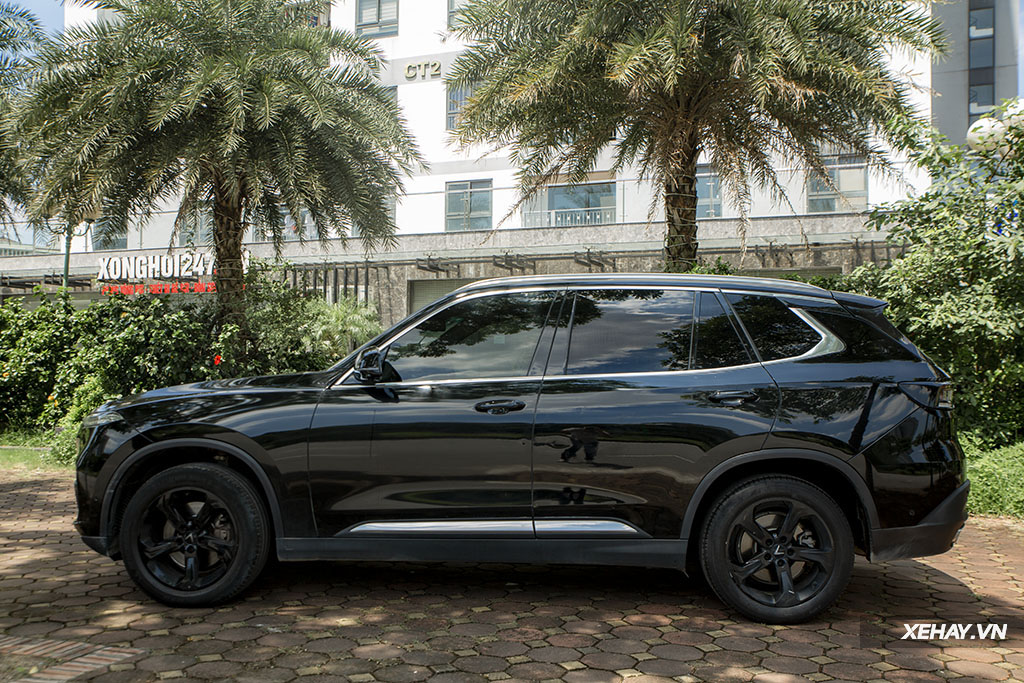 For car owners, general market research shows that VinFast offers maintenance, repair, and replacement parts costs that are cheaper than the average. The well-trained staff and nationwide standardized facilities make after-sales support a breeze for VinFast.
In addition, to further please consumers, the Vietnamese brand has announced an extension of the warranty period for Lux cars to 10 years – which is twice as long, or even more than three times longer, than the warranty policies of mainstream car brands in Vietnam today. This also demonstrates VinFast's confidence in the quality and craftsmanship of its products, further building trust among customers who directly use the cars.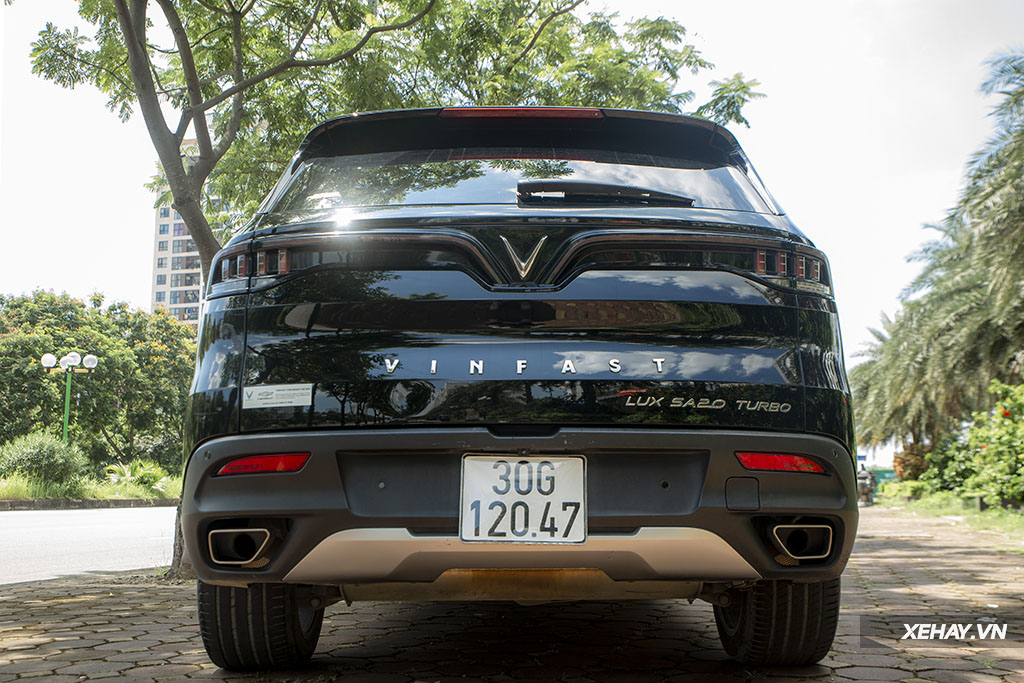 In conclusion, after 3 years of use with over 70,000 km on the odometer, it is not a major issue for the VinFast Lux SA. Although there are many signs of aging on the car, the smooth and European-like driving experience is still evident. The car leans more towards the performance and quality of driving, rather than the race for entertainment features.
With the current prices in the used car market ranging from 800-900 million VND depending on the version or model year (which is no longer in production), VinFast Lux SA is still an "unmatched" car in its price range thanks to its durable and solid "German quality" construction.
VinFast's announcement extending the warranty period to 10 years is also a significant factor to consider: it reaffirms the quality of the product and builds trust among consumers (both current owners and potential used car buyers in the market).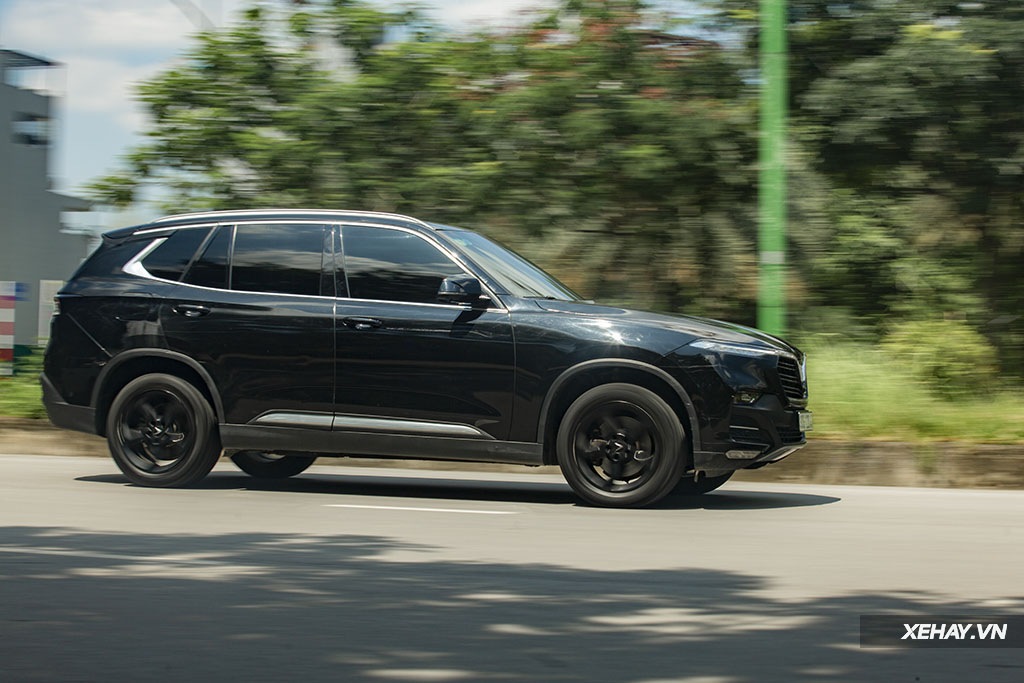 The fact that VinFast offers lower maintenance and repair costs, spare parts prices, compared to industry standards, is also worth considering. A professional workforce and a nationwide network of facilities make after-sales support hassle-free for VinFast.